France Wagner: Tristan und Isolde, Orchestre national du Capitole, Claus Peter Flor (conductor), Théâtre du Capitole, Toulouse, 11.2.2015 (JMI)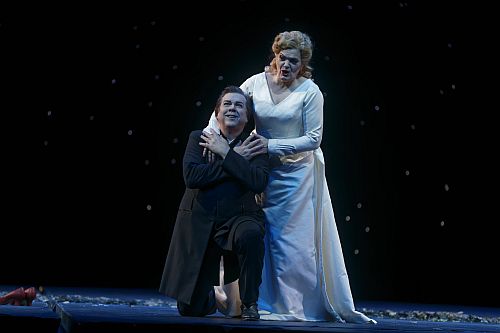 Cast:
Tristan: Robert Dean Smith
Isolde: Elisabete Matos
Brangaene: Daniela Sindram
King Marke: Hans-Peter König
Kurwenal: Stefan Heidemann
Melot: Thomas Dolié
Sailor/Shepherd: Paul Kaufmann
Production: Théâtre du Capitole
Direction: Nicolas Joel (original)
Stephane Roche (revival)
Sets and Costumes: Andreas Reinhardt
Lighting: Vinicio Cheli
Toulouse's Capitole is mounting several remarkable productions this season, among them Tristan und Isolde. An earlier attraction was an exceptional Britten double bill of Owen Wingrave and The Turn of the Screw that I unfortunately could not attend, and I'm still feeling sorry about it. There are two other compelling titles to come for the opera lover, Castor et Pollux and Betrothal in a Monastery, and I hope to be back in Toulouse for them.
This production by Nicolas Joel premiered in March 2007; it was one of the last works he presented at the Capitole before becoming director of the Paris Opera. It is almost a semi-staged performance since the sets are mostly nonexistent. The first act takes place on a bare stage with a cyclorama at the back and only one prop, Isolde's medicine chest. In Act II the stage is still bare, and the cyclorama at the back has stars. Act III in Kareol takes place with Tristan at the top of a platform. To call this a stage production seems a bit excessive to me. The costumes are acceptable: white and red for Isolde, Tristan looking like a modern orchestra conductor, and King Mark dressed as an admiral. As always with Nicolas Joel, the singers are not really directed, and on stage they offer what they would in any concert version of the opera.
The musical performance was the best part of the entire evening, which is always good news, but even more so in an opera like Tristan und Isolde. A priori I was surprised to have Claus Peter Flor in the pit. I've had several opportunities in the past to see him in action in Toulouse, but always in operas by Mozart. His conducting was the great discovery of this performance: it was an excellent musical direction. His tempos were quite slow, but he did not miss an iota of dramatic intensity. On the other hand, he knew how to manage the orchestral volume and worked perfectly with the singers on stage. He drew outstanding work from the Capitole Orchestra, one of the best in France and probably the best of them all in the opera pit.
Once again it was Robert Dean Smith as Tristan, and I must say that this was one of the best performances I remember from him in the role. Smith is one of the few tenors who truly sings the score without exhibiting a huge voice. The last time I saw him in this role was in Madrid a year ago. If then he was disappointing, this time he exceeded my expectations. Undoubtedly, the size of the Capitole, its excellent acoustics and the collaboration with the conductor had a decisive influence on his success.
Elisabete Matos gave life to Isolde, and her performance was that of a solid interpreter who has matured considerably since her debut in the role four years ago in Oviedo. The Portuguese soprano's middle range is fine, but her voice loses appeal as it goes up, especially in forte, and her top notes border on shouting. She was at her best in the first act, but she was not at the same level in the very long duet of Act II. In the "Liebestod" she came up a little short on emotion. But all in all, she was a convincing Isolde, and there are not many sopranos to sing the role nowadays.
German mezzo soprano Daniela Sindram was a remarkable Brangaene, with an excellent voice and offering plenty of emotion. Hans Peter König was a great King Marke, singing with emotion and authority in his beautiful Act II monologue. I can not imagine a better interpreter of the character, except for René Pape. German baritone Stefan Heidemann gave life to Kurwenal with a loud, powerful sound, but he should pay more attention to controlling his voice.
The secondary characters were well covered, beginning with lyric baritone Thomas Dolié as Melot. Paul Kaufman was very good as Sailor in the first act and Shepherd in the third.
José Mª Irurzun