United States Gluck: Iphigénie en Aulide,  Soloists and Singers from The Metropolitan Opera's Lindemann Young Artist Development Program and Juilliard Opera, Juilliard415, Janet Glover (conductor), Peter Jay Sharp Theater, Juilliard School, Lincoln Center, New York, 10.2.2015 (SSM)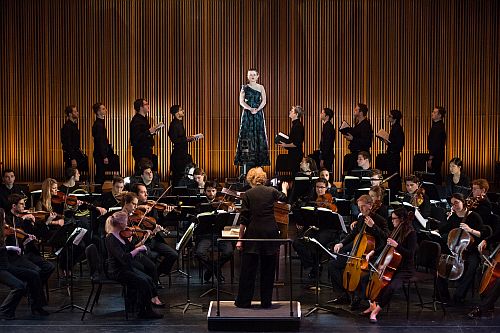 Concert Performance
Cast:
Agamemnon: Yunpeng Wang
Calchas: Brandon Cedel
Clytemnestre: Virginie Verrez
Iphigenie: Ying Fang
Achille: Andrew Stenson
Patrocle: Takaoki Onishi
Arcas:  Sava Vemi
Diane:  Liv Redpath
A Greek Slave: Angela Vallone
Three Greek Women: Angela Vallone;Kara Sainz;Mary-Elizabeth O'Neill
Production:
David Paul:  Director
Lighting Designer:  Paul Hudson
Libretto by Marie Francois Louis Gand LeBlanc du Roullet
It's interesting that C. W. Gluck, known mostly as the composer of Orphée et Euridice and a handful of other operas, actually wrote almost forty of them. Over the last five years, the Metropolitan Opera has performed only two of his works, Orphée et Euridice and Iphigénie en Tauride, both in 2011. Known as a reformist, Gluck followed his own rules in the operas he wrote, and today it seems like the rules were more influential than the music itself. His reaction was a natural one in a transition period that was turning away from the elaborate excesses of the Baroque era towards a simplified "classic" style. Both Mozart and Haydn learned much from Gluck's style, but they went well beyond it in a short time. You can see Gluck's influence on Mozart's early operas such as Mitradate, re di Ponto and Il sogno di Scipione.
Iphigénie en Aulide both exemplifies and negates the reforms urged by Gluck. The old Handel da capo arias were replaced with arias that flowed from one to another, melissmas were left to a minimum, and the recitativo secco was replaced by ariosos backed by the orchestra and not just a basso continuo. Embellishments and improvisatory ornamentation were forbidden.
A Gluck opera may not have recitativo secco, but that doesn't prevent the work from ending up as an "opera secco." Although Iphigénie en Aulide doesn't use da capos to merely repeat the first sections, the singer often repeats words that would have been used in da capo sections. Gluck touted seriousness of purpose, realism and truth, rather than the unbelievable reversals of Baroque opera. Yet what could be more artificial, unrealistic or just plain unbelievable than the goddess Diane coming down to earth to tell the suffering protagonists that she was just kidding, and they can now get married and live happily ever after.
The vocalists in this production were so good that the lines blurred between professional and student, between those who were from the Met program and those who are at Juilliard. As far as I could tell, they all performed captivatingly at or near the top of the spectrum. A key to the success of this production for me, aside from the glorious voices, was that from my seat it was possible to see and be affected by the artists' excellent acting skills and their ability to reflect convincingly every emotional color. During the few moments when the plot and action bordered on the bathetic, the performers were able to pull it off. If there was anyone who excelled, if even slightly, in performance and vocal skills, it would be Ying Fang as Iphigénie. There were moments when I thought I was listening to the young Magdalena Kocena: few compliments could be better than that.  It is a shame that Liz Redpath, who sang so beautifully last year in Handel's  La resurrezione had only one aria at the end of the final act. Jane Glover has had a long history with Gluck; she has conducted at least five different operas and here she was impeccable. Juilliard415 stayed right with Glover and were well-synced throughout this superb performance.
Stan Metzger