United Kingdom  Mozart, Fribbins, Ravel, Saint-Saëns:  Philippe Graffin (violin), English Chamber Orchestra, Jean-Jacques Kantorow (conductor), Cadogan Hall, London. 17.2.2015. (LB)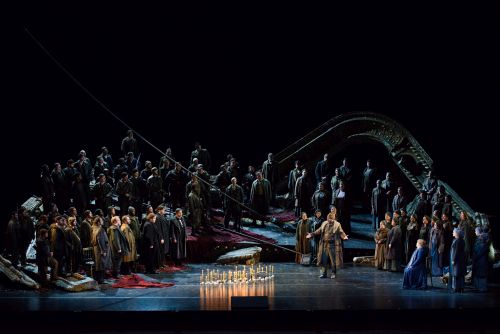 Mozart  – Symphony No. 31 in D, 'Paris'
Peter Fribbins, (b. 1969) – Violin Concerto (2012-14)
Ravel – Le tombeau de Couperin
Saint-Saëns – Une nuit à Lisbonne, Op. 63
Ravel – Tzigane for Violin and Orchestra
 The English Chamber Orchestra presented a thoughtfully conceived programme with an Anglo-French theme at Cadogan Hall last night. They performed music from both countries, as well as music inspired by France, with a French soloist, and there was a French conductor at the helm of one of the most distinguished and quintessentially English of orchestras.
Mozart's 'Paris' Symphony, inspired by the composer's visit to Paris during 1778, started proceedings – but the evident vigour of the musicians did not translate into the brilliant sound it deserved. London really is in desperate need of purpose-built concert halls, with credible acoustics, for the world-class chamber orchestras that inhabit the city.
 Mozart's symphonies, a cornerstone of the chamber orchestra repertoire, are invariably engraved into the DNA of musicians as highly specialised as those of English Chamber Orchestra, and one got the distinct impression that they could happily have performed the 'Paris' symphony without the intervention of conductor Jean-Jacques Kantorow.
 The violin concerto is perhaps one of the most popular and prolific forms in classical music, and is an especially challenging genre for composers today, who have to compete with so many of the great concertos from the past. Peter Fribbins' excellent new concerto, painstakingly composed over two years, draws its inspiration from Purcell's Z.780 Sonata in G minor, from Philippe Graffin's unique qualities as a musician, and crucially also benefits from the composer's own earlier experience as a violinist.
 It is an expressive work, in three movements, of about 30 minutes' duration and makes a distinctive contribution to the development of the violin concerto in the 21st Century. It is musically and technically challenging for soloist and orchestra alike, and Jean-Jacques Kantorow made a decisive contribution to the success of the performance. Ensemble, especially in some of the furious passagework for the orchestra, was staggeringly good, and one was reminded of just how adept British orchestral musicians are at pulling rabbits out of the hat, with minimal rehearsal time.
 Le tombeau de Couperin has become better known as a showpiece for orchestra, and the fact that it started life as a six-movement suite for solo piano is sometimes overlooked in orchestral performances. This was to some degree the case this evening, especially in the first movement, 'Prélude', which was unfurled at a tempo rather quicker than the recommended metronome mark, and one at which most pianists would baulk. The 'Forlane' and 'Menuet' fared better, with John Anderson's opulent and expressive oboe solos outstanding, amongst other excellent contributions from the woodwind section. The first violins' crisp articulation in the 'Rigaudon' contributed to a spirited and well-balanced dance that allowed all the individual soloists adequate room for self-expression.
Saint Saëns' charming, but all too short 'little Barcarolle' for harp and strings, Une nuit à Lisbonne, was affectionately played.
 Orchestral harpists seldom have as busy an evening as Helen Tunstall did this tonight; she was involved in four of the five pieces on the programme, and it was only the Mozart that spared her. From her position, centre-stage, she made a vital and colourful contribution throughout, but really came into her own in Ravel's Tzigane, with some decidedly virtuosic playing.
 Philippe Graffin is a musician who is prepared to take risks, and this became even more evident in Tzigane. He brought the same sense of adventure to this popular concert rhapsody as he had done to Peter Fribbins' violin concerto in the first half, and the audience responded with enthusiasm to the Gypsy within him.
Leon Bosch