Baroque and Beyond: The French Spirit of Pianist Alexandre Tharaud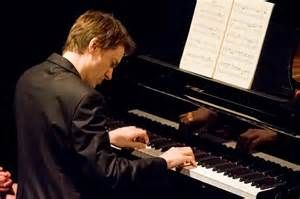 Over the last decade, there have been few pianists more visible than Alexandre Tharaud. For many, he is among the greatest pianists of his generation, and there can be little question about his sensitivity and imagination in the French Baroque repertoire, or his ability to capture the true spirit of modern French composers such as Ravel. Responses have been more mixed to some of his recent explorations, but few would deny that his Chopin is very distinguished and insightful as well. What is so rewarding about talking to Alexandre is that you get a better understanding of a tradition of piano playing that is quintessentially French, full of a unique type of individualism, thought and expression. Alexandre is very much his own person, in some ways very youthful, in others, reminiscent of the artists and philosophers who might have met at Parisian cafés generations ago. Just like many of his interpretations, he is invariably probing: thinking of new ways to make repertoire come to life and, equally important, to ensure that classical music evolves successfully into the future.
Geoffrey Newman: Your early recording career involved both modern French composers and French Baroque composers such as Couperin and Rameau. How did this mix arise? Were you a Baroque specialist from early on?
Alexandre Tharaud: My first CDs were a tribute to modern French composers such as Francis Poulenc, Darius Milhaud and Emmanuel Chabrier. These were a natural outgrowth of my training; the Baroque was not. In the Conservatoire, the playing of many Baroque composers on the piano was forbidden. Well, not really forbidden, but my teacher would not play anything other than Scarlatti and Bach. One day, while studying modern French compositions, I suddenly thought to myself that maybe it's very important to understand where this music comes from. Well, yes, obviously from the French Baroque composers!
I had casually kept the scores of all the pieces by Rameau on my piano. Sometimes, I played a number of them, but I didn't know if I could play this music on stage. When I talked with my agent and other organizations, they told me: "No, no, no, Rameau and piano, that's crazy!" Eventually, after 2 or 3 years, I asked Harmonia Mundi if I could record a CD, emphasizing that a lot of pianists did play and record this music more than 50 years ago, and it was very important to me. They accepted my request and this first solo recording for Harmonia Mundi was a great business success in France. Suddenly, everyone wanted to invite me for recitals.
GN: What do you make of the French musical lineage after all your study?
AT: For me, the French family of composers starts with Rameau and Couperin; then we move to Emanuelle Chabrier for the keyboard pieces. I see Chabrier as the father of Debussy and Ravel; Rameau and Couperin are the grandfathers. Chabrier plays such an important role in the later 19th century. We forget him all the time, but he is the base of the modern French school  ̶  the first composer to compose again in Baroque form, a minuet, a sarabande, and so on. Not only was he such an important link to the past but, being a friend of Richard Wagner, he was also able to mix German music with very light French textures. You understand, this man was a genius! He created so many new colours with the piano, and I'm sure that Debussy and Ravel would be not exactly the same without him. I am not forgetting Chausson. He wrote four wonderful Baroque dances for piano too but regrettably not much more.
GN: How would you tie the Baroque French composers to their modern counterparts in terms of the spirit of their compositions?
AT: There is Rameau and Couperin, and two centuries later, Ravel and Debussy. For me, Ravel is like Couperin and Debussy is like Rameau. Rameau is a composer of nature, of the human voice  ̶  like Debussy. And Couperin is composer of the very intimate, with just some notes, and it's more spiritual  ̶  like Ravel. That is why the former wrote Hommage à Rameau while the latter composed Le Tombeau de Couperin  ̶  the two sides of "L'esprit français." To play French music well, you must understand these two sides: you have to be both on the ground (on the earth) and in the clouds to find the balance between the spirit and nature.
GN: What do you think are the unique challenges of playing Couperin and Rameau on the piano?
AT: It's quite different from Bach, because you can play Bach on the piano without ornaments. For Couperin and Rameau, you have to know the style, les notes inégales, and you have to improvise with many ornaments – even on stage! You have to feel very free with this music, much more than with Chopin and Beethoven. Certainly, to play these pieces is new work for a pianist, but it is the route to understanding modern French music.
GN: I notice how soft and liquid your trills are in your interpretations of these composers. It is very beautiful, but why exactly do you employ that technique?
AT: Why did Rameau and Couperin write ornaments? On the harpsichord, the ornament is present for the character of the notes  ̶  because the notes are not long. After one or two seconds, the sound is gone. This is not true on the piano. On the piano, the same ornament is too heavy, too big. So, I think that is the reason why I play the ornaments very light. It's important to keep the music's line and not burden it.
GN: You must have learned something from harpsichordists Blandine Verlet and Christophe Rousset in approaching this repertoire?
AT: Rousset and Verlet are two great harpsichordists. For Rameau, they are the best. Of course, they have influenced my piano interpretations. During the first month or two of learning a piece, I always try to imitate the harpsichord, and listen to CDs from different harpsichordists. After two months, you have to forget all this, and move to really playing on a modern piano, because it's impossible to play like a harpsichordist on the modern piano. But this early stage is very important. If you have the recordings of Verlet, Rousset, Olivier Beaumont, and Blandine Raneau (she is an incredible young harpsichordist), you will find more differences between these interpretations than between different pianists in Chopin. It's so interesting because you can understand why, in French Baroque music, you can feel so free and open; you have so many possibilities of tempo, of phrasing, of sound, and it's all very intuitive.
GN: There have been many great French pianists, from Cortot, through Yves Nat and Casadesus, to more recent ones such as Collard and Thibaudet. Which French pianist do you regard as truly your spiritual mentor?
AT: My idol is Marcelle Meyer: she was fantastic! She was the first to record the integral of Rameau on the piano, during the 50s. She's very important to me, so I don't know if I really play like a modern person. I've played all of her repertoire. She recorded Couperin, all of Rameau, Scarlatti, Stravinsky, Bach, and a small amount of Chopin and Mozart. Marcelle Meyer is a bit like Samson Francois, who created a lot of new colour and innovation in Ravel. Also a bit like Nadia Boulanger: a great interpreter who also promoted new composers. She was a muse of "Les Six." Yes, Meyer is a statue for me. When she plays, it is very fluid, with a lot of inspiration. At the same time, it's a solid sound, like a band, like a man  ̶  but with a lot of improvisation too. For me, she's the best woman pianist in the history of piano. I also love Clara Haskil very much, but I am closer to Marcelle Meyer because she's French and I play her repertoire.
GN: You came from a family that was very much connected to opera, and the operatic elements seemed to be critical in your desire to perform Mozart's "Jeunehomme" Concerto with Bernard Labadie. Do operatic inspirations really run through all your interpretations?
AT: Yes, my mother was a dancer at the Paris Opera, and my father was an opera singer, but at smaller opera houses in smaller cities. My grandfather was also a violinist, so I had many influences in this direction. Around 8 or 9 years ago, Bernard Labadie called me in Paris and said: "You know, Alexandre, I'd like to play the Jeunehomme with you." I said, "No, I don't like this concerto. I prefer Mozart concertos 20 through 23  ̶  and the Jeunehomme, I don't understand it." But he insisted that I had to play this concerto. So, we played it for the first time, and I discovered this masterpiece. I had no idea why I didn't play it before, and then I remembered that, when he called, he told me the second movement is like an opera aria.
For me, the piano is an instrument that wants to imitate the human voice. But of course, the piano is a mechanical instrument, very mechanical. It's not human, but it's one of the instruments that a pianist can use to reach out for the line and timbre of the human voice. We want to "sing" through the piano. To me, a pianist is someone who runs all his life pursuing the human voice.
GN: You have recently started to explore Beethoven and Schubert, and many other non-French and non-Baroque composers, though you have played Chopin and Liszt earlier. Do you find it a different and unfamiliar world when you undertake these?
AT: Of course, it is a totally different world, playing Beethoven as opposed to, say, playing Rameau. But I have always wanted to be a conductor too, and if you can see yourself as one in front of your piano, you have an orchestra all in one instrument and you do have all the resources to play a lot of different music. I know my repertoire is not big, but there are some of these pieces that I feel that I now have a good relationship with. I like all the Beethoven sonatas – and they have been with me since childhood  ̶  though I do not have a special relationship with that many of them as of yet.
GN: In The New York Times a few years ago, Anthony Tommasini published a long article examining the acceptability of pianists performing with the musical score in front of them, and giving prominence to your own predilection to do this. Since I am sure that many of the greatest studio piano recordings were made with a musical score close by, this issue ultimately may be little more than cosmetics. What is your perspective on it?
AT: When I started to play with a score 10 years ago, I had no choice, because I had a lot of problems with my memory. If I wanted to give concerts at all, it had to be with the score. So I went ahead with this, and I was alone. But now, there are other famous pianists who do this too, like Ivo Pogorelich. It's crazy because, for example, if you play Bach's Goldberg Variations, pianists usually will play without a score, but a harpsichordist will play the same work with the score, and nobody will say anything. It's a tradition, but we can transform the tradition. Not everyone can be, say, Sir Andras Schiff  ̶  and memorize hours and hours of Bach.
I think it's important to change these performing traditions because the role of the pianist has remained almost the same for a century or more, and we have seldom even thought about changing it. One must recognize that the role was initially created by Chopin, Liszt, Thalberg, and others, the great pianists of the early 19th century. And the concert programmes have also remained almost the same as well. So we have to change, we have to move, we have to create new ways to move. It's very important. Composer Mauricio Kagel, a very good friend of mine who died only a few years ago, summed it up so beautifully for me: "Alexandre, music is the only art that has to be recreated every day. We have to always play with new colours. And we must always continue to be a composer." This applies not only to ourselves but also the conditions under which we perform.
GN: Do you think that the same rigid traditions are there with respect to piano preference?
AT: Yes, it is very much a tradition to play on Steinway and Yamaha. We should be able to experiment with all the pianos available, including of course Bechstein, Fazioli, and Bosendorfer. Three weeks ago, I had my last recital in Paris at the Théâtre de Champs-Élysées and, for the first time, I used a Bosendorfer. It was fantastic, and I was happy, but I said to myself, if this was so beautiful, why do I always choose Steinway? I love Steinway but, less than a century ago, pianists might have chosen different pianos so as to create different sound-worlds. Steinway is very different from Erard, Bechstein, Gerard, and countless others.
GN: It has often been said that you do not actually keep a piano at your residence. Why is this?
AT: I have no piano at home because I have no concentration at home. I sold my piano 16 years ago, getting into the habit of practicing in a variety of different places in Paris. I have learned that you don't need a very good piano to practice on. In fact, it is not good to practice on a Steinway D, because everything is so beautiful and your sound is so perfect. I think it is very important to practice with different pianos  ̶  but not extremely good ones  ̶  because the less distinguished pianos force you to go deep into the instrument to find beautiful things.
Geoffrey Newman
Previously published in a slightly different form on http://www.vanclassicalmusic.com