United Kingdom  Verdi, La traviata: Soloists, Chorus and Orchestra of English National Opera / Roland Böer (conductor), London Coliseum, London. 9.2.2015 (JPr)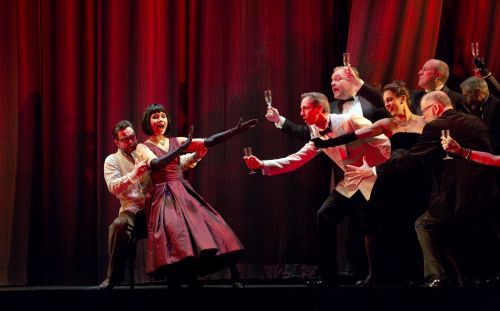 Cast:
Violetta: Elizabeth Zharoff
Alfredo: Ben Johnson
Germont: Anthony Michaels-Moore
Flora: Clare Presland
Gaston: Paul Hopwood
Baron Douphol: Matthew Hargreaves
Marquis d'Obigny: Charles Johnston
Dr Grenvil: Martin Lamb
Annina: Valerie Reid
Production:
Director: Peter Konwitschny
Revived by Mika Blauensteiner
Designer: Johannes Leiacker
Lighting Designer: Joachim Klein
Translator: Martin Fitzpatrick
Co-production Opera Graz, Austria. Original Production supported by the English National Opera Trust.)
Not for the first time, English National Opera finds itself in financially straightened circumstances due to insufficient receipts from the box office and the Arts Council cutting their grant. With their backs to the wall the company has responded magnificently and showed themselves at their very best over two recent successive opening nights. Firstly, there was the return to ENO of The Mastersingers of Nuremberg in a Richard Jones production adopted from Welsh National Opera and now this revival of Peter Konwitschny's La traviata first seen at the London Coliseum in 2013.
The economy of Konwitschny's Verdi provides an ideal respite for the stage crew from the complexity of the Wagner. Although this is not the place to debate this at length, I cannot fully endorse the praise of some of my fellow critics about The Mastersingers. Indisputably, it is a significant company achievement being mostly very well played and sung. However, until they are let off the leash in Act III the orchestra did not sound 'German' enough and it featured fine singers in the wrong roles. When Beckmesser makes more of an impression than anyone else … then something must be wrong.
 La traviata is another import, this time from Graz and is directed by the celebrated opera and theatre director, Peter Konwitschny. It is not outwardly a crowd-pleaser as he is an enfant terrible of German Regietheater but at least on a single viewing – though undoubtedly austere – it was a compelling and intellectually engaging evening. This was something that Richard Jones's staging of The Mastersingers only intermittently was.
 That Verdi was at the height of his powers at the time he was composing La traviata is evident in the realisation of how quickly it usually passes. Here it all is over in less time than it takes to perform Act III of The Mastersingers and is given as one act lasting an uninterrupted one hour and fifty minutes. The matadors and gypsies are missing from Act II, as is the off-stage carnival in Act III and some aria repeats are also excised it seems. Even without this the dramatic structure of the opera is almost perfect with none of the longueurs of some of Verdi's subsequent works. Act I of course, recounts the consumptive courtesan, Violetta's attraction for the penniless aristocrat Alfredo Germont, Act II shows us the confrontation between Violetta and Alfredo's father who demands she give up the scandalous liaison with his son, followed by Alfredo denouncing Violetta at Flora's party and the last act shows their reconciliation before Violetta's death.
 After all the opulence of Richard Eyre's 1994 production for Covent Garden, that I have seen several times over the subsequent three decades, this is all very plain and eminently Brechtian. Johannes Leiacker's stage designs have little more than repeated rows of red theatre curtains which are drawn and undrawn until they nearly all fall to the stage when Violetta is denounced. Towards the end she and Alfredo also mime closing the curtains as they try and recaptured the life together they have lost. Konwitschny in an interview explains how this might be interpreted by saying 'the act of passing through several curtains that open successively can also signify the passage towards death.' Indeed the 'dead' Violetta just walks off upstage and disappears into the darkness. The costumes are modern, and all else we see is a single chair and a pile of books. Those who have seen this type of production before will not be surprised to see – as I wasn't – that the chair will be pushed over more than once and the books will be knocked over.
What we see has considerable theatrical flair but would be better in a more intimate theatre and seems a little lost on the vast London Coliseum stage and with some of the characters – particularly Alfredo – roaming through the stalls. There is little here to cause offense and the only additions I could perceive were the sight of Germont's teenage daughter – who does not seems old enough to marry anytime soon – and the small gun Violetta pulls out for her handbag to threaten suicide. Konwitschny suggests that Violetta renounces Alfredo because 'She is, as it were, protecting this daughter from her brutal father.'
 This La traviata is therefore stripped back to its basics and at times is little more than a semi-staging. By focussing everything on Violetta perversely we perhaps do not connect emotionally with her plight as we might in a 'traditional' staging. Throughout Konwitschny makes the chorus a potent adversary to Violetta initially by mocking her illness and then continuing to hound her – and feed off her vicissitudes – when she ventures back out into Parisian society. Violetta is longing to escape this world she has become part of and latches onto the nerdy-looking, bookish, Alfredo. He is not much of a romantic figure and you would normally not expect Violetta to glance twice at someone like him … but that's just Konwitschny's point.
 Another significant image we see is when Violetta exchanges her party clothes and black wig for a lumberjack shirt and casual trousers to emphasise how she has transformed herself from goodtime girl into a country wife. It is into this idyll that Alfredo's father, Germont, intrudes dragging along his daughter for emotional blackmail. He will go on to display the violence underpinning his domineering control of his family before being reconciled with his son when Violetta dies – or as Konwitschny describes it: 'In order to spare his wayward and beloved daughter any further suffering, out dear Lord takes the eponymous heroine to Himself.'
 Except for Elizabeth Zharoff's Violetta all the principal singers repeat their roles from the run of performances two years ago. Her voice was slow to get going and her 'Sempre libera' (Let me live the life I want) misfired and was all technique and poor diction. However, when she emerged in the 'country' for what here is Scene 2 it was as a different singer had come through the red curtains. With her voice under firmer control – and though the strength of her acting – she was increasingly impressive: none more so than when discarding her wig as death approached to reveal the real person behind the public image.
 Ben Johnson was the cardigan-clad Alfredo – somewhat small of stature but with a large enough – and sweet-sounding – lyrical tenor voice. His diction – as with all the rest of his colleagues – was impeccable and this also was a positive feature of The Mastersingers two days previously … and something ENO has clearly been working hard on. The most impressive singing in this La traviata was from the vastly experienced Anthony Michaels-Moore as Germont; his baritone was initially bitingly aggressive when confronting Violetta but became increasingly resigned and paternal at subsequent events that were beyond his iron-fisted control. The rest of the cast have little chance to shine but everyone did what they needed to do very well indeed. If I must signal anyone out then Martin Lamb made Dr Grenvil seem more significant that he sometime might be in other productions. Certainly the chorus – another fine feature of The Mastersingers – were on top form again here and Roland Böer kept things moving forward in the pit with the support of the always reliable ENO Orchestra. His account was understated with few standout moments – but this approach seemed entirely appropriate for a dramatically convincing evening when the emotional temperature, rarely rose above lukewarm.
Nevertheless if this sort of thing intrigues you – and it would me if I had not already seen it! – I recommend you do go to the theatre and help those box office receipts, or if not, watch it at your local cinema when this La traviata is broadcast live on 11th March 2015.
Jim Pritchard
For information about future English National Opera performances visit www.eno.org.