United Kingdom Gaudio & Crewe,  Jersey Boys: Jersey Boys Company, Gareth Weedon (music director). Cliffs Pavilion, Southend, Essex, 18.2.2015. (JPr)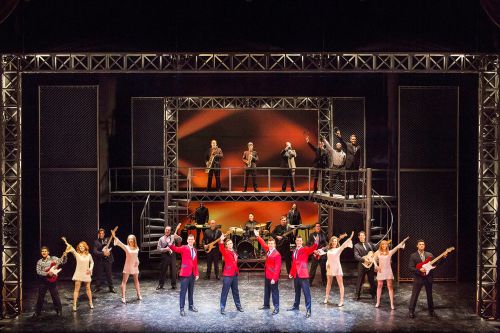 Cast:
Matt Corner (Frankie Valli)
Stephen Webb (Tommy DeVito)
Sam Ferriday (Bob Gaudio)
Lewis Griffiths (Nick Massi)
Matt Gillett (Bob Crewe)
Sean Kingsley (Gyp DeCarlo)
Damian Buhagiar (Joe Pesci and others)
Dominic Smith (Norm Waxman and others)
Amelia Adams-Pearce (Mary Delgado and others)
Leanne Garretty (Lorraine and others)
Sinead Long (Francine and others).
 
Production:
Book by Marshall Brickman and Rick Elice
Music by Bob Gaudio
Lyrics by Bob Crewe, based on the story of Frankie Valli and The Four Seasons. Directed by Des McAnuff
Music supervision, vocal arrangements and incidental music: Ron Melrose
Choreography: Sergio Trujillo
Scenic design: Klara Zieglerova
Costume design: Jess Goldstein
Lighting design: Howell Binkley
Projection design: Michael Clark
There is a wonderful moment towards the end of Jersey Boys (the musical biography of the pop group The Four Seasons) when Frankie Valli – having schlepped around the US paying off a million-dollar debt band member Tommy DeVito had got himself into – has the almost-statuary big comeback moment.  Valli has clawed his way from the New Jersey mean streets of his teenage years to the heights of single and album chart glory before beginning a downward spiral that was no real fault of his own – yet has all the familiar consequences on his private and family life. He finds a song that he and songwriter Bob Gaudio are convinced can be a hit and get him back into the big time but no one will give it airplay on the radio. So he takes the new song on the road and when he has finished performing it in a big brassy arrangement the crowd goes wild and by impressing the right people – and through the all-important word-of-mouth – Frankie Valli is back in the big time. That 1967 hit was 'Can't Take My Eyes Off of You' that I never realised was a his song until I saw John Lloyd Young sing it in the much-underrated 2014 film version of Jersey Boys directed by the legendary Clint Eastwood.
At that point in the film Valli's trials and tribulations – and even the personal tragedy that was later to haunt him with the death of his youngest daughter, Francine, from a drugs overdose – seems less important than Valli beating the odds and returning to the spotlight and becoming a success again, resulting in him never stopping touring even though he is now 80. That was a very affecting moment that was to be superseded by the original Four Seasons line-up coming back together for a valedictory ending when they were inducted into the Rock and Roll Hall of Fame in 1990. Eventually each member – now a little older and hopefully wiser – says farewell to those watching and I found it a little draining but perversely rather emotionally uplifting. It is to the credit of the original Jersey Boys – a worldwide hit since it opened in 2005 – that I had some of these same feelings as the show ended. Whether that was because of seeing the film a few times or the strength of the story that I had seen unfolding I am not entirely sure.
The Four Seasons' clean-cut all-(Italian-)American appeal came from complementing doo-wop harmonies with Valli's falsetto and three-octave range, superb song writing from Gaudio, and Bob Crewe's production values drawing on everything from Phil Spector's 'Wall of Sound' to the dance beats of Motown's pop/R&B singles. At their peak the Four Seasons had 27 Top 40 hit singles, including the Number Ones 'Sherry', 'Big Girls Don't Cry', 'Walk Like a Man' and 'Rag Doll' and sold more than 100 million records worldwide. All these and more we heard evocatively and idiomatically performed by a talented small orchestra under the direction of Gareth Weedon, as well as, contributions from some of those on stage.
This is the second musical I have come to recently after seeing the film first – the other was Made in Dagenham that is soon to close at London's Adelphi Theatre after a disappointingly short run. Jukebox shows – and those such as Made in Dagenham and From Here to Eternity (another film to stage musical I reviewed – though I have never seen the cinema version) with original music- have come and gone in the decade since Jersey Boys first hit the stage. It is mystery why some succeed and others do not … something that must give theatre producers many sleepless nights before a new opening.
Jersey Boys mixes the rags-to-riches back to rags and then again riches clichéd tale of musical performers with the related tale of Martin Scorsese's 1990 film about the Mafia, Goodfellas. The book by Marshall Brickman and Rick Elice travels a well-trod path with some good lines but is nothing out of the ordinary – though that maybe because of everything we have seen before and since 2005. Marshall Brickman is the former collaborator of another New York resident, the incomparable Woody Allen, and it shows in some of the snappy dialogue such as when Frankie Valli's soon-to-be first wife Mary Delgado is not happy with some of the types he associates with and says 'With friends like that, you should change your name to Sinatra' to which the diminutive Valli proclaims 'I'm going to be as big as Sinatra' … 'Only if you stand on chair' is her witty response. When Valli and Gaudio are trying to get a meeting with a record executive on the strength on a demo they are told to 'Come back when you're black' because he wasn't expecting a white group from what he had heard.
Tony-award winning Des McAnuff's original production is faithfully recreated here and everything seemed to be imitating what had gone before and not just The Four Seasons. It is a whirl of songs and characters, as well as props and stage furniture that is brought on and almost as quickly whipped away. The different Seasons tell their own story as they saw it – from Tommy DeVito beginning with 'You want to hear the real story? I'm the one you want to talk to, Tommy DeVito. If it wasn't for me, we all would have wound up with a bullet in our head' to Frankie Valli's valedictory final 'That's why I'm still out there singin', like that bunny on TV with the battery, I just keep goin' and goin' and goin'… chasin' the music, tryin' to get home.' Michael Clark provides Roy Lichtenstein-style projections for the four seasons ('Spring, 'Summer', etc.) of the story and these provide reasonably appropriate changes of scene and time in the background of Klara Zieglerova's permanent all-purpose – rather industrial-looking – set.
By the time John Lloyd Young – who also created the role of Frankie Valli on stage – sang 'Can't Take My Eyes Off of You' in the film he had transcended mere impersonation into something much more compelling. However I never got that from Matt Corner (replacing an indisposed Tim Driesen) as Frankie Valli. I don't know whether he was supposed to be deliberately disinterest in singing 'My Mother's Eyes' to the grieving mafia boss, Gyp DeCarlo, (a rather OTT Sean Kingsley) but it would never have earned him the 'rain check' that eventually helps shake the Four Seasons free of the loan sharks. As Frankie Valli he is young enough but exudes more of the insouciance of Ricky Nelson – a teen idol of an earlier vintage. Nevertheless Corner sings very well and together with Stephen Webb as bad boy Tommy DeVito, Sam Ferriday as Bob Gaudio the genius songwriter; and the impressive Lewis Griffiths as the bass player, Nick Massi – with the equally bass voice and who considers himself the Ringo (as in Starr) of the group – they make up a highly-energetic, very appealing and accomplished quartet. They are supported by a very hard-working ensemble including Matt Gillett as the extrovertly camp Bob Crewe, Damian Buhagiar as Joe Pesci (who later in life was in Scorsese's Goodfellas), and Amelia Adams-Pearce and Leanne Garretty as the women Frankie Valli became involved with, Mary Delgado and Lorraine.
However unlike in the film, here the story is given too little time to breath; for instance, we see little of Tommy's wheeling, dealing or gambling and descent into debt and also one moment Frankie's daughter is a little girl … and next moment grown-up and dead. Only her death and the band's break-up – triggered by Gyp DeCarlo's intervention – gets the time it deserves. Nothing I am going to write now will make the slightest difference but the show is undermined a little at the start – especially at Southend's Cliffs Pavilion where it is mostly a grey-haired audience – by opening with 'Oh What a Night' in the 2000 French hip-hop (rather than doo-wop) version and it was only when any songs were sung in their entirety that the audience seemed truly engaged. Once The Four Seasons classics were rolled out feet began to tap and – as heard here with their three-part-harmony backing up the falsetto of Corner-as-Valli – those songs remain exasperatingly infectious and are perhaps the reason for this show's longevity.
Corner, Webb, Griffiths and Ferriday throw themselves into Sergio Trujillo's choreography and are a worthy tribute to the originals, even if – when sometimes dressed in rather modern-looking suits – they often seem less like The Four Seasons and more like Take That. This former boyband was originally a five-piece and is now a trio (and should really be renamed 'Take What You Can Get') but this has the precedence of Frankie Valli's Four Seasons having undergone many changes of personnel over more than five decades … whilst Valli himself just keeps on 'goin' and goin'… chasin' the music, tryin' to get home.'
Jim Pritchard
For more about the performances of Jersey Boys on tour visit http://www.jerseyboysuktour.com/.
For events at Southend's Cliff Pavilion visit https://southendtheatres.org.uk/.