United Kingdom Giordano, Andrea Chénier: Soloists, Chorus and Orchestra of the Royal Opera House London / Sir Antonio Pappano (conductor). Broadcast to the Empire Cinema, Basildon, Essex. 29.1.2015. (JPr)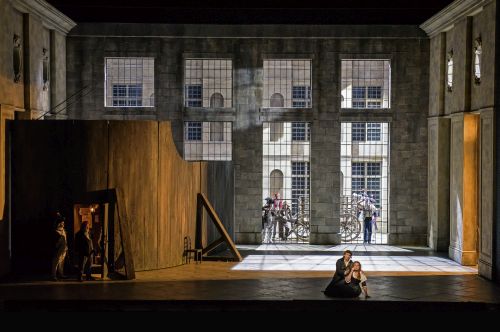 Cast:
Andrea Chénier: Jonas Kaufmann
Maddalena de Coigny: Eva-Maria Westbroek
Carlo Gérard: Željko Lučić
Bersi: Denyce Graves
Madelon: Elena Zilio
Contessa de Coigny: Rosalind Plowright
Roucher: Roland Wood
Pietro Fléville: Peter Coleman-Wright
Fouquier-Tinville: Eddie Wade
Mathieu: Adrian Clarke
The Incredibile: Carlo Bosi
Abbé: Peter Hoare
Schmidt: Jeremy White
Major-Domo: John Cunningham
Dumas: Yuriy Yurchuk
Production:
Director: David McVicar
Set design: Robert Jones
Costume designs: Jenny Tiramani
Lighting design: Adam Silverman
Movement: Andrew George
(New production, co-produced with the China National Centre for Performing Arts, Beijing, and San Francisco Opera)
Those responsible for these cinema broadcasts from the Royal Opera House seem to have a penchant for 'luvvies' and following the recent I due Foscari hosted by Stephen Fry it was Richard E Grant who genially guided us through Andrea Chénier. Almost immediately, he reminded the watching audience how Giordano was a contemporary of Puccini and how this was the first production of the only opera of his now regularly performed for 30 years. I was there in 1984 to see José Carreras partner Rosalind Plowright as the lovers Chénier and Maddalena followed by Plácido Domingo and Anna Tomowa-Sintow in 1985.
Despite a plethora of smaller roles this is essentially a typically operatic three-hander (C is infatuated with B but she loves A) and previously Carlo Gérard – the 'villain' of the piece – was Bernd Weikl and Giorgio Zancanaro. Amongst another interesting series of backstage films we heard the conductor, Antonio Pappano, explain the different soundworld Giordano gave the servants and the bourgeoisie. The aristocracy's music was a 'reworking of rococo ideals … their perfumed wigs and dance steps' and that for the servants is 'much more Italian in character (with) strong pointed accents'. Pappano said that by doing this the librettist, Luigi Illica, and the composer were trying to highlight the 'imbalance' in French society of the time 'the haves and have nots which then, of course, creates the terrain for the revolution.' This musical distinction is repeated over and over in the scene-setting Act I that seemed on this occasion to go on for ever.
Returning to Andrea Chénier after three decades it became clear that Giordano was no Puccini … although Tosca – that was first performed four years after Andrea Chénier premièred – owes a great deal to it. In its best moments in Acts III and IV Gérard becomes a kinder Scarpia, Maddalena has her heartfelt 'La mamma morta' that will reappear as 'Vissi d'arte' in Tosca – just as Chénier's reflective 'Come un bel dì di maggio' will become 'E lucevan le stelle'. In Puccini's opera there is the final, rousing, soprano-tenor duet as Cavaradossi prepares for his supposedly mock-execution and the lovers get ready to flee Rome; Giordano on the other hand has them bravely awaiting the guillotine. Clearly we have an opera's version of 'which came first, the chicken or the egg?'. The two stories are related to the French Revolution, Andrea Chénier is set against France's bloody 'Reign of Terror' and Tosca in Italy but with Napoleon's post-revolution French army in the background to what we see. Not surprisingly, both operas share the same librettist, Luigi Illica and it as if Puccini saw his contemporary's popular verismo success and thought 'I can do that … but only better!'.
Puccini of course went on to even greater success but Giordano never really bettered Andrea Chénier and is almost forgotten despite having written 14 operas including Fedora which still retains a little popularity. The front cloth for David McVicar's Andrea Chénier has the words (in the original French) 'Even Plato banned poets from his Republic' penned by Robespierre on the death warrant of the historical eponymous poet condemned to the guillotine in 1794 for his criticism of France's post-revolutionary government. Giordano's 1896 romantic opera gives him a love interest, Maddalena, and the rival for her affections, Gérard, who rises from being a servant to a leader of the Revolution. It is a long, hoary, old melodrama, an emotional roller coaster involving love, liberty and the pursuit of happiness through revolution … with just a sprinkling of memorable arias, duets and choruses. Its story gains a little modern relevance in the aftermath off the terrorist attacks in France but David McVicar's production does little more than treat Andrea Chénier as a museum piece so there was nothing to make the audience dwell on these very recent sad events.
This was a disappointing return to Covent Garden for the former enfant terrible director, David McVicar, who like his contemporary, Richard Jones, seems – on this evidence – to be also wanting to become the new Jonathan Miller with this safe, very uncontroversial production. This is okay when a genuine music drama such as Tristan und Isolde can tell its own story and his staging of Wagner's opera in Vienna (in sets, as here, by Robert Jones) was remarkably atmospheric and engrossing when I viewed it live on the internet from the Wiener Staatsoper recently. (It was far superior to Covent Garden's own Tristan that was directed by Christof Loy and it was also much better sung and conducted.)
I cannot remember how I reacted to Andrea Chénier all those years ago but the first two acts played without an interval now seemed interminable and I was wishing the score had been substantially edited. Puccini can throw away more backstory in one line than Giordano does in one entire act. The servants are getting ready for a ball that will take place in a glittering gilded period ballroom complete with crystal chandeliers at the palace of the Countess of Coigny – well-sung but poorly acted by the Maddalena from 1984, Rosalind Plowright. Carlo Gérard (a very believable performance from Željko Lučić whose reverberant baritone improves as the evening lingers on) is a footman and is indignant at the sight of his aged father, worn down by long years working for the nobles. Only the Countess' daughter Maddalena escapes his scorn, since he is devoted to her. We get over-elaborate costumes from Jenny Tiramani – Jonas Kaufmann revealed he needed to unlace his boots to change his socks for each act! There is an extravagant party, a pastoral ballet (that could have been cut with nothing overall lost) and a gavotte follows before the rather too healthy-looking and well-fed peasants gatecrash the party. Here and in the rest of the opera the peasant are not nearly revolting enough: the crowd scenes often leave a lot to be desired and are relegated to the back of the stage with the Revolution – which is already undermined by Giordano's love story – mostly ignored by David McVicar. In case someone had already thought of this I did Google and found my esteemed colleague Edward Seckerson in The Spectator had indeed written that this Andrea Chénier is like 'the Carry On film Don't Lose Your Head without the jokes' – and that is exactly what I was thinking! I was imagining Sid James as Gérard, Joan Sims as Maddalena, Jim Dale as Chénier with the wonderful Kenneth Williams as one of Robespierre's henchmen.
It is suggested that the singers capable of handling the leading roles are rare these days but – mentioning Puccini again – it only needs a Scarpia, a Tosca and a Calaf. This gets the first two … plus a Siegmund. Jonas Kaufmann – without whom this production would probably not have been put on – is much too laid-back and refined when the thrilling spinto sound of a Carreras, Domingo (in his prime) and Bonisolli is required and here we get the burnished baritonal tones of a Wagner tenor. This maybe just as heard in the broadcast but occasionally Kaufmann makes the most peculiar of sounds such as when he began his Act II duet with Maddalena with what sounded like a wheeze. Of course he looks the part and that is what matters most these days, cutting a suitably romantic figure before Madame Guillotine's unkindest cut of all! Željko Lučić's Carlo Gérard and Eva-Maria Westbroek's Maddalena transcended criticism and the latter's account of 'La mamma morta' was a wonderful showcase for her remarkable vocal colours and smooth timbre.
The smaller roles were a little unevenly cast and sung including a rather squally Bersi, Maddalena's black servant, from Denyce Graves and an incredibly emotional vignette from the veteran Elena Zilio as the blind Madelon who gives up her grandson to be a soldier of the Revolution. The Royal Opera Chorus were their usual committed selves and Antonio Pappano stirred his orchestra up for a stupendously frenzied and fervent final few minutes as Chénier and Maddalena fearlessly prepare for death – but there was too little blood-and-guts elsewhere in his account, as in some of the singing … and certainly from David McVicar's rather tame production.
Jim Pritchard
Check out your local cinema listings as the 2014-15 Royal Opera House Cinema season continues or visit www.roh.org.uk/cinema.