Switzerland   Martinu: Juliette   Soloists, Chorus of the Zurich Opera, Philharmonia Zurich, conductor: Fabio Luisi, Zurich Opera, Zurich. 22.2.14 (JR)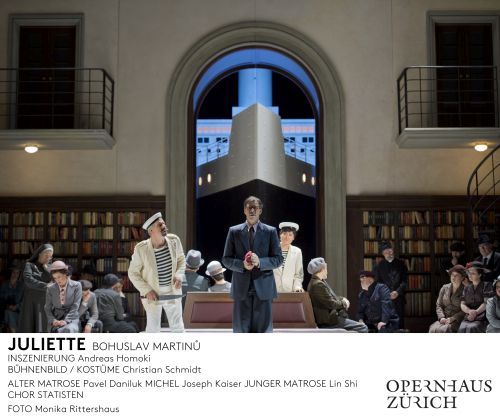 Cast:[table]
Juliette,Annette Dasch
Michel,Joseph Kaiser
Commissar,Postman
Train driver
Nightwatchman,Airam Hernandez
Young Arab
Young sailor,Lin Shi
Old Arab and old sailor,Pavel Daniluk
Bird-seller,Rebeca Olvera
Fish-seller
Fortune-teller, Judit Kutasi
Man with helmet
Reminiscences seller
Blind beggar, Alex Lawrence
Man with Schapska,
Grandfather Youth,Alexei Botnarciuc
Old man
Convict,Reinhard Mayr
Old woman,Irène Friedli
Official,Martin Zysset

Production:
Director: Andreas Homoki
Sets/constumes: Christian Schmidt
Dramaturgy: Beate Breidenbach
Lighting: Franck Evin
Chorus: Ernst Raffelsberger
[/table]
Music-lovers may know this Czech opera (if they know it at all) as Julietta, but when sung in French (as in Zurich) it becomes Juliette: Martinu decided at the end of his life that he would prefer the opera sung in French.  Generally regarded as Martinu's finest opera, the story is set in France, after a play by Georges Neveux entitled "Juliette, ou La clé des songes (Juliette or the key to our dreams)". The opera is a rarity and Martinu's music, in general, is seldom performed. I was curious to see the opera for two reasons: firstly I recently sang (I hasten to add not as a soloist, but in a choir) in a performance of Martinu's Epic of Gilgamesh and found the music interesting, striking and powerful: secondly, many years ago at a dinner I sat next to that champion of Czech music Sir Charles Mackerras, towards the very end of his career, and asked him if he had any regrets: "Yes", he replied, "I wish I had conducted Julietta" (he only conducted and recorded some fragments). That was high praise for this neglected work, which David Pountney also considers a masterpiece.
English National Opera put the opera on three years ago in a stunning Richard Jones production with Edward Gardner in the pit which garnered much critical approval. Usually there is reason for a work to be neglected but on this occasion the relative neglect is somewhat unjust.
True, the plot is, in common with many better known operas, inconsequential and in this instance surreal: reality and fantasy merge throughout. Three years earlier Michel, a book-seller in Paris, had spotted and heard from afar a beautiful woman, on a balcony in a provincial French harbour town, and his memories of her and the song she sang plagued him in his dreams ever since. So he sets off to find her again to find the locals have all lost their memory and view all newcomers who claim to have a memory with extreme suspicion. Michel finds he cannot return as the railway station has disappeared. Boy does eventually meet girl but, as in most dreams, the result is unsatisfactory.
The music draws clear influence from Stravinsky and Debussy (especially Pelleas) and only at times (as in Michel's final aria) does it truly reveal its Czech heart. Some love Martinu's music; others find it superficial, anonymous and derivative.  My view is somewhere between these two extremes – Martinu's music certainly has plenty to please, it improves as the opera progresses, there were some ravishing passages.  Martinu is no Janacek. The train noises (and accompanying choreography) from the pit were fun, the quacking chorus amusing, the wordless chorus impressive, but oddly I could not detect the sound of an accordion in the first Act.
Surrealist treatment of a dream can drag and in this respect the producer is called upon to lift the spirits. Here Homoki does not quite succeed. He makes full use of the opera house's revolving stage; it is hardly still for a moment, showing us the bookshop where the action starts, devoid of books turning into the Central Office of Dreams in the last Act. Trees appear, almost magically, turning the shop into a forest. The bow of a huge liner is impressive to signify the ship, and a giant black locomotive glides across the stage from time to time whenever there are references to the railway station. However an opera like this demands a bit more of a "wow" factor to draw in the crowds although the Sunday matinee performance I attended was well attended, if only by octogenarians. The English National Opera production with giant accordion and typewriter dominating the stage seems to have hit the spot in this regard.
Canadian tenor Joseph Kaiser as Michel is on stage virtually throughout and is a fine singer, his voice at the top only showing signs of strain as the opera went on. Annette Dasch made a striking figure all in red but she actually does not have all that much to sing, some of it (in this production) off stage; vocally, it seemed an easy task. The singers who impressed me the most were young Airam Hernandez, who took a number of the important side roles including the Commissar and Postman, and Martin Zysset as the Official in the Central Office of Dreams: they were also fine actors.  Rebeca Olvera and Judit Kutasi as the birdseller and fishseller needed more volume in Act I to ride over Fabio Luisi's vigour in the pit.  Lin Shi charmed as the young Arab and young sailor.
Full marks must go to Zurich Opera for bringing us this rarity. But by the final curtain I was rather disappointed by the opera itself, I had expected and hoped for more: the opera is however worth a detour if not a journey.
John Rhodes