United States Tchaikovsky, Grieg, Glass,  Moving Stateside: a triple bill of one-act ballets from Birmingham Royal Ballet, Royal Ballet Sinfonia / Paul Murphy (conductor). Birmingham Hippodrome, 18.2.2015 (GR).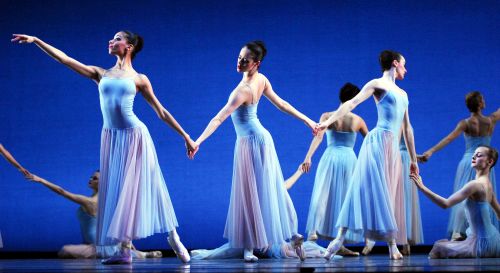 Serenade
Music: Tchaikovsky
Choreography: George Balanchine
Revised Staging: Desmond Kelly
Lighting: Peter Teigen
Costumes: Karinska
Blend the music of Tchaikovsky with the choreography of George Balanchine and a ballet of quality is virtually guaranteed: Serenade is a prime example. Premiered in 1934 it was a milestone in the history of dance, Balanchine's first original ballet created in America, thus making it an ideal choice to begin this Moving Stateside triple bill of dance from Birmingham Royal Ballet, performed at the Birmingham Hippodrome. As Balanchine established himself in USA, it was more a case of moving St Petersburg to New York.
To the familiar strains of the Andante opening to Tchaikovsky's Serenade for Strings in C major, Op. 48, the curtain rose to reveal seventeen ballerinas, romantically attired in blue-shaded chiffon (see Photo 1). The diffuse lighting of Peter Teigen reproduced the intended moonlight setting and revealed the dancers in stationary pose on a bare stage. With their right arms outstretched, they were paying homage to some lunar deity. Why seventeen? Whilst hosting a rehearsal class in 1934, the number of girls present happened to be seventeen sparking Balanchine's concept for a new ballet. Working patterns around the prime number of seventeen may seem difficult – how do you maintain symmetry? –  but Balanchine and BRB achieved it. For instance, the clever opening arrangement – two diamonds of 3 X 3 dancers with one apex common to both squares – proved that. There was also excellent unison from the seventeen when they began to interchange, symbolic of Balanchine's moving things forward States-side; arm, and particularly wrist manoeuvres, were in perfect harmony with the lilting strings of the Sinfonia conducted by Paul Murphy and led by Robert Gibbs. Not that every ensemble had the full complement of seventeen, so when only nine turned up for a subsequent Balanchine class, a delicate reverse walk with flapping arms was devised by the choreographer; BRB executed it charmingly, their arm gyrations synchronised to the beat. There were brief frolicking solos too, notably a delightful one from Momoko Hirata. And when one member of the Manhattan school arrived late, Balanchine also built that incident into his creation: enter Elisha Willis who sheepishly took up her moon-appreciation stance along with the other BRB magnificent seven-teen.
This episode also triggered the arrival on stage of César Morales and a tempo switch to Valse: Moderato, one of Tchaikovsky's most popular waltz melodies. The combination of Willis and Morales is always a joy to behold and this one was all too brief, their initial attraction fizzling out as the corps re-entered. Such an idyllic mood could not last and when a group of five isolated themselves from the main bunch, the music transposed once more into Larghetto elegiac. This breakaway quintet led by Hirata delivered a magical sequence of gliding steps and interweaving arms. As the main group took over so the music built into a mini-climax, and as they exited left another 1934 rehearsal incident was included by Balanchine – one of the dancers collapsed in a heap (à la Giselle); it allowed the ballet to move into the Finale. Here Céline Gittins walked behind Tyrone Singleton, one of her hands blindfolding him, guiding him like a guardian angel toward the prone Willis. This led to a renowned moment in ballet movement: Singleton on one knee, slowly rotating an arabesque Gittins whilst holding her leg. The trio then moved as one to the sonorous accompaniment of Tchaikovsky tones and marked pizzicato. The fleeting entry of the other dancers emphasised the wow factor of Singleton, but the scene was predominantly a ménage à trois. It seemed the world of Willis had fallen apart when Gittens led Singleton away, but in the beautiful final scene it is Willis who was carried aloft and deified – a veritable Diana. Perhaps the entreaties of those original seventeen supplicants had been answered. Serenade is a work that warrants its popularity, being typical of Balanchine's style; surely the choreographer would not have been disappointed with BRB's execution of the inspiration he got from the practice studio. Overall it was a blissful interpretation of Tchaikovsky's music.
Lyric Pieces
Music: Edvard Grieg
Choreography & Set Concepts: Jessica Lang assisted by Clifton Browne
Costumes: Elena Comendador
Lighting: Nicole Pearce
First commissioned for the International Dance Festival Birmingham 2012, North American Jessica Lang's Lyric Pieces was her first piece for a major European company. She chose the romantic musical miniatures of Edvard Grieg and incorporated a fluid design of folding and unfolding shapes to augment her interpretation. It had formed part of another triple bill entitled Opposites Attract at the Hippodrome on 26:9:2012,
Once again Jonathan Higgins showed why he is BRB's Principal Pianist, a virtuosic rendition of ten pieces from the set of sixty-six that comprise Grieg's collection, also entitled Lyric Pieces. There can be no higher praise of Higgins than to say his contribution was worthy of a solo recital in Birmingham's Symphony Hall, fully deserving of his stage bow and generous applause. There was a delicate touch to his Arietta, a gay abandon in his Elves' Dance and urgency throughout his March of the Trolls.
 The dancing itself contained an interesting mix and match of dance forms, reinforcing US critic Gottlieb's quotation of Lang, having an 'impressive sense of how to move dancers in natural yet seemingly inevitable ways'. Central to her staging was the black paper soft-wall shapes of molo design, objects 'that define intimate temporal space,' moulded into contours to purportedly suit the mood of each Grieg piece. I thought these shapes did at times integrate well with that dance, whilst on other occasions they failed to convincingly justify their inclusion. One positive annexation was the black stools, particularly effective for the ensemble statue formed during In Ballad Style. Another shortcoming I thought was that with ten pieces crammed into some 25 min, mood portrayal was established, but often un-sustained. Choreographically my favourites were Arietta and Remembrance – the opening and closing ensemble numbers – plus the male quartet of James Barton, Mathias Dingman, Brandon Lawrence and Iain Mackay in Norwegian Dance. The audience loved the March of the Trolls with its familiar score and striking use of the folded shapes (see Photo 2): it highlighted the delectable Maureya Lebowitz, supported by Yvette Knight, Yijing Zhang, James Barton and Brandon Lawrence.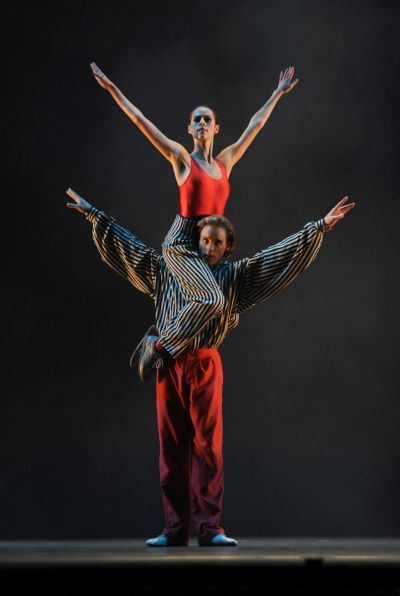 In the Upper Room
Music: Philip Glass
Choreography: Twyla Tharp
Costumes: Norma Kamali
Lighting: Jennifer Tipton
Coached by Richard Colton
If Jessica Lang was one step away from the traditional fin de siècle expectations of ballet, then fellow choreographer Twyla Tharp was a "giant leap"  – to paraphrase Neil Armstrong, an American who truly 'moved'). In the Upper Room lived up to its high-octane rating for the final offering in this BRB 2105 Spring Season compilation. Together with the relentless, pulsating accompaniment of Philip Glass, Tharp had produced forty minutes of diverse, highly vigorous movement, with inexorable results in both sound and vision. If the music style was minimalistic, the presentation was anything but, everything performed to (and at) the nth degree – and more. The soothing sounds of Tchaikovsky and the lyrical poetics of Grieg hardly prepare an audience for the amplified modernism of Glass, although at times it was hard not to get carried along with the driving repetitions. I have been converted to the operas of Glass (especially his latest The Trial, reviewed on this site) but his compositions for ballet are new to me; they demand a different learning curve, but one that does have a certain appeal. What I was not prepared for was the dense fog that opened proceedings, billowing from left to right, masking the stage and emanating a strange odour to the front Hippodrome stalls; this was somewhat perturbing and surely overdone!
The costumes of Norma Kamali distinguish the opposing factions within the nine sections: the striped magpie pyjama-type garb and sneakers, contrasting against vivid red singlet-tops and red pointe shoes, although as their divisions begin to become more blurred, so their identifying attires became mingled (see Photo 3). Throughout no prisoners were taken: the Jets and Sharks of West Side Story had been superseded by the 'Stompers' and 'Bombers'. The committed thirteen of BRB did everything expected of them, especially the versatile Samara Downs; having risen from the ranks of the Birmingham Junior Associates before joining BRB proper in 2003, Downs used her experience to advantage. Above all it was an extremely athletic exhibition from the baker's dozen, with dance representations from such broad spheres as the Floor Exercises of an Olympic gymnastics competition to more deliberate yoga-like poses. The third section, with the three pairs of Willis, Downs, Laura Purkiss, Singleton, Mackay and Jamie Bond, stood out and incorporated a spectacular shoulder-pivot
upon the thigh of her male partner! Other memorable moments included the intricate patterns created during some whirlwind periods of backward running, requiring an accurate sureness of foot. As the Glass orchestration drove relentlessly on, it was exhausting for performers and audience alike, a mesmerising example of the dance philosophy that is Twyla Tharp.
An all-American choreographed programme with BRB embracing the grace of Balanchine, the inspiration of Lang and the drive of Tharp.
Geoff Read