United Kingdom Prokofiev, Romeo and Juliet: Northern Ballet, Northern Ballet Sinfonia / John Pryce-Jones (conductor), Edinburgh Festival Theatre, 26.3.2015 (SRT)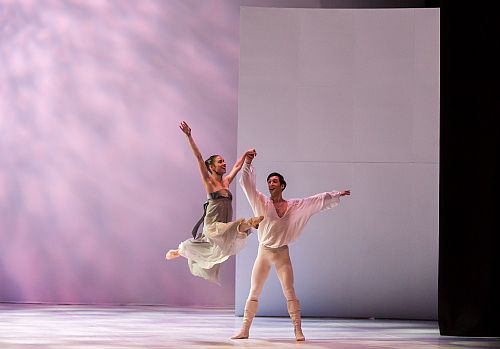 Cast:
Juliet – Martha Leebolt
Romeo – Giuliano Contadini
Friar Lawrence – Isaac Lee-Baker
Nurse – Antoinette Brooks-Daw
Lady Capulet – Lucia Solari
Tybalt – Javier Torres
Mercutio – Matthew Koon
Production
Choreography: Jean-Christophe Maillot
Set Design: Ernest Pignon-Ernest
Lighting Design: Dominique Drillot
Costume Design: Jérôme Kaplan
Staging: Bernice Coppieters & Giovanna Lorenzoni
There is a lot to enjoy about Northern Ballet's new Romeo and Juliet.  For one thing, the story is cleanly and clearly told, at least in the first half, and that's helped by the austere, abstract set.  Painted all in white, it consists of different shapes that interlock with one another and move to suggest new environments with minimal time or fuss.  If it threatened to become dull then that never became a danger for me, and I liked the way we could move from the street to the ball to Capulet's balcony with only tiny amendments to the set.  Jérôme Kaplan's costumes helped, too.  Classically inspired, they characterised the two families very well, most directly using whites and creams for the Montagues, greys and blacks for the Capulets, with more flowing drapes for Juliet, Rosaline and Lady Capulet, lending them a more sensual air and setting them apart from the macho characters of the men.  Only the characterisation of the nurse was a little confused: her costume suggested a dowdy older woman, but she was a young dancer with, often, young moves.
 Jean-Christophe Maillot's choreography was also very direct in its approach, particularly in the first act.  The Montague boys joshed around very winningly, jumping at and over one another in a way that underlined the banter between them, and the conflict between the two families was underlined by lots of jagged movements and sharply angled bodies.  The intimate scenes were much more flowing, though.  The duets for Romeo and Juliet, in particular, had both sensuality and symmetry, underlining both their affection for one another and what made them different to the rest of their community.  I particularly liked the balcony scene, full of the joy of mutual discovery, and ending with the agonising tingle of pleasure deferred.
Yet there was also plenty that I found irritating.  Most damagingly, Maillot gives an extended role to Friar Lawrence, placing him centre stage, in various scenes of increasingly monotonous agonised self-reflection, throughout all three acts.  It's as if the whole story was being re-lived in his head, him blaming himself for his role in the tragedy.  It's not a particularly interesting idea, and it became intrusive in the first act before it was squarely dropped in the third as the Friar's "real-time" role in the story took centre stage.  Furthermore, the movement became more abstract than narrative as the night wore on.  There is a long, rather puzzling duet for Juliet and Friar Lawrence in her bedroom, the night that Romeo flees for Mantua, and it's not altogether clear what it's for, save to suggest that she is taking the potion – she doesn't, but the effects of it are then depicted on stage.  Similarly, Romeo takes no poison and Juliet does not stab herself: Maillot opts instead for an abstract depiction of both these things which is beautiful in its own way, but inconsistent with the style of the first two acts.  I also didn't like playing Tybalt's death as a slow-motion scene, something that blatantly contradicts the torrent of notes storming energetically from the pit at that point.
The individual dancers were all compelling in their own way, and lived Maillot's vision in a way that did them credit.  The lovers themselves were delicately drawn and interacted beautifully, and Isaac Lee-Baker was an impressive Friar, for all that I disliked what he was given to do.  Javier Torres was full of raw physicality as Tybalt, while Matthew Koon and Sean Bates made a winning, chummy pair as Mercutio and Benvolio, something that also rubbed off on Giuliano Contadini's Romeo.  The orchestra also kept abreast of the score well, directed ably by John Pryce-Jones, for all that there was a wiry air to the strings at times.  It's worth seeing, either in Edinburgh or in Leeds, but it's a mixed success nonetheless.
 Northern Ballet's Romeo and Juliet is at the Edinburgh Festival Theatre until Saturday 28th February, then the Grand Theatre, Leeds, from 4th to 12th March.  For full details click here.
Simon Thompson