United States Offenbach, Les Contes d'Hoffmann: Soloists, Chorus and Orchestra of the Metropolitan Opera, New York / Yves Abel (conductor). Broadcast to the Odeon Cinema, Chelmsford, Essex, 31.1.2015. (JPr)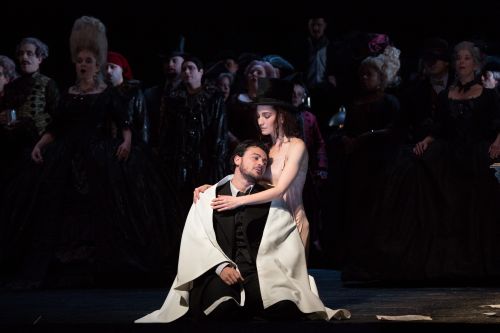 Cast:
Hoffmann: Vittorio Grigolo
The Muse/Nicklausse: Kate Lindsey
Four Villains: Thomas Hampson
Olympia: Erin Morley
Antonia/Stella: Hibla Gerzmava
Giulietta: Christine Rice
Four Servants: Tony Stevenson
Luther/Crespel: David Pittsinger
Hermann/Schlémil: David Crawford
Nathanaél/Spalanzani: Dennis Petersen
Antonia's Mother: Olesya Petrova
Production:
Production Director: Bartlett Sher
Stage Director: Gina Lapinski
Set Designer: Michael Yeargan
Costume Designer: Catherine Zuber
Lighting Designer: James F Ingalls
Choreographer: Dou Dou Huang
Live in HD Director: Barbara Willis Sweete
Live in HD Host: Deborah Voigt
I have recently seen a live online transmission from the Vienna Staatsoper and now this Les Contes d'Hoffmann from the Met and my overriding impression is that both of these made most of the Royal Opera's cinema relays look First Division instead of Premier League.*  Why this is so I cannot really say – and this is not the place to debate it – however all I know is that I have rarely enjoyed opera at the cinema more than this Les Contes d'Hoffmann – and realisation also dawned while I was watching it (if we ignore my penchant for Wagner) that this work must be one of my favourites.
Offenbach creates a number of issues for a director and conductor as he never lived to see his opera performed. The composer had a premonition that like one of Hoffmann's three loves, Antonia, he would die prior to its completion and indeed he did so about four months before its première, with the piano score completed but only the Prologue and Act I orchestrated. As a result, different editions of the opera soon emerged, some bearing little resemblance to the authentic work. The version performed at the opera's première was by Ernest Guiraud, who completed Offenbach's scoring and wrote recitatives for the spoken dialogue in the original score. Over the years new editions have continued to appear trying to push the work towards 'authenticity'. Often there is some extra music by Offenbach not intended for this opera in the Giulietta act: this includes 'Scintille, diamant' whose tune derives from the overture to his operetta A Journey to the Moon and a Sextet (sometimes called a Septet, involving the chorus as a character). In a version apparently cobbled together by James Levine from existing sources for the first run of this production in 2009 both of these were retained.
Also something that creates much debate is the sequence of the acts: apart from a Prologue and Epilogue there are three acts, telling different stories from Hoffmann's life. They are basically independent (though Olympia is mentioned in the Antonia act) and can easily be swapped without affecting the overall story. Offenbach's order – as presented here – was Prologue–Olympia–Antonia–Giulietta–Epilogue, but often in the last century, Giulietta came before Antonia and only recently has this original order of the acts been restored. In my humble opinion, I always feel that that the musically and dramatically more accomplished Antonia act should come third but this staging made a strong case in defence of Offenbach's original order.
Interviewed during the interval by the bubbly Live in HD host, Deborah Voigt, the director Bartlett Sher revealed some of his ideas for this Hoffmann: 'Strangely, I was a little less attracted to Hoffmann than to Offenbach. I based it a little bit on Franz Kafka. It has a lot to do with Offenbach's sort of Jewishness. So there is this guy who is secretly inside the culture who never thought that he belonged – so he tries to gain access to the culture by sleeping with all the different women he can find. It's a assimilation problem which never works out in his favour and Nicklausse follows him along and sort of pushes him out of the problem and more into being an artist.'
The stage imagery is complex: Kafka is there and so is Magritte with the bowler hats and giant eyes, there is a Felliniesque orgy in decadent Venice and much more. This includes references to French and German Expressionist cinema and there is what looks like the female robot from Fritz Lang's Metropolis in the background of the Olympia act. Most of the costumes – Hoffman just wears a simple suit for example – suggest we are somewhere in Europe between the two world wars but Paris features heavily with ballerinas in rose-pink tutus representing Olympia, all the pasty-faced clowns with red noses and some mime artists, as well as, the long-legged chorus girls in black Victoria's Secret-like lingerie straight from the Crazy Horse Saloon.
Unlike Sir David McVicar's recent bland Andrea Chénier for the Royal Opera Bartlett Sher – together with set designer, Michael Yeargan, and the costume designer, Catherine Zuber – finds the emotional core of a complex opera with tremendous imagination, style and wit. Hoffmann spend most of his time at a small writing table with its old typewriter and a desk lamp. The Muse of Poetry – who transforms herself into his devoted friend, Nicklausse – believes that this is where he should stay because love can only help to distract him from his poetry.  Nicklausse will be central to all the tales Hoffmann recounts. The poet is currently infatuated with Stella who is starring in Don Giovanni at the opera house and Luther's tavern next to the theatre is the only place where Hoffmann seems at home. During the Prologue, encouraged by the inebriated students who wile away their time in the tavern listening to his stories, Hoffmann sings his ballad about the dwarf Kleinzach which is a slightly disquieting one for anyone with twenty-first century PC sensibilities – as is all the references to the bankrupt Jew Elias in Act I. After the Prologue, through flashbacks, Hoffmann broods about his three previous romantic obsessions that all ended badly. Is what we see supposed to be truth or fiction? Possibly the latter, because characters and images are jumbled right from the moment the curtain opens at the start of the opera with certain characters often reappearing during the remaining acts, especially the attractive girls in their underwear and the Olympia-like ballerinas.
In an ideal world any production of Les Contes d'Hoffmann would follow Offenbach's instruction and have one soprano singing all three of Hoffmann's previous love interests plus current inamorata, Stella. Hibla Gerzmava sang Antonia and Stella with Slavic warmth, passion and some melancholy. Erin Morley was a delight as Olympia and her agile coloratura easily reaching the stratospheric heights of her 'Doll Song' with laser-sharp accuracy, though I wasn't entirely convinced by her saying that her high A-flat 'squeak' was for 'comic effect'. Christine Rice who auditioned for me when she won The Bayreuth Bursary in 1999 at the start of her career – if I remember correctly, in some dingy West London hall – has come a long way since then. As the courtesan Giulietta her voice had a certain sensuous voluptuousness to it but I remain convinced that Wagner roles such as Fricka, Ortrud and Kundry should be tried out sooner rather than later.
The Met's veteran baritone Thomas Hampson was slightly huskily voiced and possibly didn't have the dark malevolent tones of some of the best exponents of Hoffmann's nemesis, nevertheless, he commanded the stage whenever he was involved and exuded an oleaginous supernatural sleaze. Another dramatically engaging presence throughout this Hoffmann was Kate Lindsey, whose androgynous allure as a waif-like Nicklausse was captivating and she sang with great appeal and heartfelt warmth. All the smaller roles were cast from strength: most notably, Tony Stevenson gave four remarkable vignettes as the various servants and as well as singing Luther, David Pittsinger excelled as Crespel, profoundly expressing his love for his ailing daughter, Antonia, and his despair at her death.
Star Italian tenor Vittorio Grigolo was a great success as Hoffmann in a house where things have not – by his own admission – gone so well for him in the past. He cited the Met's striving for perfection and how – to use an Italian saying – they always 'try to find the hair in the eggs'. The adjective frequently applied to him is 'exuberant' and he appears to have a puppy-dog enthusiasm both on and off the stage. However from his initial 'Il était une fois à la cour d'Eisenach' in the Prologue it was clear he had command of the role and his full-throated and totally secure voice never tired; he was the embodiment of a romantic poet who genuinely loves women and could believably be driven to the brink of insanity by his desires.
When everyone sings at the end 'Love lends man greatness. Tears make him greater still' it brought great poignancy to these concluding moments. Complicit in the success of this revival was French-Canadian conductor Yves Abel and the instinctive, exuberant, evocative and idiomatic account of the score he elicited from the always great sounding Met orchestra … especially as here in HD.
Jim Pritchard
*Britain's Premier Football League is on a higher level than the First Division.
Check out your local cinema listings as the Metropolitan Opera's Live in HD 2014-15 season continues.