United Kingdom Hawgood, Livingston, Martin, Moments in 360/Iris/The Vast Rocks: Richard Chappell Dance, Chisenhale Dance Space, London, 28.02.2015 (J.O'D)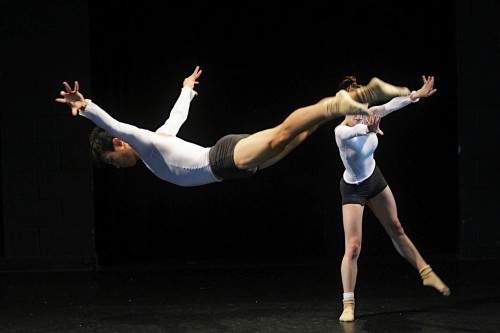 Moments in 360
Dancers: Will Thompson, Emma Farnell-Watson
Choreographer: Richard Chappell
Composer: Ian Hagwood
Iris
Dancers:   Kai Tomioka, Olivia Roach
Choreographer:  Richard Chappell
Composer and Performer:  Shaq Livingston
Filmmaker: Faye Tan
Writer: Zoe Fischer
The Vast Rocks
Dancers:  Kai Tomioka, Olivia Roach
Choreographer: Richard Chappell
Composer:   Aaron Martin
Filmmaker:  Faye Tan
Writer: Anne Chappell
Moments in 360, the 'curtain raiser' to this first double bill by Richard Chappell Dance, is like a statement of intent: a strikingly taut duet in charged space, its energy shared equally between male and female dancer across a series of twists and rolls, sudden leaps and swooping drops. The duets that follow are longer. They include other elements, interesting and unusual (the choreographer himself; a bale of hay used to create the atmosphere of Dartmoor in an east London dance studio). But they return, or aspire, to the charged, circling tautness of the opening piece.
Although originally choreographed for a short film, Moments in 360 is the only work, here, that is allowed to stand alone. Iris and The Vast Works are both preceded by introductory videos. Iris, we are told, is about nyctophobia or 'extreme fear of the dark'. It is the dark, the young choreographer explains, of an alleyway in brightly-lit London compared to the more natural darkness of Devon, where he is from.
The piece starts with Richard Chappell illuminating the two dancers, as he moves around them in darkness, by the spotlight he wears on a band around his forehead. The solo sections for the female dancer make use of épaulement. But if that and the hyper-extended legs of her later poses bring the Frederick Ashton of Monotones I and II to mind, it is speeded up Ashton. The video also makes reference to 'club culture'. This seems to be repeated in the costumes (white and glittering black), the music, and the frenetic movement of the dancers' arms and legs as they face or present their backs to the audience. What this piece most notably adds is the repeated pose in which, kneeling behind the woman who leans back in front of him, the man places his hands over her eyes.
The Vast Rocks, by contrast, takes the spectator to the Devon that Richard Chappell describes as a 'safe, calm place'. (And it's nice, that someone can feel like that about where they come from.) The introductory video, this time, shows the dancers getting inspiration for the dance during two weeks spent on a damp and misty Dartmoor itself. The choreographer appears again. Sitting on the bale of hay he has carried on to the stage, he reads from poetic responses to landscape. The dancers, when they appear, wear looser clothes in mauve and brown. Their movements now, are more introspective. They can still become at any moment the circling couple of the 'curtain raiser', but they share moments of peace.
The hay, once the string around the bale has been cut, extends around the stage. It is a dramatic device that works in what might be called a piece of 'land choreography'. Or rather one that will work when a flaw in the timing that led the audience to applaud before the end (because they thought it was the end) has been corrected.
John O'Dwyer