United States Haydn, Mozart, Beethoven, Schubert: Sir András Schiff (piano), Carnegie Hall, New York, 10.3.2015 and 12.3.2015 (SSM)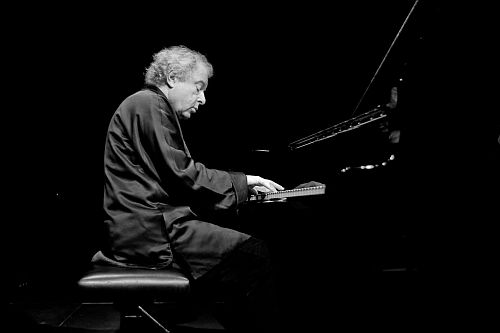 Program 1
Haydn: Piano Sonata in C Major, Hob. XVI: 50
Beethoven: Piano Sonata No. 30 in E Major, Op. 109
Mozart: Piano Sonata in C Major, K. 545
Schubert: Piano Sonata in C Minor, D. 958
Program  2
Mozart: Piano Sonata in B-flat Major, K. 570
Beethoven: Piano Sonata No. 31 in A-flat Major, Op. 110
Haydn: Piano Sonata in D Major, Hob. HVI: 51
Schubert: Piano Sonata in A Major, D. 959
Is it necessary to give a concert or a series of concerts a name to explain or summarize the reasons why a given work was chosen? Often there's no reason at all. At other times, titles may just state a fact,  such as "20th-Century Music from Darmstadt" or "Bach and Sons." There might be links that are discovered after a program has been created  ̶  sometimes believable, sometimes less so. In an interview with Alan Gilbert about the connection between disparate pieces already chosen for a program, Gilbert dug deep and came up with the comment that they are all dark.
The project that Sir András Schiff is currently touring is called "The Last Sonatas." This heading might have heft if he chose to play a single composer's final compositions. Performances of the last three Beethoven sonatas, for example, are commonplace, and the same holds true for Mozart's last three symphonies. But Schiff has not programmed these works as individual concerts, one for each composer; rather, he is performing the four composers' antepenultimate, penultimate and final sonatas in three recitals.
Setting them together implies that there is something special about these works, that they present something final. Are they unusual in and of themselves? Are there any connections between them stylistically or otherwise? Do they sound like last works? The final three Schubert sonatas were written the year he died and do have a sense of finality about them, but Beethoven's last three were composed seven years before his death, before his Missa Solemnis, Ninth Symphony and final quartets. Haydn wrote Masses, major string quartets and The Creation after his final sonatas. There is nothing in Mozart's last sonatas, written two years before his death, that betrays the melancholic undertows of his last piano concerto, the otherworldliness of his clarinet concerto or the doom of the Requiem.
Schiff may not have been successful in making connections between these composers' late works, but it mattered little given the remarkable attention to detail he afforded each work on the two-night program.
The opening Haydn sonata created the ambience for the rest of the concert, one of geniality, calmness and reserve. Even Schiff's most sensitive probing of the Beethoven and Schubert sonatas never sounded overwrought. His technique didn't press too hard; he kept his cool and took his time. This particular sonata received a similar reading, bouncing hands and all, from Jeremy Denk, but Schiff had the edge with a better piano and acoustics.
The least "final-sounding" piece, Mozart's so-called "Beginners' Sonata," K. 545, was imaginatively performed. Normally it's played straight on with little rubato or rhythmic flexibility, but Schiff approached the work not simply but subtly, slightly adjusting the tempo, bringing out the melodic lines in the left hand or increasing and  decreasing volume in the repeats. There was even a Baroque-like cadenza added to the final Rondo.
Schiff's performance of Beethoven's Sonata No. 30 was tightly controlled, not a bad approach to a work of such wildness. This may not have been the most innigster performance, but it was in character with the rest of the concert and totally convincing.
His Schubert was something else. Having recorded all of the sonatas for Decca in the mid-1990s, Schiff has lived with this music long enough to have them all under his fingers, and he knows how to exert the exact pressure to achieve the sound he wants from each note. The Sonata in C Minor of the first concert was filled with subtle nuances like stretched-out fermatas, and big and sudden volume changes that come as surprises even when one knows they are about to occur.
The second recital followed consistently upon the first. The Mozart here, considerably more complex than the piece from the previous night, was played in a way that revealed among other things its hidden counterpoint. The Haydn was another far-from-final-sounding sonata, not much more than a trifle of two brief movements, perhaps never completed because it wasn't up to Haydn's high standard: his abbreviated version of an unfinished sonata.
The Beethoven Sonata No. 31, although more challenging than the 30th, gave Schiff no great difficulties. The dense, multi-voiced final fugue, sounding at times like a piano transcription of the Grosse Fuge, was dispatched with alacrity and aplomb.
I leave the best for last. Schubert's Sonata in A Major, a great piece of music yet hampered, I've always thought, by repetitive iterations and Schubert's inherent weakness in composing satisfying development sections in classical sonata form. Granted, Schiff took liberties in following Schubert's markings, but the result was one of those too rare epiphanies that had me saying, "Now I know why I have devoted so much of my life to music." The Andantino, always moving but seemingly weak structurally, came through as some of the saddest and most heart-breaking music ever written. The closing Rondo was a study in contrasts, spanning the musical and emotional spectrums from despair to ecstasy.
Each concert ended with three encores: some familiar impromptu and impromptu-like works of Schubert and two Bagatelles from Beethoven's Opus 126. Schiff played the No. 4 with its jazzy syncopations and the No. 6 which begins with a coda and ends with the same chords. Both were packed with such energy that he seemed refueled to easily replay the entire concert.
In October, Schiff will return to Carnegie Hall to complete the project.
Stan Metzger
For another opinion of the first recital by the same artist at a different venue, see Geoffrey Newman's review