United States  Mozart: The Marriage of Figaro, LA Opera, James Conlon (conductor), Dorothy Chandler Pavilion, Los Angeles, 21.3.2015-12.4.2015 (JRo)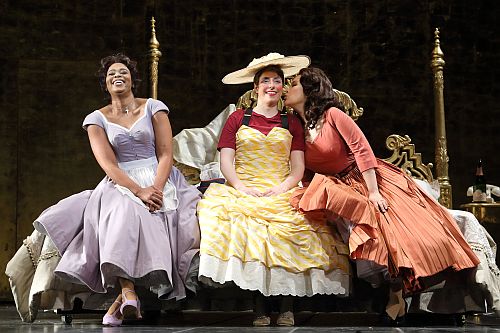 Cast:
Figaro: Roberto Tagliavini
Susanna: Pretty Yende
Count Almaviva: Ryan McKinny
Countess Almaviva: Guanqun Yu
Cherubino: Renée Rapier
Doctor Bartolo: Kristinn Sigmundsson
Marcellina: Lucy Schaufer
Don Basilio: Robert Brubaker
Don Curzio: Joel Sorensen
Barbarina: (3/21 – 4/4) So Young Park
Barbarina: (4/9 – 4/12) Vanessa Becerra
Antonio: Philip Cokorinos
 
Production:
Director: Ian Judge
Scenery: Tim Goodchild
Lighting: Mark Doubleday
Costumes: Deirdre Clancy
Chorus Master: Grant Gershon
Original Choreographer: Sergio Trujillo
Choreographer: Chad Everett Allen
Before Bergman's Smiles of a Summer Night, before Renoir's Rules of the Game or Sturges's The Lady Eve, there was Mozart and Da Ponte's The Marriage of Figaro. Through beautifully delineated characterizations, both musical and poetic, Mozart's tender yet often hilarious opera reminds us what it is to be human – to love, to rage, and to accept our weaknesses.
We may marvel at the machinations of the plot (which contains more confusion, deception, and disguises than an episode of I Love Lucy), but as in all heartfelt comedy, love and reason finally prevail. Figaro, Susanna, and Countess Rosina Almaviva foil the Count's attempted seduction of Susanna on the night of her wedding to Figaro; the lustful Cherubino escapes punishment to love another day; and Rosina and the Count reconcile.
The LA Opera's gifted cast, assembled for this revival of an earlier production, was supported by the sublime colors and textures fashioned by James Conlon and his musicians. The evening was a true symbiosis of voice and orchestra.
Though the opera's title bespeaks Figaro as the driving force behind the chicanery, it is really the two women, Susanna and Countess Almaviva, who unite to bring about the happy conclusion they so richly deserve. Nowhere else in the opera is the class equality that Beaumarchais advocated so apparent as in the relationship of the two women. For all Figaro's intelligence and interference, Almaviva remains the master – Figaro and the household tiptoe around him at every turn. But between Susanna and Rosina there is sisterhood rather than a power struggle. They deeply understand the workings of the human heart, and it is their alliance that makes things right.
In her debut as Susanna, Pretty Yende, who first impressed LA audiences as Micaëla in Carmen in 2013, brought a warmth and richness to her singing that underscored the humor and intelligence of her characterization. Her agile voice was particularly beguiling in the Act IV aria, "Deh vieni, non tardar."
Guanqun Yu as Rosina appeared here this season as the same character in Corigliano's The Ghosts of Versailles. She was affecting in both operas, a lustrous presence capable of soaring top notes that contrasted with the darker harmonies needed to express her pain over her husband's philandering, so keenly illustrated in her second aria, "Dove sono." Together, Yende and Yu melted hearts in the Act III letter duet.
A bass baritone working primarily in Europe, Roberto Tagliavini's warm, shaded, and expressive voice had the power to convey all of Figaro's dynamics, from smooth patter to simmering rage. His acting, however, could use some fine-tuning in a role where one expected wily grace and a bit of swagger.
Ryan McKinny never falls short in the acting department (apparent also in his portrayal of Stanley in A Streetcar Named Desire, seen here in 2014). He is completely the arrogant, entitled count – handsome, sensual, and duplicitous – which made his comic sequences all the funnier.  Nor did his singing disappoint with his pleasing, lyrical baritone.
As Cherubino, Renee Rapier was appropriately lustful, bringing a goofy, awkward, adolescent quality to the role, and she was affecting in her Act II canzone, "Voi che sapete."
Setting the piece in the 1950's neither detracted from nor added to the opera's enjoyment, though one felt a slight uneasiness when Almaviva donned a military uniform. Was he a member of Franco's regime? The circle-skirted dresses of Rosina and Susanna and the highly styled, extravagant ensembles of Marcellina were certainly a nod to the fifties and in keeping with their characters. The attractive interior sets of the first three acts gave way to the sparse outdoor set of Act IV. The lack of a lush garden was compensated for by the colorful fireworks display, both vocal and pyrotechnic, at the opera's conclusion.
As Marcellina, foiled in her attempt to wed Figaro when she discovers he is none other than her lost child, Lucy Schaufer (seen here as Berta in The Barber of Seville and as Susanna in The Ghosts of Versailles) proved again that she is a marvelous comedic actress and singer of considerable power and finesse. The rest of the cast, including Kristinn Sigmundsson as Doctor Bartolo, Robert Brubaker as Don Basilio, So Young Park as Barbarina, and Philip Cokorinos as Antonio, were delightful.
Under the superb direction of Maestro Conlon, LA Opera has now completed its Figaro trilogy, an enlightening and warmhearted gift to Los Angeles.
Jane Rosenberg