United States  Rossini: The Barber of Seville, LA Opera, James Conlon (conductor), Dorothy Chandler Pavilion, Los Angeles, 28.2.2015- 22.3.2015 (JRo)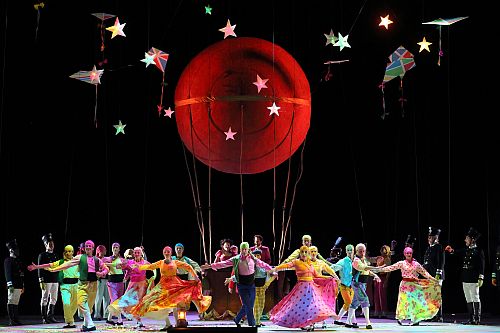 Cast:
Figaro: Rodion Pogossov
Rosina: Elizabeth DeShong
Count Almaviva: René Barbera
Doctor Bartolo: Alessandro Corbelli
Doctor Bartolo: (March 22) Philip Cokorinos
Don Basilio: Kristinn Sigmundsson
Berta: Lucy Schaufer
Fiorello: Jonathan Michie
Officer: Frederick Ballentine
Production:
Conductor: James Conlon
Production: Emilio Sagi
Director: Trevore Ross
Scenery Designer: Llorenç Corbella
Costume Designer: Renata Schussheim
Lighting Designer: Eduardo Bravo
Chorus Director: Grant Gershon
Choreographer: Nuria Castejón
With characterizations so vivid, musicianship so accomplished, and comedy so sublime that it raises the spirits, Los Angeles Opera's The Barber of Seville is a triumph. The cast is splendid, from the smallest role to Elizabeth DeShong's knockout performance as Rosina.
At every turn, this Barber delivered. From the opening chords of Rossini's bubbling score to the last note, we were held in thrall by the LA Opera Orchestra and Maestro James Conlon's superb rendering of this beloved music.
Trevore Ross' direction, after the original concept by Emilio Sagi for Teatro Real Madrid, was sensitive to every nuance of human behavior, so essential in achieving true comedy. Although Beaumarchais' characters exist on a rarified plateau where the everyday turns into myth, and Rossini's opera buffa is revered, nevertheless it takes a talented director and a great cast to bring out the poetry of this work.
In brief: Doctor Bartolo wants to marry his ward, Rosina, to get his hands on her dowry, but Rosina is in love with Lindoro, who is Count Almaviva in disguise. Rosina is kept under lock and key by her old guardian, so Figaro must scheme to get Almaviva into the house. In classic fashion, Bartolo is duped and the lovers prevail.
The hilarity started with the overture as a horde of black-suited Rossinis emerged from a trap door and began assembling the scenery. A classic Commedia dell'Arte street scene unfolded: a narrow avenue receded in the distance, flanked by buildings covered in a wash of creamy carved stucco representing a simplified version of Seville's architecture.
Everything in this production honored the opera's roots in Commedia dell'Arte, the theatre of ordinary people, with stock characters and insolent tricksters who outwit the masters and prevail. Renata Schussheim's costumes in glorious black and white made reference to harlequinesque suits with graphic stripes, dots, and checkerboards. Humor was in every detail of the wardrobe, seeping into the personality and body language of the wearer. With Llorenç Corbella's striking sets, it was such a fully realized world on stage that I had an overwhelming desire to jump in and join the fun.
And what fun! If the effervescence of Rodion Pogossov's dapper Figaro could be bottled, no one would need Cava or Prosecco (we're in Spain, after all, with music by an Italian). This Russian baritone moves with the grace of Astaire and the charm of Chaplin. As wily as Figaro, Elizabeth DeShong's Rosina was a gleaming presence – her feisty character burst through with every note of her brilliant coloratura. Her disgust for Bartolo was palpable in every scene, as was her girlish delight in Lindoro. René Barbera was convincing in his ardor as Lindoro/Count Almaviva, and particularly touching in his Act I aria, "Ecco ridente in cielo," which put me in mind of the lyric tenor of Alfredo Kraus.
Alessandro Corbelli's Doctor Bartolo was every inch the greedy cuckold, from his round belly clothed in horizontal stripes to his delicate prancing feet. He gave us the intricate patter of Rossini's score, huffing and sputtering as needed. The part of Don Basilio, the music teacher, is often overshadowed by the more prominent principals, but here Don Basilio was given room to expand, literally. As he stood on a table, singing to Bartolo that the best way to discredit Almaviva is through scandal ("La calunnia e un venticello"), the tablecloth literally unfurled like a parachute. It billowed and rolled, oozing across the stage like the poison of scandal. With unadulterated glee, bass Kristinn Sigmundsson brought megawatt vocal power to the aria and looked like a drawing come to life from the nineteenth-century pen of Daumier or Grandville.
Jonathan Michie was notable as Almaviva's servant Fiorello. And as Berta, the snuff-snorting, sneezing maid, Lucy Schaufer was a slapstick delight. The men's chorus, whether clamoring across the stage as serenading townsfolk or stomping into Bartolo's house in military regalia, were excellent. With the addition of peasant women dancing Flamenco style in the streets, Seville came to life, becoming a character in its own right. The clever choreography of Nuria Castejón was on display throughout the opera: dancers, whether acting as townspeople or servants, became the silent audience for the antics of Bartolo's household.
With the orchestral storm of Act II, what was once a black-and-white world turned into a rain of color as confetti and lighting effects simulated a downpour. From that moment on, everyone's costumes burst into delirious pinks, reds, greens, and yellows.
No Rapunzel trapped helplessly in a tower, Rosina made ready to flee. With Almaviva disclosing his true identity and Bartolo consoled with the offer of Rosina's dowry, the lovers, amidst a riotous celebration of dance and song, ascended in a hot air balloon, waving to a grateful audience. It was an infectiously joyful night at the opera.
Jane Rosenberg