United States Backstage Magic Tricks at LA Opera's The Marriage of Figaro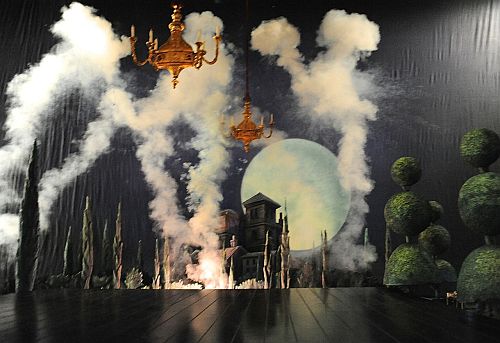 Los Angeles Opera, Los Angeles, 13.3.2015 (JRo)
If you like a little flash and dazzle with your Marriage of Figaro, the Los Angeles Opera production that opens March 21 has it. After all, who wouldn't enjoy a pyrotechnical display at the end of one's wedding festivities? And that's exactly what Figaro and his bride Susanna have in store. Following the schemes to keep Susanna out of the clutches of Count Almaviva, following the disguises, flirting, jealousies, and mistaken identities, and after the moment when everyone has been restored to their rightful partners, we have Mozart's touching conclusion, followed by an onstage landscape ablaze with the light, color, and thunderous crackling of fireworks.
Members of the press were treated to a preview on Friday morning courtesy of Jeff Kleeman, LA Opera's Technical Director, and Pyrotechnician Tom Newman. According to Newman, the fireworks at the finale of The Marriage of Figaro are similar to those sports fans see at Dodger Stadium. At the stadium, aerials can rocket to 100 feet. On the stage of the Dorothy Chandler Pavilion, amidst the topiary and cypress trees that dot Count Almaviva's estate, the aerials shoot a more modest 25 feet. Nevertheless, it should be enough to please the roughly 3000 spectators in the audience and rouse the hearts of the forever scheming and always exuberant Figaro and Susanna on the evening of their nuptials.
Timed to the musical finale, two dozen pyrotechnic devices are set to explode at the back of the Pavilion's stage. With a sharp perspective created by lining the stage with dramatically receding cypresses and topiary, and a large full moon beaming down on the Count's villa, the fireworks erupt as if on the distant grounds of the estate. So move over Hollywood Bowl and the 1812 Overture, and make room for the sparkling sound and light show of Mozart's The Marriage of Figaro.
Jane Rosenberg