The Natural:   Cellist Leonard Elschenbroich in Conversation with Margarida Mota-Bull
Leonard Elschenbroich is possibly one of the most exciting young cellists at present. Born in Frankfurt (Germany) in 1985, he is only thirty years old but already has a very impressive CV, which includes the Leonard Bernstein Award that he received after the opening concert of the 2009 Schleswig-Holstein Festival, following a performance of the Brahms Double Concerto with Anne-Sophie Mutter and conductor Christoph Eschenbach. In 2012 he was named a BBC New Generation Artist and he is also an artist in residence of the Philharmonic Society in Bremen. These are just a few honours but his list of achievements is extensive and he has performed with eminent conductors and orchestras all over the world.
Elschenbroich lives in London with his girlfriend, violinist Nicola Benedetti and it was at their home that I went to meet him on 21st February. It was Ms Benedetti who opened the door and welcomed me into their comfortable flat. She has a bubbly, friendly personality and a warm smile. I felt instantly at ease as if I'd visited them there a thousand times before. She soon left, apologising in advance for the background "noise" because I'd be hearing her practising in the room next door. After kindly offering me tea or coffee, Elschenbroich invited me to sit in his living room and start the interview.
He is a very interesting, indeed fascinating interview subject. Calm, collected, self-assured and confident but with not even a hint of arrogance, Leonard Elschenbroich is not only an accomplished, outstanding cellist and musician but also an intelligent, pleasant, kind person. The cello was for him a natural development, as his mother gave him one when he was only five years old but he continued playing it as, in his own words: "…my physique is quite suited to the cello. I'd never have made a good violinist I think, I'm just too big…not right for that…" and he adds: "…I think there's a melancholy, an oldness about the cello sound that suits me…I found I was able to express it with my instrument, more so than I'd have been able with a piano or a violin."
He plays, on loan, a Gofriller cello from 1693 and it is interesting to hear him talk about his relationship with the instrument: "From the first time I played it, I felt this was exactly the sound I'd imagined, the sound I'd heard in my head all these years." He has played a Stradivarius for nine months but states that he felt he could express himself much better with the Gofriller as "I felt that the Strad – and many people will have this opinion too – almost dictates its sound production". People are fascinated by the instruments created by Antonio Stradivari, especially the violins, but not all musicians feel comfortable with them. For example, English cellist Jaqueline du Pré did not feel at ease with one of the most famous of Stradivari's cellos, the Davidov. Some cellists prefer to have different cellos for different types of music but Elschenbroich uses his Gofriller for everything and appears to be at one with the instrument. Possibly one of the reasons why the sound he extracts always feels personal and genuine.
Elschenbroich is passionate about music, its power to liberate, to make a person a better human being and so it comes as no surprise that he is enthusiastically involved in educational projects both in Germany and in England. He is participating with Nicola Benedetti and other musicians he collaborates with – as for example accordionist Ksenija Sidorova – in the Hackney Apollo Music Project to bring classical music to children in schools. He told me that he does not share an obsession to have young audiences but he thinks that "you have to bring young people to music at a young age in order for them to come to it when they're older. If you've never been exposed to music when you were young, you are never going to find your way in when you're older."
As we sat in his living room and he spoke candidly about his views, his likes and dislikes and his projects, I was impressed with his maturity, his knowledge of music and his eloquence. Elschenbroich is an articulate, thoughtful and very intelligent young man who is not afraid of expressing his opinions. He is critical of today's adulation of instant successes without substance, of fast pacing, too-pressurised lives and of the fact that he believes "…we've lost our connection with contemporary music" and so he, as an interpreter, feels a certain responsibility to "…bring the music to the foreground, …by resurfacing something that hasn't got the attention it deserves or by commissioning new things". Commissioning new music and performing music that is worthy but was for some reason forgotten are things that Elschenbroich is keen on promoting and sharing with audiences. He talks with great enthusiasm about some of the pieces he has commissioned himself – for example a trio which he premiered with Nicola Benedetti (violin) and Alexei Grynyuk (piano) or a suite for cello and violin that he and Benedetti commissioned from Mark-Anthony Turnage to play together as a duo. He loves contemporary music and is genuinely saddened that some great pieces by modern day or more recent composers are not always given the attention they deserve. One such piece is the Cello Concerto No. 2 in C by Dmitry Kabalevsky, which Elschenbroich has recorded live in his latest CD for Onyx (review); another is Alexander Goehr's Romanza which he is really keen to divulge and perhaps also record.
Prior to the interview, I listened to Elschenbroich's latest CD of Prokofiev and Kabalevsky as well as to his previous one of Rachmaninov and Shostakovich sonatas. I was extremely impressed with the quality of his interpretations, his flawless technique and perfect intonation. But where Elschenbroich really comes into his own is in a live performance. He says himself that "contemporary music is so much easier live" because "…audiences always want to feel what the player feels and they can probably see what he's feeling. When you just hear it, you don't identify with the person, you just hear the sound and the sound is usually too abstract for people to relate to." Elschenbroich is a charismatic performer, with an elegant, attractive stage presence. When one sees and hears him perform live, it is impossible not to notice his natural ability, his affinity with the cello and his intense musicality. Elschenbroich is one of those rare interpreters for whom music is intuitive. He makes his performances appear effortless. Some people have worked, studied really hard and technically they will be able to execute a piece but audiences will perceive the hard work that went into it. Elschenbroich on the contrary gives you the impression that picking up a cello and just start playing is the easiest thing in the world. He's a natural, an extraordinary cellist that couldn't be bad even if tried to.
My interview with Leonard Elschenbroich, which you can read in full below, was one of the most enjoyable, interesting ninety minute conversations I've had in recent years. He is a friendly, personable, genuine young man with a good sense of humour, open and honest about his opinions, passionate and dedicated to his art even though his dream is to be a creator – a composer – rather than an interpreter. If you ever have the chance to watch him live, my advice is DO NOT MISS IT. He and his girlfriend, the wonderful Nicola Benedetti, will be doing a tour of the UK and Ireland soon and among others, will be performing at the Royal Albert Hall in London and at the Birmingham Symphony Hall. Shouldn't you have the chance of going to a live performance by all means catch him on one of his CDs but then go online and watch and listen to the video of him rehearsing Kabalevsky's Cello Concerto No. 2 in C with conductor Andrew Litton. If you do not instantly fall in love with his stylish, natural cello playing, I will be very surprised!
Edited Transcript of Interview with Leonard Elschenbroich:
MMB: First of all, perhaps an obvious question but why the cello?
LE: One thing is just how I got started. My mother suggested it. She gave me a cello when I was five years old and I just started playing. I didn't really know any other instruments. And the other thing is why to keep playing? I think when you're very little there's a physical connection. You can see it in small children when they pick up an instrument, either it feels right, it looks right or it doesn't. It's just that my physique is quite suited to the cello. I'd never have made a good violinist I think [he smiles], I'm just too big and…not right for that. Also from a temperament perspective. I think there's a melancholy, an oldness about the cello sound that suits me. I always had that as a child, I mean that spirit or state of mind and I found I was able to express it with my instrument, more so than I'd have been able with a piano or a violin. I also sang quite a bit when I was younger. I sang in an opera choir, a radio choir and I liked to sing until I went into the Yehudi Menuhin School and then, unfortunately, choir was really not taken seriously there. It was coached by an unmusical person [he smiles vaguely shaking his head] who was the headmaster of the school – I mean he wasn't the music head but he was the administrative headmaster – and the choir wasn't treated as it should. Singing just became a really negative thing to me. I stopped singing and yes, here I am with my cello.
MMB: I read on your website the story of how you got your Gofriller, which has been played by some great cellists. I have a couple of questions related to that. First, why a Gofriller and not a Stradivarius or a Montagnana for example? Second, I believe your Gofriller is on loan [he nods] so, any thoughts about loaning as opposed to buying or leasing?
LE: First of all when you're young – and I was nineteen when I was offered the instrument – it's not unusual. People in Germany especially are quite spoiled for instruments because there's a great foundation called Stiftung Musikleben – they have over a hundred, by now maybe a hundred and fifty, rare Italian instruments that they loan to young musicians from sort of college age until just before you turn twenty-seven or thirty. By then you have to return it. It actually gets increasingly more difficult, as you get older, to get your hands on a good instrument. For example, friends of mine who at the time were playing Montagnanas, Gaglianos, etc., are now playing modern instruments because they can't continue that loan. Even private loaners are more difficult to come by when you're older. You're no longer in that student age when people are more likely to support you. So, I'm extremely fortunate that the person who's loaned me this instrument [he points at his Gofriller cello, resting in its case on the floor by his side] allows for a long loan. It was a five-year loan, which has been extended for the third time…well, it's basically a lifelong thing and not just lifelong, the idea of the couple who own this cello is that they want to secure it away from investors so that it doesn't become an investment object and it'll always be played by musicians. Beyond my own life time, I'll be responsible to pass it on to another young cellist. So it'll be there for posterity and to be played by musicians. I can only imagine what this will cost in another fifty years; I mean it's unimaginable. So, there's no way that a young musician, or of any age for that matter, will be able to afford such an instrument in years to come or decades to come. Therefore, owning something is simply out of the question, I mean owning something like this is out of the question.
As to your question of why not a Montagnana or a Stradivari…to be honest, I haven't played a Montagnana for any length of time. My teacher, Frans Helmerson, had a Montagnana, a famous Montagnana which I tried a few times but I never really clicked with it. A Stradivari, I actually had on loan from Florian Leonhard, who's a famous, very supportive instrument dealer in London and who helps young musicians quite a lot. This was a Strad that had been restored and at first, I was very excited about it but after a while I felt I was more able to express myself with the Gofriller than with the Stradivarius. I felt that the Strad – and many people will have this opinion too – the Strad almost dictates its sound production and some people say: "It takes time; you need time to work your way round it". But I had it for a period of nine months and I never felt it was an extension of my own sound, of what I had in my head. It was like I was trying to make the instrument happy rather than the other way around [he smiles] and that can't be right. And you know there are other cellists – Casals for example – and others in the past who said that Gofrillers are ideal instruments. And they're not rated, at least not in terms of value, like Stradivari's or Montagnana's instruments, they're probably number three but other modern day cellists – Gautier Capuçon, Daniel Müller-Schott – also swear by the Goffrillers as having the ideal cello sound. And this instrument [he points again at his Gofriller] is quite unusual because it's very old. It's from 1693. It's an early Gofriller. Most of the famous ones are 1720s and onwards, so it's quite different. It's not quite as big and not quite as thick so it has a slightly lighter, slightly softer edge to it but it still has that wonderful darkness in its sound for which Gofrillers are known. From the first time I played it, I felt this was exactly the sound I'd imagined, the sound I'd heard in my head all these years. I was playing a French cello before this one and there was a real disconnect between its sound and my sound. When I played this Gofriller I was just like 'Wow! This is what I've always wanted'. I've had it for ten years now, actually coming up to ten years, and I hope it'll last.
MMB: So I presume you use it all the time and for all types of music?
LE: Oh yes, yes, I do.
MMB: I only asked because I know some cellists like to use different cellos for different types of music. For example, Yo-Yo Ma uses his Strad – the Davidov – for Baroque music and tends to use his Montagnana when playing modern composers. Another was, for example, Rostropovich who had two Stradivarius – the Visconti and the Duport – but also a Gofriller and a couple of modern instruments made by contemporary makers, and he used them for different types of music. So I'm curious if you always use the same cello?
LE: Well, I don't have any other cello. Except for the Strad, I mentioned earlier, I never played any other cello for the last ten years. Bows, yes. I have two bows that I go between. One is a Dominique Peccatte and the other a Jean "Grand" Adam. They're very distinctly different bows, in fact almost the exact opposite of one another. I know in my head which piece is going to be played with which bow. Although just yesterday I was playing Rococo Variations, which I normally play with the Peccatte but I wasn't happy, something was wrong with it – the hair…you know, hair is unpredictable because it's such an organic thing – it just wasn't working. So, I just played it with my other bow, which I had never done before and it changed my interpretation of the piece. It actually slowed me down a bit, which I quite like. There's often that little edge you have during a concert or in the dress-rehearsal where you just start playing a little faster than you would. It slowed me down a nudge. It has a fuller sound but less cutting so it takes a bit of time. It just took everything to a slightly more comfortable tempo and I really enjoyed that feeling. I think it's impossible to find the bow for everything which is why most people will have at least two bows that they can switch between. I know that Maisky has literally dozens of bows and he really uses them all and tries different ones all the time. If I carried out his type of research I could imagine doing the same thing and having many bows. It could be really fun to switch between bows. But cello, really for me is just that one [he smiles and points again lovingly at the Gofriller].
MMB: You are obviously a soloist and have performed with great orchestras and conductors but you're also a chamber musician and you play in trios?
LE: Yes, but actually I only play in one trio now. I was a member of the Sitkovetsky Trio for seven years but as of this season I play with Alexei Grynyuk and Nicola – you met her earlier – Nicola Benedetti.
MMB: So how does your experience differ from being in a trio and performing as a soloist?
LE: Well, the main difference between solo concertos and any other repertoire is that you rehearse very little. In an interpretative sense, playing a concerto is much less collaborative; you have to rely on your conductor being happy to go along with what you do. Of course some more than others will make some suggestions. Then there's the natural personality of the conductor and of the orchestra that you have to adapt to in a sense but you don't come to an interpretation together with anybody. That can be really nice because you don't have to compromise, you don't have to meet anybody halfway. It's a kind of patchwork because you do something and then change it and perhaps do something different and then do a little bit of the concerto, then another bit until you reach the interpretation you have in your head. It's different in a trio. I've been playing now with Alexei for eight years and…well, what I mean is that first of all we all chose – Alexei, Nicola and I – we all chose each other to play together whereby as a soloist you're often put with an orchestra and conductor you don't know. There's also the fact that in a trio we rehearse as long as we see fit and we grow together as musicians. That's a completely different thing; it's a sense of carrying music together with someone. In a concerto, especially, for example, something like the Rococo Variations, which I've just played, or the Kabalevsky concerto, which I'll be playing next week, the orchestra is more or less there to accompany you, or to play on its own. So in a concerto there's not that much collaboration. But it differs; with the Dvořák it's different and maybe with the Schumann too, it depends on the piece. The pressure on the soloist is, I think, much greater than the pressure in a chamber music setting. As a soloist it really lies on your shoulders, then there's the excitement of a whole range of sounds the orchestra has and also the fun that you have to kind of project your sound through all of that. It's fun. I'm probably more exhilarated after a concerto than after a chamber music performance but chamber music is at a deeper level of musical cognisance, a more settled level of musical content because you've had time to work together and you really have come to a result together.
MMB: Okay. So, changing the subject, do you also compose?
LE: I did compose when I was younger. My father is a film-maker – he makes documentary films – and he asked me to write music for his films but it was very limited; I mean, he's very auteur so he does everything himself and I didn't have any other musicians at my disposal. I'd be composing for piano and ask a friend to record or writing for cello and sometimes percussion as well. Writing for film is very different from writing pure music because of course it's more about creating something that I'm asked to create rather than just what I feel like. I really couldn't be a composer. I don't have…or better I don't hear music in my head that I'd want to write down. I just don't. I could figure it out. When I was younger I composed but it was because when you're young you get to know all these composers, so you start to be able to simulate them, you know roughly how for example Shostakovich put his music together, how Webern did it and others. That was also my teacher's direction. Every three weeks he'd tell me to write a piece in the style of a certain composer and a different one each time. You can kind of do that and it's good because you learn techniques but essentially you have to find your own voice. I never did and so realised to my great disappointment that I wasn't a composer. It's what I'd wish to be but I'm not and so I have to be an interpreter.
MMB: Have you ever commissioned a new cello work for yourself?
LE: Yes, I commissioned a piece already in 2003 by Luca Lombardi…well, to be precise I didn't commission it; it was commissioned by the Rudolf Steiner Archive that was exhibiting drawings by Rudolf Steiner in Rome. But I knew Luca and I'd played one of his other pieces. He was then asked to write a piece for a solo instrument. So we got talking and he decided to write this piece for me, which I've played many, many times whenever I play solo recitals or sometimes also with piano. The piece is called Essay 3 and it's now twelve years old but I still play it. I've just done a tour of Ireland, ten nights in Ireland, and I played it often, it was one of the pieces in my programme.
Over the last couple of years I commissioned a trio by Arlene Sierra, as part of my residency in Bremen. I'm an artist in residence of the Philharmonic Society in Bremen – this is over a period of three years. Every year, so far, I've been able to commission a new piece. The first was this piano trio which I premiered with Nicola [Benedetti] and Alexei [Grynyuk] and the other is a piece for cello and accordion, which I did a few weeks ago with Ksenija Sidorova in Bremen. The theme of the programme was Music in Christianity of the secular ages, after the Second World War – Music in 20th Century Faith – how do composers write music in the Christian faith? Not composers like Tavener, Pärt, Vasks that were writing retroactive music, but avant-garde composers writing through Christian faith. So, the second part of the concert was Olivier Messiaen's Quartet for the End of Time and the first half was Sofia Gubaidulina's In croce, which is cello and accordion and then a piece I commissioned from Suzanne Farrin, an American composer. The piece is based on the Crucifixion of Christ as experienced by Virgil in Dante's Inferno. So the earthquake, which was experienced after Jesus died on the cross, was felt by Virgil. There was a sort of an earthquake in hell – a channel opened on the surface and light came through, thus we saw the stars again, which is the title of the piece and it reflects on Gubaidulina's piece which is also about the Crucifixion. We played these two pieces back to back with solo Bach in-between. Also Nicola and I have commissioned Mark-Anthony Turnage to write a double piece for us. We're doing a UK tour, one concert being in the Albert Hall, another in the Birmingham Symphony Hall and other symphony halls across the UK and Ireland. So he [Turnage] is writing a suite, a 17-18 minute suite for a cello and violin. It's exciting because we actually haven't played together – Nicola and I – we haven't played together unaccompanied, we've only played either with orchestra or piano before. So, we'll be playing as a duo, which is exciting for us, and it was great to get Mark-Anthony to write us a piece.
MMB: Your agent sent me your latest CD, which I liked very much. I found very interesting what you wrote as a means of introduction to the CD, entitled "The Fear of Music". You start by saying and I quote: Never has classical music played a more important role in political and social life beyond an elite minority than in the Soviet Union. I'd like you to elaborate on two points: 1) In your opinion, has classical music played a role in political and social life anywhere besides the former Soviet Union? And 2) Do you think that classical music is still only associated with an elite minority?
LE: I think less so in the time of the Soviet Union than any other time. I mean when we talk about the perception of classical music pre-dating that – so the 18th and 19th Centuries – then classical music was so important it would be on the first page of the newspapers. For example, there's that famous article after the premiere of Brahms's First Symphony in Vienna at the Musikverein, this article appeared on the first page of – I think – Der Kurier or whatever. But of course the percentage of people who were literate, never mind the percentage of people who actually subscribed to the newspaper, was very small. What I mean is that the article and classical music were very relevant for the people who subscribed to the paper or who went to the premiere but it doesn't mean that it was important for the general population of Vienna by any means. So, in Soviet times, as tragic as it is that composers like Shostakovich, Prokofiev and to a lesser degree Kabalevsky were under such scrutiny by the regime, it's a sign that the Party was not only afraid of subversion but also respected the ideological power of music; the idea-shaping power of music to such an extent that they chose not to get rid of these composers – which they could easily have done.
Whilst there was a perceived threat – especially in the case of Shostakovich – that the people might get informed against the regime, the cultural value of this music was so important that the composers had to be somehow contained rather than gotten rid of. This was of course not the case in other totalitarian regimes, like in Nazi Germany for example, where they just got rid of anything that was against them, or nowadays in North Korea where there's no serious art at all; anything that is thought subversive is not allowed at all.
Music is such a pillar of cultural identity of Russian life that even in those times of such a repressive regime, such limited artistic freedom, classical music could not simply be abandoned or reduced to just propagandist composers. This was understood by the Elite and, of course, as there was no aristocracy, no bourgeoisie, the elite was the Party. The music they were controlling was addressed to the masses. The Party was aware of that and so were the composers. I can't think of any other example where that was ever the case. I have friends who are a little older than me who said that in the Soviet Union in the sixties and seventies there were only a few channels on TV and there would be a premiere of a Shostakovich symphony on TV at night and then the next morning what do you talk about at school or at work? You'd talk about the premiere of a Shostakovich symphony or about the latest concert or recital. Now the only comparable thing to this kind of talked about event would be something like the X-Factor. People watch it and then ask a friend the next day; "Did you see that girl singing last night? Or dancing?" Or whatever. But of course you can't even begin to compare the musical content between the two.
MMB: Of course not.
LE: No, I mean, it's worlds apart.
MMB: Indeed. Staying for a little longer with that introduction to your CD, there's another thing that made me curious. You say: A recording artist in the 21st Century has in a sense become redundant. Everything has been recorded countless times. What exactly do you mean? Do you mean that as an interpreter you have nothing new to offer? Do you mean that recording has passed its prime? That it is obsolete?
LE: In a sense yes. Let's say for example that I want to listen to a Shostakovich concerto – like the Second Violin Concerto, which I don't know so well – I can go into Spotify legally and listen to – literally – hundreds of recordings. What reason would I have to choose some new, young person's recording if I can listen to Oistrakh or Kremer or Kogan? It's almost humorous to decide that now I'm going to record a CD of Schumann or Schubert because there are dozens of legendary recordings readily available at any moment! Of course it's different with live performances. I perform those pieces all the time. In live performance, the pieces have to be continuously repeated because it happens only once. It's not like the recording which is always there. I don't think it's enough to say: "Oh I have a different interpretation of this piece so it's worth it to spend time recording it." Having said that I've recorded many times but I feel that every CD I release must have one major work on it that hasn't been recorded enough or not recorded at all; a work that needs to be better known. I may also be happy to record something that I feel I have a slightly different approach to but I don't see it as worthwhile to record a CD of music which has been recorded so much that the only reason for buying it would be because of my interpretation. I just don't think that my interpretation is that important given how many there are already.
MMB: Really? It depends. I thought that your interpretation of the Kabalevsky was possibly the best one I've ever heard.
LE: Oh! Thank you very much but you see [he smiles], I'm not up against so many in this case. There's a handful of recordings but it's not like the First Shostakovich concerto or the Dvořák concerto, which Rostropovich alone recorded seven times on CD. We live in this era where music more than ever is about interpretation. Actually somebody else picked up on that line of what I said about recording in an article. He strongly disagreed with it because he said that classical music is all about interpretation or something of the sort. And surely that can't be right, classical music clearly should be primarily about composition and secondarily about interpretation. The way tickets are sold now it's always 'so and so plays something' and then comes the listing of what is to be played but that doesn't really matter; it's who's playing this piece or conducting this orchestra rather than Brahms's Number Four conducted by so and so with this orchestra. Because we've lost our connection with contemporary music and because the historical repertoire has been so limited – I mean the amount of repertoire being performed is so tiny compared to the amount there is – it no longer matters if it's Brahms's Three or Beethoven's Seventh or Mahler's Fifth, it's just one of those great symphonies. The interesting thing nowadays, sadly, is who's conducting it or in the case of a concerto who's playing it and I don't think that's right. Maybe they're both equally important – composition and interpretation – but I still think the composition is more important, I mean [he smiles good-humouredly] I don't want to talk myself out of a job doing what I do but I think that part of what we [interpreters] do should be to bring the music to the foreground, maybe by resurfacing something that hasn't got the attention it deserves or by commissioning new things.
MMB: Recently I went to the ROH to watch Giordano's opera Andrea Chénier which is based on a real person. André Chénier was, of course, a poet of the late 18th Century who was executed under an order signed by Robespierre who in it stated Even Plato got rid of the poets in his Republic. This led me to think about what happened during the French Revolution and then when I was reading what you wrote in your CD of Prokofiev and Kabalevsky, it occurred to me there were similarities and that dictators are afraid of artists, poets, writers, musicians, etc. Why do you think that is?
LE: Because I think that Art has a very strong potential subliminally to draw people into its beliefs. It's much easier to get drawn into a perspective through art than it is through rhetoric. In any dictatorship or any totalitarian regime, if your main objective is to control the minds of the masses, as that is where you draw your power from, then controlling art is essential. That goes back to what I was saying of the Soviet Union. Given the potential danger, the potential threat of the power of that music, the fact that it wasn't just abolished is a great testimony to how seriously it was taken. Music is probably the most abstract art form, in the sense that it's the furthest from conscience or cognitive thought. It's the most freely interpreted, the most subjective from a perceiver's point of view and maybe because of that it can connect with some of our deepest sympathies and closest associations; it's the art form which is the least distant. What I mean is when you're creating, everything is created inside your mind and so for the receiver there's a feeling of distance that you can pinpoint between yourself and art but music comes in from all round you and leaves a picture engraved in your mind. So an artist – a musician – has a very direct contact with the audience. That doesn't happen so much in other art forms. I think that poetry comes close even though it's using words but the way the words are used and the sound of the language are special. Poetry is somewhere between the literal meaning of the words and the metaphorical meaning of those same words, so the space between imagination; between fantasy and fact can be close too. The association can be very subjective and intuitive and so, in that sense, it is quite dangerous, more dangerous than somebody standing up and saying for example: "Robespierre is wrong and he's killing too many people".
MMB: Do you think that Art in general (all art forms) and music in particular should be political, have a social conscience or that they should always be above them?
LE: I think Art shouldn't have to be either. I think as an artist you have the right, you have the prerogative, to be apolitical and nobody has the right to politicise an artist against their own will. I mean, it's happening now all the time with regards to Israel, with regards to Russia for example. Questions like you play Russians [composers] or you play with Russian musicians, so does that mean you're pro-Russian? These are common and it's just crazy. If you simply want to play with somebody who's Russian or with an orchestra that is Russian for example, you may have your personal, your private political view of what's happening in Russia now but it's not expressed by the fact you're playing or not playing with them. If somebody chooses to be political and says 'I want to boycott Russian musicians or Russian organisations' it's your right to do that too but if the media or certain interest groups impose that on an artist I think that's really wrong. If you own a big company and you're a sponsor or an employer or even as an educator, like if you're a head of a school or institution, then you'll have to be political, you can't allow yourself to be apolitical but as an artist, I think you do have that right. I've never made any political statements as an artist and I don't think I ever will.
MMB: Looking at your repertoire, you play all the major works for the cello by a variety of composers, including some of the most popular but after reading various things about you, listening to your CDs and looking at your programmes, it seems to me that you have a particular affinity with the great Russian composers – Rachmaninov, Tchaikovsky, Shostakovich, Prokofiev, even Kabalevsky, who's less known. Is that right and why do you think that is?
LE: Well…funny enough my next two CDs will not be Russian at all [he laughs] but yes the first two were, and it's true. The first one I spoke with the manager of the recording company and he asked me what I would like to record. I'd always wanted to do the Rachmaninov and Shostakovich Sonatas, so I said: "Why don't I make a CD of those two?" – and he replied, "that sounds good, go ahead." It was really as simple as that. There was no marketing or pondering on what would be my debut album and where I'd want to place myself, nothing of the sort; it was just what do I want to record? So, I asked myself: What would I want to hear if somebody else was going to record? I always ask myself that and also what sound do I want to produce. Kabalevsky I really wanted to record because I kind of grew up with it, with Shafran's recordings – Daniil Shafran – I never understood why the piece wasn't more known. And I was a little bit afraid of recording anything German to be honest.
MMB: Why? You are German.
LE: Yes and that's why. When I play German music, I feel like it's a little too close for comfort. There's a lot of baggage, a lot of tradition that I just have in me, I guess. Even speaking German is almost too close for me, too honest or something. In English I can speak more freely. It's like I feel more exposed in German. You know, Freud only allowed psychoanalysis in the person's native language, he wouldn't allow it in any other language because you can hide yourself in an acquired language and it's the same with music, I think. When I play Russian music it's different [from playing German music]. I mean, I grew up among Russians. I started with a Russian teacher at the Yehudi Menuhin School because Menuhin brought a Russian violin teacher and she brought others with her. Then I studied in Cologne and there were a lot of Russian teachers and students. Most of my friends were either Russian or Russian-speaking and I listened to a lot of Russian music and Russian instrumentalists. This was a world that had nothing to do with what I grew up with but it was something I was aspiring to; it was what was informing me. So, there was this distance of something that wasn't inherent to me but that I was surrounded by. With German music it's like I'm going back to my childhood or something. Having said all that, in my next CD there's going to be a German piece and the one after that will be an all-German CD of Brahms and Schumann. I hope I'll be ready by that time to play them but the point is I didn't want to start off with that. And in recitals I always feel much more comfortable playing Russian music than German.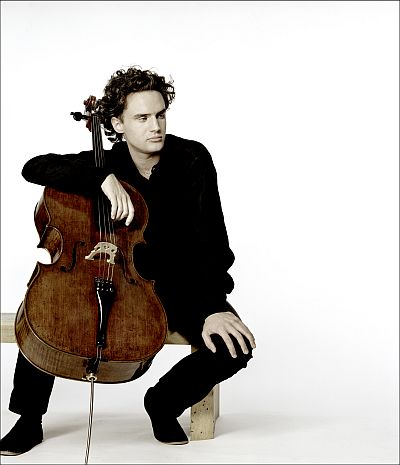 MMB: Interesting. So, in your opinion what makes a great cellist? And is there one whom you would look up to – as an inspiration, an example to you?
LE: Well, as an instrumentalist, as a cellist – whatever that word cellist encompasses – Shafran was my greatest hero. Every single time I listen to him I return to that conclusion. He was quite eccentric, and increasingly so as he got older. You know when Shafran plays, he plays Shafran. It's always him, there's no distance between him and the music at all; he never tries…he doesn't have this aspiration of getting under someone else's skin. He just makes everything his own. He interprets through the cello part which is a shame when we get to more orchestral pieces like the Dvořák. But when the instrumentation, the orchestration is more cello-focused he's just astonishing and has an astonishing imagination and such a connection between what he hears and what his fingers do – so much at one.
I liked Perényi very much too when he was in his prime. He's the exact opposite, the most self-effacing cellist I've ever heard. In that very Hungarian, severe tradition, he just tries to execute selflessly the composer's will. I mean everybody always talks about that but he really did it; he prided in stepping away from interpretation and just executing the will of the composer. And he's such a soulful artist and such a fabulous cellist. Even hearing him in something like Beethoven sonatas was almost like hearing them for the first time, hearing them stripped off all other influences. I was astonished when I heard them fifteen years ago or so.
Maisky I like very much too. He's quite old now but his recordings from when he was in his prime are really great. He's a very independent talent, has a very unusual way of feeling music and also an unusual contact with the instrument. Even though he came from Rostropovich's class, he's so different from all the other Rostropovich students. And then, I like the Feuermann recordings though I haven't listened to them for ages but when I was young I remember listening to the Haydn concertos often. There are also some young cellists now, for example, Alexander Buzlov who's really a great cellist. I really look up to him. It also depends on the repertoire. There are certain things that du Pré was great at – her Saint-Saëns was phenomenal. There's also a recording of Alexander Goehr's concerto she did with Barenboim in the sixties which is also incredible. This is a really interesting piece called Romanza. It's a one-movement full-length cello concerto, which she plays really well and then there are other things I've heard her play that I can't stand. I don't understand it. She's another one who has no distance between herself and the composer at all. She just absorbs everything; everything becomes her and sometimes it's the perfect match and other times it's just a horrible match.
MMB: Which one are you? The one that absorbs everything or the one who bears in mind what the composer is saying? Do you try to find a balance?
LE: Hmm. Well, I think that if I were to choose between an objective and a subjective performance, I would always choose the subjective one. In order for music to come to life there has to be this individuation, this "subjectivisation" [sic] of the performer. The performer is the subject and the composer is the object and to try and flip that, it just doesn't work. The performer cannot be the object, you know, the cellist plays the composer and the composer is the object of the performance. The more you inform yourself as the subject, the more you become aware of the context and the more referential you become in your approach to a composer. When you're a child you think that everything is about you but as you grow older other people fit into the bigger picture and the same thing applies in terms of an interpretation. As you grow older you realise, "I'm a person and Tchaikovsky is a person". We both feel and we may be inherently similar in how we feel, but the historical or social context are so different that the more you know about the culture the more you understand what Tchaikovsky was referring to. It's important to have a feeling of the world; the footage of that time to better understand the work but you shouldn't distance yourself from the work, on the contrary, you should become more able to be subjectively connected with the music otherwise it's just a history lesson. It's just someone saying 'I know how Mozart played this, here it is'. But that wasn't what Mozart was going through; he wasn't thinking about those things. All those things were inescapable; they were just what his life was, what he was surrounded by and then he was thinking something subjective which brought into existence the piece we now play. I don't think it's possible to balance objectivity and subjectivity adequately, so "informed subjectivity" is the best way to interpret, I guess.
MMB: While researching you for this interview, I found another interview you gave some time ago where you were asked if you thought your cultural background reflected in your performances. Having explained your German, Italian and Jewish heritages you said you don't think they transpire in your playing. Then you said something I found intriguing: Perhaps 19th Century German culture is what I feel the closest link with. Certainly not present Germany though and even less present Italy. What do you mean by all this?
LE: I said 19th Century, did I?
MMB: You did indeed.
LE: It's funny because now I feel like an émigré you know, I feel like I really left Germany and I've been away from Germany. I don't go back that much actually. At that time, it was the 19th Century I may have felt very close to but now it's more the sixties and seventies; that sort of leftist movement in Germany. That's my parents' generation, especially my mother's but also my father's and I feel that on a cultural level I identify with that period. I don't identify with the Germany of the nineties or especially the last decade because I wasn't there very much. Even the way people speak. I have an older brother – much older brother – and he's got three kids and my sister, also older than me, has a child. They [the children] go to school now and my brother and my sister pick up on the way the kids speak – a language is always changing. My parents don't but I guess they're too old to go along with this kind of thing. But the intonation and the way the kids use the words is just different. When I speak to them it just feels like I'm not speaking the same language at all. They've picked up the new things and I haven't. That's why when I speak German people ask me where I come from because my German is a little bit old-fashioned, it's from the nineties or so and the language is different now in 2015. It's the same everywhere, I think, I mean in every country. I feel strong German roots in me but I don't feel it when I'm there, I feel it more when I'm away. I read literature and watch films – Herzog, again going to that period of seventies, or artists like Beuys, Richter – the sources of their art are similar to mine even though in reality they're not because these artists are from a much older generation than mine. But I don't identify with the generation I belong to in Germany. You know some people are like born in the wrong country or at the wrong time and I feel that my soul – or whatever you want to call it – is a bit older than my own generation. It's not like that with Russian culture. It fascinated me because it was so different from mine. So, German culture that pre-dates my life is closer to me. I'm kind of reviewing German history from a distance, living here in London.
MMB: Do you think classical music still has a role to play in the lives of today's young people? Do you think it is important that young people are exposed to classical music?
LE: Yes, I think it's extremely important and in various ways. There's nothing that gives a better sense of discipline, of achievement that is so subjective, not just like getting grades at exams or someone telling you, yes you're right. You just need to feel if the sound is good or not. You can do something, feel something that you're doing with your own hands and that you've learned through hard work; something you bring out yourself. Then, there's the added element of doing it with other people. Together you've created something that sounds even better than what you can do yourself. You have to listen to each other and you have to collaborate with each other and you have to give each other space. These are all things you learn through music and that are so important for growing up, for society and for being a sociable person. Also the solitude, spending time on your own, working on yourself rather than just answering the teacher and pleasing the teacher and wanting to be better than the guy next to you and answer before him or something. There's so much about school life that perhaps prepares you for the professional world but doesn't make you into a good person. I really do think that playing an instrument in a group gives you the tools that are required for you to be a good member of society.
The other thing is that I think listening to music is extremely important as a way of connecting with some sort of higher consciousness. I can understand why young people don't want to listen to it because it requires a lot of patience and it's quite slow-moving. I'm talking about young people but really it's anyone below forty. Life is so fast-paced nowadays, there's so much pressure on people to be successful, to get married, to have children, to raise children to be successful that I understand audiences tend to be old because old people don't have those pressures anymore and so they have more time, more patience and more emotional maturity to understand the music better, which is fine. I don't share this obsession of getting young audiences but you have to bring young people to music at a young age in order for them to come to it when they're older. If you've never been exposed to music when you were young, you are never going to find your way in when you're older.
I'm part of a project called the Apollo Music Project which brings classical music to schools in Hackney, and they're planning to expand it. What they do is six times a year they go into a class of eight, nine year olds and they do a quartet, then they bring more people in and in the end, the class goes to a full concert to hear a full orchestra and be introduced to the basics of music, to the experience and what to expect. Probably none or few of them will go to concerts in the next years but they'll never forget the exposure they've had. I'm starting this year and I'm going to go to do something similar to a programme they have in Germany called Rhapsody in School where they ask musicians before or after a concert to go to a school and introduce themselves to the children, play a little bit and talk about the instrument and the life of a musician and also may let the kids try the instrument. I've done that many times in Germany but there isn't anything like that here. So my addition to the Apollo Music Programme is that they'll see someone younger. And not just me, I'm asking Nicola [Benedetti] to do one and other cellist friends I have, and also the accordionist Ksenija Sidorova whom I mentioned earlier. These are all people who travel a lot and so the kids can have an experience of these people's lives in music and also of their personalities. People who have exciting lives and the children can associate that excitement with music. You know, an orchestra can seem quite stuffy from a distance and has nothing to do with what the musicians are like in real life. There's something very settled about an orchestra, something a little bit oppressive to a child. It sort of reminds them what it's like to be at school rather than to see that music is a way of self-liberation. That's difficult for a child. To children the orchestra looks like an army of musicians, something military, they've been told what to do and they always do it and are very serious. For children to see that music is quite the opposite is difficult. So this is something soloists can bring to them. Everything takes so long until you can let yourself go, it's discouraging but if the children can see somebody who's already there – a soloist – then that has an impact and it's very important.
MMB: Changing the subject a little, I don't know if you've ever heard of Portuguese cellist Guilhermina Suggia? [He shakes his head]. She lived at the end of the 19th and first half of the 20th Century and was Pablo Casals's lover for approximately six years…
LE: Oh yes, yes. I remember now.
MMB: Okay, it's just that I've researched her recently for one of my novels and so, came across something she wrote related to the cello technique that I found quite interesting. She said: The study of vibrato is a very important element in the art of interpretation.
LE: True.
MMB: And then she also said: The subtle means of giving the exact interpretation to a melody is not only the knowledge of when to make vibrato – and whether it should be quick or slow – but also the knowledge of whether the mood of a tune requires vibrato at all. What do you think?
LE: She's right.
MMB: So, do you think that the technique of vibrato can be "abused"?
LE: Abused. [He stresses the word and smiles] – Yes, absolutely. Absolutely it can. There are a couple of cellists I won't name who use double finger vibrato all the time, you know, almost like a trill – And I don't know what they're thinking! I just can't listen to even two bars of whatever they're playing. It just drives me crazy. There's a tendency at the moment for cellists to do that kind of thing because cellists have been coming out of the shadow of the violin over the last ten years, really taking centre stage as solo instrumentalists and for the first time on a par with violinists, which is great. There are so many more good cellists now than there were twenty years ago and slowly the industry will catch up; there will be so many more cello performances every season than there are now. These facts have transformed the art of cello playing. Many cellists nowadays are just about "look at me, I am…" – like the Three Tenors sort of thing – "I can play louder, faster and more impressively than anybody else". Violinists have already passed that stage. Violinists had that phase in the fifties or so and now they're musically and aesthetically much more mature than cellists. It's kind of expected of cellists at present to be sort of "in your face" and so, I think that this kind of extreme vibrato use is a reflection of this. It's a feeling; a pressure many cellists feel to be constantly showing everybody they are so expressive, so passionate; that they have such an aura and so cannot be quiet within themselves when the music requires it. So, yes there can be a tendency at the moment to abuse vibrato.
MMB: How do you balance a busy international career with a private life?
LE: Well, I live with a musician whom I also play with. That helps a lot. We do concerts together, we often travel together and we play for each other all the time. She was playing for me this morning; I was playing for her two days ago before I went to rehearse, so we're completely connected and of course because our lives are about music, so much of what we talk is about music – you know, how somebody played or a composer we're discovering or whatever – then almost all my friends are musicians so that music is also private life, social life. Rehearsals are some of the most fun things we can do. Once a year we have a Christmas party where we get together and what do we do? We play…and then we drink and we eat and so on but we have to play together because it's the best way we have to connect with each other. I don't have a lot of friends, I mean I don't go out much; I don't have that kind of private life but I wouldn't anyway even if I wasn't a musician, I think. One of the benefits of a musician's life is the depth of connection you can have with people. If you understand each other musically you can just connect so much better with each other. Like when we have this party, we bring friends over who bring friends of friends that maybe we don't really know but then you sit and you talk and you drink and that's nice but then you play together and you just connect on a higher or deeper level. So, I think the social element of music is really fun, really important.
MMB: Have you ever had any interesting or funny experiences when travelling with your cello?
LE: Well, I've had very annoying experiences at the airport [he smiles good-humouredly] almost every single time. Whenever I check in with a pianist friend or a violinist, they're always surprised that when I put my passport down, the person at check-in goes all nervous – "how do I check in the extra seat? I've never done this before" – So I just completely switch off. I don't tell them anything. After years and years and years of this kind of thing, now I just wait and stand there immersed in my own thoughts until it's done, otherwise you just go crazy all the time.
MMB: So, you have to buy a second seat for the cello?
LE: Yes, yes I do. And then of course some people when you board the plane think it's hand luggage so they moan like "Oh I had to check something in and he gets to carry this big thing!" And then it's always the same questions like: "Ha, ha, is your cello going to get a meal too?" and all that kind of stuff [he smiles]. So you just have to switch off because it's been the same jokes every time for twenty years.
MMB: Is there a neglected cello concerto or piece you would like to take up and make popular?
LE: There's this Alexander Goehr piece – Goehr is of German-Jewish descent but he's English, I think he may have been born here or came here when he was a kid. He's very old now. I think he's in his eighties. He's from that [Harrison] Birtwistle Manchester School and in the sixties he wrote this piece called Romanza – I mentioned it briefly earlier. It's a one-movement, twenty-five minute long concerto. A really striking piece and I didn't know about it. Somebody at Schott gave me a recording and the music and told me to look at it because "it's like Brahms but from the mid-20th Century". I understand what he means. There is like a paranoid formality to it; it's so worked out that nothing is left to chance, there's no vulnerability; everything is so over-structured but at the same time, the sentiment is so inward, melancholy and very, very intimate. It starts with a very beautiful melody but it's proper sixties music, you know, completely atonal, quite severe but at the heart of it there's something very human, very lyrical. This piece is really unknown, especially considering that du Pré recorded it. As far as I know it's the only contemporary piece she ever recorded. There are these du Pré's favourite concerto compilations but I've never seen Romanza in any of those. People in England don't know anything about the piece. They know about du Pré of course but even though she recorded it, people don't know about Goehr. Birtwistle's got that kind of legend status now but Goehr never reached that status. I'm really hoping to do it. Then, there's a piece which is brand new and somehow there hasn't been much talk about it. It's Magnus Lindberg' second concerto, which he wrote two years ago. He'd written one twenty years ago, or even earlier, for Anssi Karttunen who played it many, many times but no-one else has picked it up.
When it comes to concertos, I think audience effectiveness is very important. What I mean is when you're playing chamber music or even an opera, you can just challenge your audience, you don't need to deliver to them but in a concerto, it's important. When you're leaning towards displaying the brilliance and the persona of the soloist against the orchestra then you must deliver effectiveness to the audience. I heard a piece recently – I won't mention the name – but from a very famous German composer who wrote a concerto. It was a Prom debut of this piece and it was a very good piece but anyone could have played it, there was nothing difficult about it, there was nothing that brought out the personality of the player. It was an orchestral piece with a focus on that instrument and so, all I was thinking was: "I want to hear that person play now. I want to know what that person is about". That is the culture of the concerto – to be about the soloist. The established concert form is that there's some kind of overture and so on and then the soloist enters and it is one individual and you identify with the individual. It's not a symphony, which is more abstract and is about the music and not the individual. This new concerto by Lindberg really has this individual quality. It could be one of the cello concertos of the 21st Century and I'm already looking at doing it with someone in Finland. There are also other things: Schnittke's First Cello Concerto is a great piece; it's so effective. The cellist becomes like amplified at the end with crescendo after crescendo. It overpowers the whole orchestra. I love Schnittke; good Schnittke I really love. This concerto is such a good piece and almost never done. Shame.
MMB: So I guess all those pieces are part of your projects for the future?
LE: Yes, that's right.
MMB: Are you thinking of recording them all or just playing them live?
LE: There's a chance with the Lindberg. I was thinking of one day doing the Dutilleux and the Lindberg on one disc. But CDs are facing such tiny numbers of listeners, buyers that if you then go into contemporary cello, you're really looking at perhaps selling two hundred. It becomes a little bit ridiculous, I mean, the amount of work that goes into a CD, the money that has to be raised especially for an orchestral recording is so much that you have to think if it's worthwhile to do one. So, I don't know about a CD but definitely for radio and live. You know, contemporary music is so much easier live. I'm actually different than most people because I tend to listen to contemporary music more than any other music. I don't like to listen to very emotional music. In concerts yes, but on a CD or a recording, I prefer to listen to quite abstract things – minimalistic music or very abstract sounds, surreal contemporary music. Most people just wouldn't think to put on Boulez and make tea [he laughs]. For me that's very normal but for other people that's out of the question. I could never put Tchaikovsky's Fifth [symphony] and have tea and relax. For me that seems like a strange thing to do. So live is easier. There's an association with the individual when he or she is playing a piece live in front of you. The emotional connection you make with that person really helps the music because audiences always want to feel what the player feels and they can probably see what he's feeling. When you just hear it, you don't identify with the person, you just hear the sound and the sound is usually too abstract for people to relate to.
MMB: Just two more questions if you don't mind and then I'm done.
LE: No problem. It's fine.
MMB: So, if you weren't a cellist what would you have been? Have you ever been tempted to learn other instruments?
LE: As I said, I wish I was a composer. I wish I was an artist…
MMB: You are an artist.
LE: No, yes, I mean a visual artist. I don't know. I wish I had the guts or the instinct to just create new art. I'd rather be the creator than the interpreter but I can't draw at all. Whenever I find a contemporary artist that I really like, I always hope he can't draw. I always hope I can find one that can't draw at all but is still a good artist but they all can [he smiles] even if they end up doing things that have nothing to do with their ability in their hands, there's still this drawing talent in the beginning otherwise it wouldn't have worked, I think. I would have loved to make films. That's my dad's thing. He was a writer first and then began to make films. I never really aspired to being a cellist; I've never dreamed of becoming a cellist. It's just sort of normal to me. I dream of other things. Conductor. Yes, conductor I aspire to and have always and that's still not out of reach. It might still happen.
MMB: And finally, how do you relax?
LE: Hmm. [He smiles and points at the sofa where he's sitting] On this sofa, I really relax on this sofa. Being home is very relaxing of course but I also like to go out, I love to walk. I have holidays several times a year. Three, four times a year, I go to my dad's house in Italy, South Tirol. He has a house with a little vineyard on the mountain, overlooking the valley of Bolzano and so, walking there or just being there is so relaxing for me. Besides walking, I also like hiking and jogging.
MMB: Okay. That's it. Thank you very much…
LE: No, no. Thank you for interviewing me.
MMB: You're welcome. I really enjoyed talking with you and thank you for giving me so much of your time and for allowing me into your home.