United Kingdom Puccini, Il tabarro and Gianni Schicchi: Soloists and musicians of Fulham Opera, conductors: Michael Thrift (Il tabarro) and Nick Fletcher (Gianni Schicchi), St John's Church, Fulham, London, 22.3.2015. (JPr)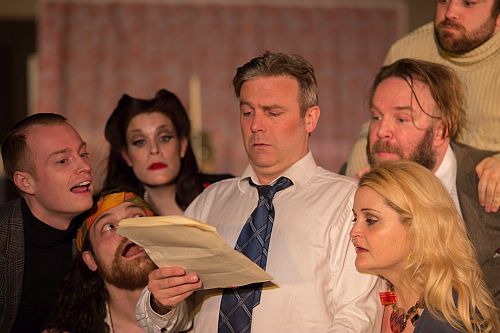 Casts
Michael Dewis: Michele
Mari Wyn Williams: Giorgetta, Nella
Oliver Gibbs: Gianni Schicchi
Roberto Abate: Luigi, Gherardo
Edward Hughes: Tinca, Rinuccio
Henry Grant Kerswell: Talpa, Simone
Rosanne Havel: Lauretta
Amy Payne: Frugola
Gemma Morsley: Ciesca
René Bloice-Sanders: Marco
Matthew Kellet: Betto
Lindsay Bramley: Zita
Mike Bradley: Song Vendor, Lover, Pinellino
Simon Grange: Spinelloccio & Lawyer
Lawrence Halksworth: Guccio
 
Production
Stage Director: Fiona Williams
Lighting Designer: Rose Hockaday
Orchestral Arrangements:  Michael Thrift and Ben Woodward
The operatic 'cooperative' that is Fulham Opera is going from strength to strength and is no longer one of West London's best kept secrets, based on the good sized audiences that come to its shows at St John's Church which is close to Fulham Broadway. Everything will be even better when renovations at the church are complete as these seem never-ending and surround the church in hoardings. Everything has moved on from accompanying the singers with an unfortunately ill-tuned piano to creating new arrangements for small ensembles of accomplished instrumentalists; on this occasion there were 10 listed.
Straightaway I can write that in my experience they have done nothing better than this Gianni Schicchi and I doubt it will be a long time before I will enjoy another comic opera quite as much. I repeat a previous mantra that Fulham Opera's future performances are not to be missed by anyone wanting to hear some good singing and enjoy inventive productions making the best use of an intimate performing space. I also repeat what I have written before  that Ben Woodward (director of music at St John's Church and founder of Fulham Opera) and his colleagues seem to cherish every pound they get one way or another and put any money they have to very good use. With some experience in putting on these sort of events I do hope that they continue like this and never get over-ambitious.
  One encouraging development is the forthcoming 'Robert Presley Memorial Verdi Prize' for singers, with a live public final for those selected and substantial awards of money for the prize winner. My only disagreement with this is that there is no age limit. Unfortunately the opera world is now a fairly ruthless place and when attending the masterclass with Johan Botha in Bayreuth last summer a fine singer was dismissed (though not to her face of course) as having little hope of establishing a significant career because she was now the wrong side of 30!
  So after their enterprising journey through Wagner's Ring and a fine recent  Falstaff it was time for some Puccini before returning to Wagner with some performances this November of Der fliegende Holländer. The première of Gianni Schicchi as part of Puccini's triptych Il Trittico – his penultimate work that also included Il tabarro we were given here and Suor Angelica that we were not – took place in New York on 14 December 1918. This was because most of the singers back in Italy were doing military service, and naturally operatic life suffered because of this. The composer had very much wanted his opera to be put on first 'at home' especially since he could not travel to the US because it was difficult to get a visa – even had it been safe to travel. In spite of Puccini's absence, the première of Il Trittico was a great success, especially Gianni Schicchi.
  In Buoso Donati's room his greedy relatives surround him with prayers while he is dying. They have heard rumours that he has left all he has to some friars of a local monastery. After this proves to be true, the peasant Gianni Schicchi is their only hope. Lauretta, his daughter, is in love with Rinuccio, Buoso's nephew. Lauretta makes her heartfelt plea (yes, 'that' song!) to ask for her father's help. Schicchi explains the way to alter Buoso's will. Because no one outside the room apparently knows of Buoso's death, Schicchi dresses himself in Buoso's nightclothes, climbs into bed in a darkened room and the notary and two others are called to witness the changes to the testament. 'Buoso' now leaves only small items to the relatives and the important possessions to Gianni Schicchi! After the notary leaves, the relatives berate Schicchi. He has reminded the family throughout how seriously the authorities would view their activities if they were to be found out. He suggests to the audience that if they have enjoyed themselves, he may be forgiven for his crime. Rinuccio and Lauretta stay with him whilst everybody else leaves.
  Fiona Williams's production is the Fulham Opera's first that I can honestly describe as the 'real deal' and while my encouraging past comments might have been influenced too much by all the gung-ho 'let's put on a show' enthusiasm – this was a show worthy of any opera company … anywhere. Admittedly it seemed a homage to Richard Jones, but even his Gianni Schicchi was not quite as funny as this at Covent Garden. It was similarly updated to the mid-1960s with some equally kitsch designs including Richard Jones' 'trademark' flock wallpaper (and a wardrobe!) and some eclectic costumes including miniskirts, as well as, beehive hair and hippies. The sense of the (over)familiar is quickly dispelled by an exuberant ensemble performance with too many marvellous individual contributions to name everyone. Perhaps the bear-like, dishevelled, Henry Grant Kerswell's Simone and the impressively made-up Lindsay Bramley as the elderly Zita deserve particular mention. Marvellous – and often small – inventive detail delighted as the relatives rummage around the cramped set with its large central bed to search for the will. During the will-reading and without words – moments of genius in music by the composer – the tension is palpable and when the last page is read and it becomes clear only the friars will benefit they are truly apoplectic.
Edward Hughes as Rinuccio seems a tenor of genuine potential and sang an ardent 'Firenze è come un albero fiorito' without the full abandon at the end that can only come with more experience. The very pert Rosanne Havel sang a genuinely appealing 'O mio babbino caro' and finally on comes Oliver Gibbs as the conniving Schicchi. He was clearly relishing every moment of this fun part and was even given a 'song and dance' type of moment in the spotlight with top hat and cane. Gibbs absolutely caught the eye in all he did despite being surrounded by some other wonderful character actor-singers in this tremendously funny performance. If you can still go look out for the surtitles near the end which add greatly to the general hilarity.
  Il tabarro came before the interval. The story is standard operatic fare complete with adulterous wife, a young lover, cuckolded jealous husband and murder. A veritable 'Death on the Seine'! On Michele's barge, Luigi and some other stevedores are finishing a job on the boat. Giorgetta, Michele's beautiful wife, offers them a drink. Michele notices how Giorgetta looks at Luigi and dances with him, while a song-seller peddles his ballads and sings a song that has more than a hint of La bohème to it. Frugola (Ferret), the wife of Talpa the stevedore, arrives with a bag full of odds and ends that she has scavenged. Before he leaves, Luigi arranges a rendezvous with Giorgetta at night – she will light a match as a sign that their meeting will be safe. Michele remembers regretfully how happy they once were and lights his pipe. Thinking he has seen the agreed signal, Luigi boards the barge and Michele seizes him and forces him to confess. Michele then strangles Luigi and when Giorgetta comes on deck he grabs hold of her and pushes her down against her dead lover's face. He was concealed by 'The Cloak' (Il tabarro) under which Michele and Giorgetta snuggled in happier times.
  It is all relentlessly grim and Puccini must have exorcising some demons when he composed this as Kate Hewson's programme note hinted. The best of the singers was probably Roberto Abate as Luigi who clearly has an almost psychotic desire for the comely Mari Wyn Williams – an almost perfect double for actress Ruth Jones – as Giorgetta. The role requires a Calaf quality in the voice particularly in the high-lying and demanding aria 'Hai ben ragione' and there was a lot of promise from Abate here. Amy Payne's mad Ferret coped well with the quick-fire Italian of her contributions and there was valiant support from Edward Hughes' drunken Tinca and Henry Grant Kerswell's lumbering Talpa. Of the even smaller roles, Michael Bradley as the Song Vendor had a very pleasing lyrical tenor voice. Two enthusiastic young children, Anastasia Odusanwo and Ethanael Idowu, obviously enjoyed their brief involvement here, as later, in Gianni Schicchi.
  I thought Mike Dewis was a little too dour as Michele; his voice (and acting) was rather one-dimensional but that might be because Puccini seems to have been somewhat disinterested in the character … and so it is possibly not all the singer's fault. Nevertheless during one of the best staged fights I have ever seen on stage (all credit to fight director Ronin Traynor) he summoned up some terrifyingly realistic vengeful anger at the very end to despatch love rival Luigi,
Here Fiona Williams didn't entirely successfully take me from a church in Fulham to a barge moored off the Seine in Paris. It was all too brightly lit and a bit more gloom would have been appropriate for such a dark tale. Once again the completely unsatisfactory nature of this piece is most likely the composer's fault. Puccini does not make us care sufficiently for Giorgetta's fate as he might have done in a longer work and neither does he create enough dramatic tension over the short span of this opera. Even more strangely, he gives us typical Puccinian musical climaxes too often and occasionally at totally inappropriate moments.
The new musical arrangements of both operas naturally conveyed more of the 'real thing' than a piano ever could and all credit to the arrangers Michael Thrift (Il tabarro) and Ben Woodward (Gianni Schicchi), the musicians and the respective conductors, Thrift himself and Nick Fletcher, for contributing to the excellence of the evening.
&nbs;
At the time of writing this there are two remaining performances. Do go if you can; you will not be disappointed!
Jim Pritchard
For more information about Fulham Opera's activities go to www.fulhamopera.com and to www.stjohnsfulham.org for details of other musical performances at the church.