United Kingdom Tchaikovsky, Swan Lake: Soloists, corps de ballet and Royal Opera House Orchestra / Boris Gruzin (conductor). Directed for the screen by Ross MacGibbon and relayed to the Empire Cinema, Basildon, Essex. 17.3.2015. (JPr)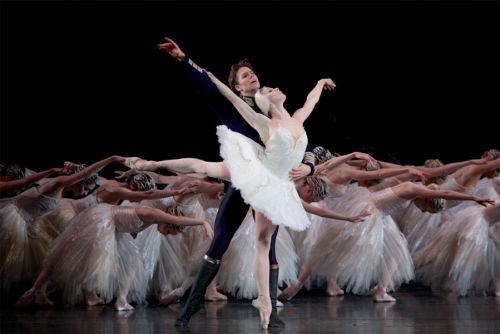 Cast:
Odette/Odile: Natalia Osipova
Prince Siegfried: Matthew Golding
Von Rothbart: Gary Avis
The Tutor: Alastair Marriott
Benno: Valeri Hristov
The Princess: Elizabeth McGorian
Production:
Choreography: Marius Petipa and Lev Ivanov
Additional choreography: Frederick Ashton and David Bintley
Director: Anthony Dowell
Designs: Yolanda Sonnabend
Lighting design: Mark Henderson
I have to admit that it is a very long time since I have seen Anthony Dowell's Swan Lake, now in its 28th year. Subsequently I have become more familiar with Derek Deane's version for English National Ballet and familiarity does not breed contempt … it brings the realisation that ENB's Swan Lake is the much better of the two and, probably overall, that company is on the up while the Royal Ballet is – at best from the evidence I see at the cinema – treading water.
I have a record of having seen Anthony Dowell's production of Swan Lake at Covent Garden more than half-a-dozen times late last century but have not seen it for several years. I was stunned by how Ross MacGibbon's close-up direction for the screen showed how cluttered it all seemed and how everything is especially overwhelmed by Yolanda Sonnabend's Fabergé-inspired fussy and over-embellished designs that appeared rather more suited to an expensive Christmas pantomime than a nineteenth-century ballet masterpiece.
During the interval between Acts III and IV I Googled for the response of others to this production (something I normally never do before I write a review) in case my reaction was the result of incipient jetlag from a recent long transatlantic flight … thankfully I am not alone in not (now?) liking this production. I was pleased to read that with this run of performances it might now be coming to an end. Although the choreography might be trying to recreate the Petipa and Ivanov's original 1895 conception there is too much focus on the drunken antics of Siegfried's friend Benno and all his cadet comrades. I also thought giving the spotlight at one point over to a very saccharine moment for two young ballerinas distracted from the story and was more appropriate to The Nutcracker.
This Prince Siegfried showed no great emotional development and I could not believe that having found his true love in Act II he comes in sword-fighting at the start of the Act III. Why-oh-why do they not use the yearning Act I 'Nureyev solo' that is a real test for any Siegfried? In the twenty-first century it is not appropriate that a male lead gets so little to dance. Apart from a few seconds leaping around in Act I and the 'Black Swan' pas de deux all he does here is to emote, stop Odette/Odile turning or holding her up. This Swan Lake was undermined by, for me, the total lack of chemistry in the new partnership of Matthew Golding and Natalia Osipova. Golding's very stoic Siegfried came straight from the Roger Moore school of acting … all eyebrows, smiles or a curled lip and no great depth. His dancing – when finally given something to do – was undoubtedly extremely powerful but his sheer athleticism did not contribute to a 'complete performance'. He paled in comparison to Ivan Vasiliev when he danced the Prince recently for English National Ballet  and, of course, he used to be Natalia Osipova's previous regular partner … both professionally and personally. In an interview translated from her rapid-fire Russian Osipova said about how in their new partnership she was still seeking Golding's 'soul' … and I hope she finds it soon!
For me Osipova herself was also not at her best. She was so wonderful as Giselle  that I expected more from her. Her Odette matched the concept for this production that shows her as more 'womanly' than an otherworldly swan. Cynthia Harvey – Anthony Dowell's first Odette in his staging – explained when interviewed that is how he had wanted her to appear and that had been different to the other versions she had danced. As for Dowell himself, I wondered whether he believed he had thought of this himself because – when interviewed over a cup of tea by Darcey Bussell – he seemed genuinely surprised when she told him this was how Margot Fonteyn told her Odette should be – a woman not a swan – when having some coaching from her.
For me Osipova's performance seemed in need of a different production. She never transcended the indisputable fact that she is a very great dancer with a phenomenal technique to make me care for her Odette in the way two great ballerinas of my time – Lesley Collier and Miyako Yoshida – have done in some past performances in this productions; not forgetting several other wonderful ballerinas I have seen over the years in a myriad other versions. Clearly, Osipova's legato dancing and dramatic engagement in Acts II and IV could rarely be bettered with every step seemingly drenched with emotion. Yet still something was missing that I can't quite put my finger on. The highlight for me of Matthew Golding and Natalia Osipova's performance were their pirouettes and fouettés in Act II. Both were rock-solid and exhilarating … but I would have hoped to have remembered more of their pairing than just that!
The corps de ballet swans should also be a highlight but here with their legs hidden in skirts more suitable for Sylphides or Wilis (as in Giselle) they looked wrong. They mostly danced elegantly with soft fluidity, but since they appeared to be an eclectic mix of heights all their arms and legs did not always move in unison. There was a wonderful Act I pas de trois from Francesca Hayward, Yuhui Choe and Alexander Campbell, though the Act I Waltz (by David Bintley), as well as, the Act III national dances all seemed a bit rushed and definitely lost any real impact because of an over-crowded stage. All the smaller roles were danced well and no one around the fringes of the stage ever appeared to 'switch off' and that is to the credit of the Royal Ballet's current roster of dancers. As for Gary Avis listed as An Evil Spirit (later Von Rothbart) he was so glammed-up that it made him look so completely like Paul O'Grady's alter ego Lily Savage that I could not take his involvement seriously.
Boris Gruzin, to his credit, did not appear to indulge his dancers as some conductors can – quite the opposite in fact – and it sounded a well=paced performance played with some conspicuous refinement by the orchestra.
The very best news about this Swan Lake is that – like all the Royal Ballet's live transmissions – it drew a big cinema attendance to the Empire Cinema in Basildon which filled two large auditoria … and there is still the 'Encore' showing to follow at the weekend. I overheard many comments from first-timers to this sort of evenings and it was fun to see as the cinema emptied many men outside waiting to pick up their – I suspect – female partners because an evening watching ballet probably wasn't for them!
Jim Pritchard
To view the full list of productions for the 2014/15 season and to find a cinema near you visit http://www.roh.org.uk/cinemas .