United Kingdom Benjamin Britten, A Midsummer Night's Dream (sung in English with titles), Soloists, RNCM Opera Orchestra and Chorus / Andrew Greenwood. (conductor), Royal Northern College of Music. RNCM Theatre, 19.3.2015. (RJF)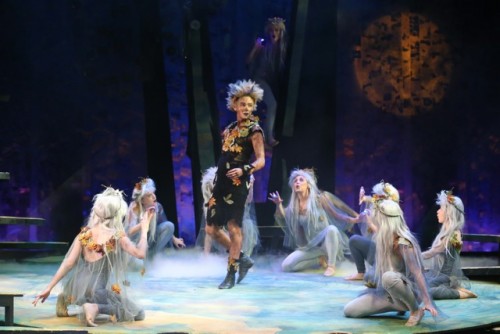 Cast
Oberon, Rebecca Starling.
Tytania, Rosanna Harris.
J Puck, Jonathan Stevens.
Theseus, Matthew Thistleton.
Hippolyta, Chloe Latchmore.
Lysander, Adam Temple-Smith.
Demetrius,Aaron O'Hare.
Hermia, Hollie-Anne Bangham.
Helena, Alexandra Lowe.
Bottom, Aidan Edwards.
Quince, Neil Balfour.
Flute, Matthew Palfreyman.
Snug, Daniel Hayes.
Snout, Brian McNamee.
Starveling,  David Cane.
Cobweb, Eleanor Sanderson-Nash.
Mustardseed, Rachel Speirs.
Peaseblossom, Emily Walsh.
Moth, Ann Wilkes.
Production
Assistant conductor, Harish Shankar  
Director, Garth Bardsley  
Set and Costume designer, Michael Holt
Choreographer, Bethan Rhys Wiliam
Lighting designer, Jason Taylor
The 2014-2015 season at the Royal Northern College of Music in Manchester has been a particularly memorable one with the major rebuilding of the forty year old Concert Hall. This project included the addition of a cantilevered balcony and, importantly, improved acoustics. Along with this major multi million pound project, improvements were made to the back stage facilities of the opera theatre.
The Concert Hall was first opened to the public with a performance by Sir Thomas Allen of Schubert's Winterreise on Novenber 6th (review), its full formal opening following on March 22nd with a magnificent rendition of Mahler's Resurrection Symphony. This involved over two hundred college students including a full concert orchestra and the RNCM choir, the latter situated on the middle section of the balcony. The initial full symphony orchestra was further augmented for the last section with more horns and trumpets joining two harps, tubular bells double drums and the rest of the full cornucopia of a symphony orchestra ,Mahler missing no opportunity for their involvement. Conductor Jap van Steen, was joined by internationally renowned soloists Sarah Connolly and Jane Irwin, the later an alumna of the college and currently Tutor in Vocal Studies.
The eighty-five minutes performance of Mahler's magnificent symphony could not have been bettered and came at the end of four days that had seen the stage production of Benjamin Britten's take on Shakespeare's A Midsummer Night's Dream in the Opera Theatre with a double cast to provide stage experience to as many students as possible. I caught the opening night. This production also involved change. For many years I and other reviewers have eulogised the RNCM opera productions directed by Stefan Janski. There was no European Regietheater or abstract concept theatre with him in charge. Rather the story was told in a straightforward manner that enabled student participants and audiences to follow the plot as the composer intended. He did not eschew updating on occasion, but always, I would suggest, a composer looking down from his cloud would have recognised his creation without the necessity of the musical accompaniment.
But time does not stand still, and as Stefan moves towards retirement, others must be on hand to take up the reins. This was the first occasion I had seen the work of Director Garth Bardsley, a Senior Lecturer at the RNCM, and I was impressed by his conception. My only criticism would be that, particularly with young singers, he must not leave them to too far to the rear of the stage. This was evident with Rebecca Starling's Oberon as she stood atop a high flat for her opening contribution;; her rich toned voice did not carry into the theatre whilst her startling appearance as Oberon was somewhat unusual. If she had a problem projecting from upstage, the young first year undergraduate Jonathan Stevens as Puck, had no such difficulty with his spoken dialogue being amplified. I had no problem with that, particularly as his acted realisation was so overwhelming as he jumped, climbed, tumbled and generally gambolled about the stage, appearing from any nook or cranny or trap door. It was not just his athleticism, but also his acted portrayal that went along with it; he was quite superb and went a long way to give life to the production.
The purple diaphanously clad fairies also played a significant part, collectively and singly, in creating the magic that complements Britten's music and brings realism to the score's gentle elements, particularly evident under Andrew Greenwood's sensitive baton. With an imaginative stage set involving several levels and a drop front gauze, all aided by imaginative lighting, the scene was set for the realisation of Britten's musically challenging work. Unusually there were empty seats in the auditorium! Such is the composer's reputation. This production, and sung realisation, will have done the work's reputation a lot of good. The acting and singing of the principals was up to the usual RNCM standard. If Rosanna Harris's Tatyana started a little tentatively she was soon into her stride. Adam Temple Smith sang a clear and sensitively phrased Lysander whilst Aaron O'Hare's Demetrius has more progress to make if his career is to match that of Glen Hargreaves and John Rawnsley, the duo which the College fielded in their 1973 production!  As their ladies, Hollie-Anne Bangham and Alexandra Lowe acted and interacted well and showed good vocal development from their roles in previous productions. Outstanding, physically, vocally and in his acted portrayal, was the Bottom of Aidan Edwards.
Britten's 1959 creation for the re-opening of the refurbished Jubilee Hall in Aldeburgh in June 1960, working with his partner Peter Pears, is not the easiest work to stage or sing in – or for audiences not conversant with Shakespeare and his mix of the fairy kingdom and the real world. The setting for this production, in all its facets is as good a framework as I have experienced in this work. Neither the composer nor the work has the drawing power of the likes of Verdi, Lehar, Mozart, Puccini or the bel cantists.  Nonetheless students of opera have to have the opportunity to experience the idiom in which they may well be required to work to fund their lives in a highly competitive profession.
Robert J Farr