Austria Wagner: Parsifal, Wiener Staatsoper Orchestra and Chorus, Adam Fischer (conductor), Staatsoper, Vienna, 8.4.2015 (JMI)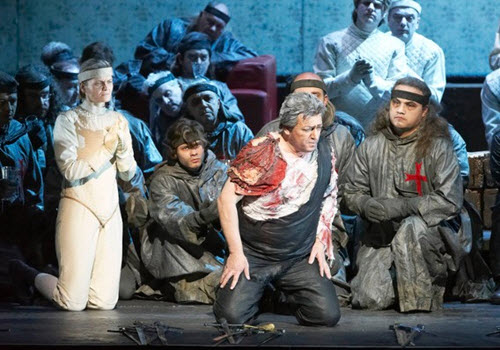 Cast:
Parsifal: Johan Botha
Kundry: Angela Denoke
Gurnemanz: Stephen Milling
Amfortas: Michael Volle
Klingsor: Boaz Daniel
Titurel: Ryan Speedo Green
Grail Knights: Michael Rodier
Yevgeny Kapitula
Flower Maidens: Ileana Tonca
Olga Bezsmertna
Stephanie Houtzeel
Hila Fahima
Hyuna Ko
Suzanne Hendrix
Heaven's Voice: Monika Bohinec
Production: Staatsoper Vienna
Copyright: Michael Pöhn
During the Easter season, several opera houses in Central Europe program Richard Wagner's Parsifal. Vienna is no exception, and year after year there are performances scheduled now. The current house production by Christine Mielitz was premiered in 2004 and has reached its 45th performance at the Staatsoper.
Some time ago I decided not to pay too much attention to the deep meanings sought by directors to justify their new productions. Surely my decision had to do with a terrible staging of Parsifal, full of strange concepts, that Christoph Schlingensief did at the Bayreuth Festival about ten years ago. It was replete with ideas, most of them indecipherable by normal minds, but neglected the most important yet simple one: the audience had come to see Parsifal.
Christine Mielitz's staging is not comparable to Schlingensief's, but her production also encompasses personal ideas about the opera that are incorporated with more or less success. The Knights of the Grail seems to be a closed, semi-military sect; women are not allowed and appear only at the end of Act I, dressed in black and wearing burkhas. The complex set makes movement particularly complicated in the scene of the Grail. In Act II, we're in a modern room with several red sofas and a large screen where images are projected. Klingsor has a neon spear, and it's interesting to see how it changes hands from Klingsor to Parsifal. The costumes are attractive in this act, with the flower girls and Kundry in red evening gowns. The third act takes place in darkness until the final scene, which features remarkable lighting.
But beyond ideas and original concepts, Ms. Mielitz's production tells the story properly, without disturbing the musical flow at any moment.
The musical direction had been entrusted to veteran Peter Schneider, but he cancelled at the last minute and was replaced on the podium by Adam Fischer. His conducting was correct, but far from what one would expect in a theatre like Vienna's Staatsoper. His tempos were very slow: it was one of the longest readings that I can remember, especially Act I which lasted an hour and 45 minutes. The only version slower than Fischer's was that of Antonio Pappano in London almost two years ago, but the depth of Pappano is not that of Adam Fischer. The Orchestra of the Wiener Staatsoper was better than the night before in Elektra. I cannot say the same about the Staatsoper Chorus which was less impressive than I had expected.
South African tenor Johan Botha was a remarkable Parsifal from a vocal point of view. His tenor could not be more appropriate to the character, but as an interpreter he was less convincing: he's an old-style tenor.
Angela Denoke is a singer who always offers the most intense stage performances. This does not mean that she is just a great actress, what in fact she is. She is also an excellent singer who knows how to express emotion through her singing as very few can. She is no longer in her best vocal shape  ̶  her top is somewhat compromised   ̶  and it's no wonder she has decided to undertake characters like Kostelnicka, with which she had a great success recently in Stuttgart. I still find her an exemplary Kundry who will be missed when she decides to leave the character, which I think may be relatively  soon.
Danish bass Stephen Milling was a very appropriate Gurnemanz. His voice is wide and well-pitched but just a little short of noble accent. If he did not quite convince me in the first act, he absolutely did in Act III.
Michael Volle was good in the part of Amfortas but less brilliant than at other times. It appears that he was not feeling well. Baritone Boaz Daniel was below par as Klingsor. At the beginning of the second act, he was almost inaudible as he sang from far back on the stage. Things improved later on, but there are far better alternatives for this evil character. Bass Ryan Speedo Green as Titurel went mostly unnoticed.
The secondary characters are always a treat in Vienna. Suffice it to say that among the Flower Maidens were Ileana Tonca, Olga Bezsmertna, and Stephanie Houtzeel, all of them protagonists in other operas by the company.
The Staatsoper was almost sold out, with tickets on offer around the house. The audience was appreciative in the final bows, although there was not an excessive enthusiasm. Following a questionable tradition, which is not of Viennese origin, there was no applause at the end of the first act, and those clapping were silenced as if they were committing a sacrilege.
José M. Irurzun