United Kingdom  Verdi,  La Traviata: Soloists, Members of the Orchestra of the National Opera & Ballet Theatre of Moldova 'Maria Biesu' and National Philharmonic of Moldova 'Serghei Lunchevici' /  Nicholae Dohotaru (conductor), Grand Theatre, Blackpool. 5.3.2015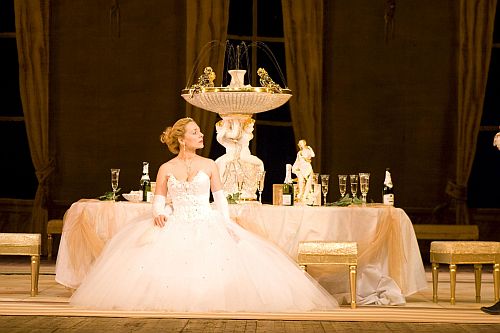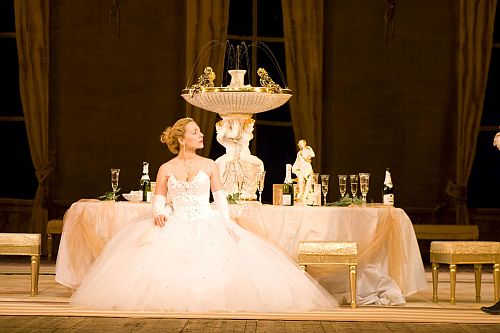 Cast:
Violetta Valery- Maria Tonina
Alfredo Germont – Giorgio Meladze
Giorgio Germont – Vladimir Dragos
Flora Bervoix – Zarui Vardanean
Gaston – Ruslan Pacatovici
Baron Douphol – Stefan Donos
Doctor – Iurie Maimescu
Annina – Zarui Vardanean
Marchese d'Obigny – Tudor Donos
Giuseppe – Vitalie Chitorraga
Production:
Director – Ellen Kent
Assistant Director – Ruslan Zinevych
Assistant Producer – Juliet Bath
Chorus Master/Stage Manager – Victor Donos
Designer – Nadejda Shvets
Lighting Designer/Operation – Valeriu Cucarschi
Production/Company manager – Neil Morton
Sung in Italian with English subtitles.
It was good to have opera back this season in Blackpool especially at The Grand, a renowned theatre designed by Victorian architect Frank Matcham. Presenting Verdi's 'La Traviata' was Ellen Kent Productions a prolific touring company bringing  professional opera productions to towns and cities where the larger companies rarely if ever venture. Impressive theatre impresario Ellen Kent has been involved in opera and ballet for over two decades bringing opera companies, mainly from Eastern Europe, to tour the UK. For this tour of the Verdi classic 'La Traviata' Ellen Kent has brought over members of the orchestra of the National Opera & Ballet Theatre of Moldova 'Maria Biesu' and National Philharmonic of Moldova 'Serghei Lunchevici'.
After attending a series of operas this year that involved the director taking centre stage and significantly altering the production –  the worst examples of Regietheater –  it was satisfying that for La Traviata director Ellen Kent had kept to a traditional staging following the composer's original intention for a setting in the elegant Parisian salons in the mid 1800s. Granted the build quality of the scenery wasn't to Covent Garden standard, nonetheless it .proved highly effective and the lavish period costumes were especially stylish and splendidly designed, adding vibrant colour to the production.
Rightly taking centre-stage was Maria Tonina as Violetta the Parisian courtesan who soon settled down to give a stunning, engaging performance which was everything one could want in the role. In her bedroom bidding a poignant farewell to Alfredo, Violetta's act 3 aria 'Addio Del Passato' was especially moving and quite unforgettable. I was impressed how Tonina's coloratura soon loosened, sounding naturally unforced. A captivating beauty favouring some low cut, stunning ball gowns Tonina revealed her bright and alert soprano, nicely in tune with a durable projection and was a noticeably excellent actress.  Another highlight from act 3 was the dying Violetta's duet 'Alfredo Gran Dio!…morir sì giovane' so convincingly done and affecting too.
Giorgio Meladze was a touch less persuasive in the role of the young aristocrat Alfredo Germont. Meladze's voice was secure enough, reasonably attractive with an effortless glide to his high register, however, his tone lacked colour and I was never fully convinced by the depth of his love for Violetta. In an impeccable grey frock coat with black fur collar Vladimir Dragos as Alfredo's father Giorgio Germont certainly looked every inch the rich gentleman. Drahos's acting looked a touch awkward at times and I noticed a few flat notes, yet his dark baritone sounded far better under pressure. Violetta's friend Flora Bervoix played by Zarui Vardanean was most convincing. I can still picture her singing and dancing in a vivid red ball-gown coming across as most assured vocally displaying her dusky mezzo-soprano. Highly enjoyably was the humorous scene of the singing and dancing from the five gypsies and the entrance of the four matadors in all their colourful finery.
Conductor Nicholae Dohotaru did a fine and consistent job with his group of musicians keeping up a steady pace throughout. Not all of the players were dressed in black with one being especially visible and distracting in the rather open orchestral pit and a clarinettist looked as if he was playing in-between dozing-off such was his lack of concentration.
With Maria Tonina stealing the show as the courtesan Violetta this Ellen Kent production of 'La Traviata' made for a spectacular night's entertainment at the Grand Theatre, Blackpool.
Michael Cookson
This 2015 Ellen Kent tour of 'La Traviata' continues to:
Apr 10, Fri – Aberdeen, His Majesty's Theatre
Apr 14, Tue – Belfast Waterfront
Apr 15, Wed – Limerick, University Concert Hall
Apr 16, Thu – Cork Opera House
Apr 19, Sun – Dublin, National Concert Hall
Apr 22, Wed – Torquay, Princess Theatre
Apr 24, Fri – Swansea, Grand Theatre
Apr 26, Sun Ipswich, Regent Theatre
Apr 28, Tue – Folkestone, Leas Cliff Hall
May 01, Fri Tunbridge Wells, Assembly Hall Theatre
May 03, Sun – Dartford, The Orchard Theatre