United Kingdom The One Ensemble, Miann, Scottish Dance Theatre, Southbank Centre, London, 9.4.2015 (J.O'D)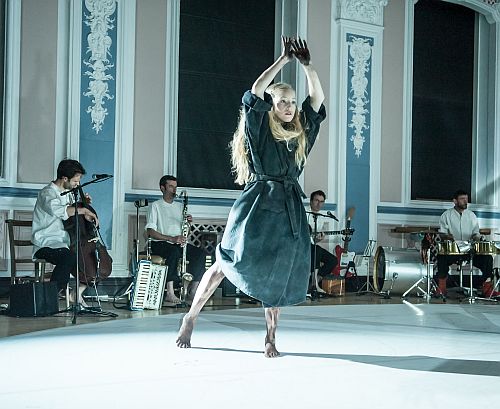 Dancers: John Kerremans, Francesco Ferrari, Artur Grabarczyk, Amy Hollinshead, Naomi Murray, Matthew Robinson, Audrey Rogero, Aya Steigman, Quang Kien Van
Musicians: The One Ensemble: Percussion, accordion, voice: Roy Mohan Shearer; Cello, accordion, voice: Peter Nicholson; Guitar, bass clarinet, voice: Daniel Padden; Bass clarinet, clarinet, accordion, voice: Alex South
Production:
Choreographer:Fleur Darkin
Designer in collaboration with Scottish Dance Theatre: Alexander Ruth
Lighting Designer: Emma Jones
Consultant Dramaturg: Lou Cope
Sound Designer: Stevie Jones
Although it is made up of powerful elements, Scottish Dance Theatre's Miann does not quite add up to a powerful whole. At the end, the audience whooped and cheered, but there had been a telltale pause of uncertainty before they did so. The whoops and cheers must have been for the dancers, and for choreographer and Scottish Dance Theatre artistic director Fleur Darkin's proven ability to be led, as the company's website puts it, 'by the power of the dancing body', and the female dancing body in particular.
'I wanted us to taste the fresh water, breathe in the forest air and feel the willow under our bare feet,' Darkin writes in the programme. Reading this incantatory introduction to the work, before the performance began, I thought it impossible for one piece of choreography to achieve all the things that Darkin had 'wanted' of it. And the final words, 'Thank you all for coming', confuse something for which tickets have been sold with a dinner party, for example, to which friends have been invited.
'Miann', according to the Southbank Centre dance brochure for March to May, is the Gaelic word for 'desire'. According to Darkin herself, it is 'the ardent desire to know God'. The piece begins almost as a pagan ritual. Two barefoot, female dancers, bearing baskets of apparently burning twigs, trace clockwise and anti-clockwise semi-circles around the lower half of the auditorium.
Alexander Ruth's set (another powerful element) is a white, or off-white, circle on the floor, framed by branches of willow. In the middle of the circle, and partly dividing it, stands a triangular structure from which a curtain of chains or beads is suspended. The four musicians of The One Ensemble are placed at the circumference. At what is possibly the most dramatic moment of the piece, one of the dancers will tear through part of the white floor-covering to reveal a wide strip of turf.
The circle is a dominant motif in the choreography, too. The dancers spin, on their own or in pairs. They chase each other around the perimeter of the white floor. After the dancer Naomi Murray, as a kind of high priestess, has placed a crown of woven, flowering twigs (a symbol of death) on the head of fellow dancer Francesco Ferrari, she revolves at speed on the spot, her head thrown back, her arms flung wide.
'I wanted a space to honour my parent, who died suddenly and early, and the world lost colour,' Darkin writes in her very personal introduction to the work. But at the moment that Ferrari retreats from the stage into death, the sound of a baby crying, as if to programme, was briefly and distinctly heard. Was the woman holding this baby Fleur Darkin? (I can't think who else would be allowed to bring a baby into the auditorium.) If it was, she, too, might have thought of the Old Shepherd in The Winter's Tale, saying to the Clown in Act Three: 'thou metst with things dying, I with things new born.'
John O'Dwyer