United Kingdom JC Bach, Pergolesi, Arne, Haydn: Augusta Hebbert (soprano), Andrew Ridley (counter-tenor), Julian Perkins (harpsichord), Ten Tors Orchestra / Simon Ible (conductor), The Minster Church of St Andrew, Plymouth,  18.4.2015 (PRB)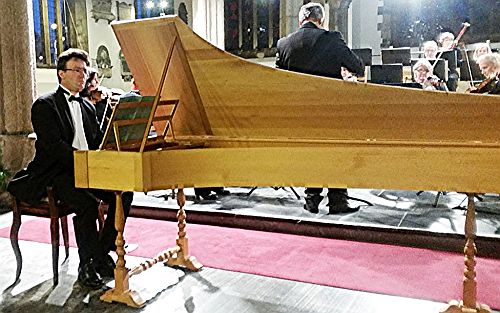 J C Bach: First Movement from Symphony in E flat major, Op 9 No 2
Pergolesi: Stabat Mater
Arne: Harpsichord Concerto in G minor
Haydn: Symphony No 94 in G major, 'Surprise'
Ten Tors Orchestra is the resident orchestra of Peninsula Arts, the wide-ranging public arts programme of Plymouth University in the far South West of England. Its regular concerts in the city and environs always reflect the skill of its conductor and artistic director, Simon Ible, in producing varied and resourceful programming, while also following a particular theme or concept. In the present instance, the concert, entitled Making Music: What the 18th-Century English Liked Best, Good Music! sets out to show exactly that.
 J C Bach's opening Allegro from his Symphony in E flat proved the ideal light aperitif for the evening, with its delightful writing and scoring, so effectively bridging the gap between the Baroque era of his more illustrious father, and the emerging Classical period of Haydn and Mozart. Had the programme included the ensuing Andante and Tempo di Menuetto, it would have been a tad overlong, and Ible is also a past-master of leaving his audiences wanting more, while equally never skimping on playing time.
 As it was, the single movement led seamlessly into Pergolesi's Stabat Mater which, while essentially a religious work, its writing eschews much that is overly heavy or tedious on the ear. There was, indeed, another reason for including the work, in that it was championed in England by Italian castrato Giusto Fernando Tenducci. While there is no contemporary evidence to confirm this, it would have been nice to think that the Italian might have sung part of the work when he actually visited Plymouth in 1786. The jury may be out in terms of whether the lower part is better served by a counter-tenor rather than a conventional female alto, but soprano Augusta Hebbert and Andrew Ridley (counter-tenor) nevertheless did a splendid job, where the obvious difference in vocal timbre and production was as much a welcome feature as any slight distraction from the purity of the duet-writing..
 Julian Perkins despatched Arne's G minor Harpsichord Concerto with great aplomb, neatly accommodating the many instances of crossed-hands, while also incorporating much tasteful ornamentation along the way. Balance between soloist and orchestra was largely successful, though, irrespective of placement – whether front of stage for the concerto, or within the orchestra when used for continuo purposes – the gentle strains of the harpsichord tended to be somewhat masked by the orchestra in tutti passages.
 Ten Tors Orchestra, in whatever rig, has really grown in strength and stature since its formation, with Mary Eade successfully taking over as leader, following Malcolm Latchem's recent retirement – no easy shoes to fill, given Latchem's immense experience gained from many years' association with the Academy of St Martin in the Fields. Not only has the orchestra, under Ible's tutelage, extended its repertoire and expertise well beyond its essential chamber-orchestra dimensions, it now shows real sensitivity to and empathy with the performance practices of the time. Yet it manages to do this still with conventional orchestral instruments, something which playing everything from experimental contemporary and avant-garde music to early Baroque ultimately better equips them for.
 Every ensemble has perhaps one composer or genre that it seems to do best, and for me this has always been Haydn symphonies where Ten Tors Orchestra is concerned. As these go, you can't go far wrong with No 94 in the sunny key of G major – the Surprise. From the customary tongue-in-cheek serious nature of the opening introduction, the jaunty first-movement theme, the Theme and Variation slow movement with the famous 'Surprise', the Minuet with its Ländler-like peasant feel (which in this performance might have had us otherwise donning Lederhosen for a bit of thigh-slapping) to the energetic finale Ible and his players were on top form, even if, just occasionally there was a slight time lapse between bassoon and violin in unison passages – no doubt occasioned by personnel changes. Even here, though, Ible really hyped up the tension just before that loud chord, so that, while we all knew it was coming, it certainly might have accounted for the odd myoclonic jerk among the listeners.
 The work provided the perfect conclusion to an evening designed to show what music was being enjoyed by 18th-century English audiences. It was just a shame, though, that their 21st-century descendants didn't show up in the same numbers on the night.
Philip R Buttall