Argentina   Massenet, Werther: Soloists, Chorus and Orchestra of Teatro Colón. Conductor: Ira Levin, Teatro Colón, Buenos Aires. 21.4.2015. (JSJ)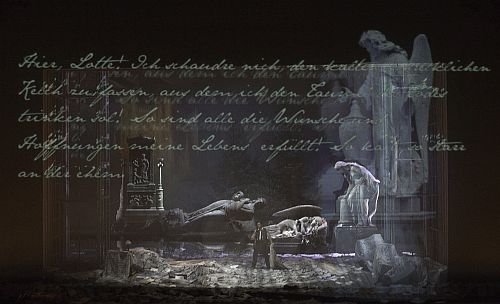 Cast:
Werther: Mickael Spadaccini / Gustavo López Manzitti
Charlotte: Ana Caterina Antonacci / Clémentine Margaine
Sophie: Jaquelina Livieri / Oriana Favaro
Albert: Hernán Iturralde / Cem Beran Sertkaya
Bailli: Alexander Vassiliev
Johann: Fernando Grassi
Schimdt: Santiago Burgi / Iván Maier
Bruhlmann: Norberto Marcos
Kätchen: Cecilia Pastawski
Production:
Director/sets/lighting/costumes: Hugo De Ana
Children's chorus: César Bustamante
Werther is now the best known and most widely loved of Massenet's more than 30 operas. Nevertheless, it was an interesting choice to open the Teatro Colón's 2015 season – and the second announced production for the year in Buenos Aires – especially as coming in the place of an earlier anticipated première of Berlioz's Les Troyens in its complete version.
Some changes of the announced cast also ensued, with tenor Ramón Vargas pulling out at a late stage allegedly because of ill health. His place was taken by the young Belgian tenor Mickael Spadaccini, who was previously programmed for the second cast. And in his place came Gustavo López Manzitti, leaving Juventus Lyrica to fill by similar process the title role for its production of Andrea Chénier.
 Werther is based loosely on the epistolary novel 'The Sorrows of Young Werther' from 1774 by Johann Wolfgang von Goethe. In this production by Hugo De Ana the writer was highlighted with excerpts presented as being written at the start of each act. The atmosphere also was carried through with a 'floor' of strewn papers and books – not unlike De Ana's similar concept of a floor of flowers in his last Colón production of Madama Butterfly.
De Ana, responsible for lighting and costumes as well as the sets and direction, gave a period setting to the work, but the openness of the scenery along with its greyness, belied the intimacy it should have had.
Spadaccini's youthfulness is appropriate for the role, and he is a powerful singer, well expressing the emotions of this obsessive character, although not always even in his delivery. In contrast, Hernán Iturralde came across both visually and vocally as an Albert maturer than his 25 years.
The young French mezzo Clémentine Margaine replaced Ana Caterina Antonacci in this last production, her voice powerful and rich – and a singer who surely we will be hearing a lot more of in the future.
Laquelina Livieri was well cast as Sophie, with her crystalline voice appropriate for her character's 15 years. And Alexander Vassiliev also was a suitable Bailli, as were the other smaller roles.
Ira Levin was once again on the podium, bringing power and depth to the score.
Jonathan Spencer Jones