United Kingdom Rossini, Il turco in Italia: Soloists, Orchestra and Chorus of The Royal Opera, Evelino Pidò (conductor), Covent Garden, London 11.4.2015 (JPr)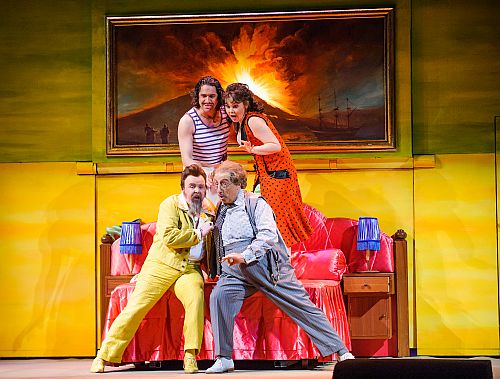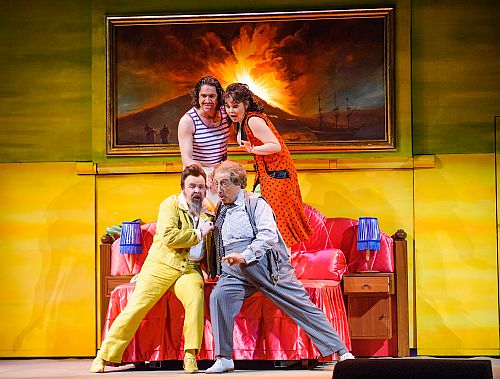 Cast:
Fiorilla: Aleksandra Kurzak
Selim: Ildebrando D'Arcangelo
Don Geronio: Alessandro Corbelli
Don Narciso: Barry Banks
Prosdocimo: Thomas Allen
Zaida: Rachel Kelly
Albazar: Luis Gomes
Production
Direction: Moshe Leiser and Patrice Caurier
Set designs: Christian Fenouillat
Costume designs: Agostino Cavalca
Lighting design: Christophe Forey
Movement director: Leah Hausman
Royal Opera Chorus and Orchestra
Conductor: Evelino Pidò
Because reviews for Seen and Heard allow me the words to do so I always like to inform any casual reader about the background and the plot of anything I review. In the case of Il turco in Italia the former is straightforward but the latter is so complicated that nothing I can put together would do it justice. The synopsis in the Royal Opera's programme needed three full pages!
Il turco in Italia was the 13th opera Rossini had written and he was only 22! It was his third for La Scala, Milan, and he obviously relished librettist Felice Romani's quintessential farce. However, the heroine's immoral antics caused some consternation at the opera's première on 14 August 1814 and Rossini biographer Stendhal also suggested that the Milanese were not happy at the text's perceived insult to Italians since the husband is cuckolded by a Turkish interloper. With hindsight, it is a broad sex farce that is well ahead of its time owing more than a small debt to Mozart's Così fan tutte, beginning with its Naples setting. Nevertheless, it essentially vanished from the repertoire of international opera houses between 1850 and 1950, when Maria Callas as the incorrigible Fiorilla put it back on the map. That production's triumph – in those slightly more enlightened times – confirmed the opera to be one of Rossini's finest comedies.
Here in the second revival of Moshe Leiser and Patrice Caurier's 2005 production – the Royal Opera House's first – the postwar La Dolce Vita era (synonymous with Frederico Fellini's 1960 film) in which Il turco was rediscovered is wonderfully evoked. It is dynamically sung and has brightly colourful and functional Neapolitan set designs from Christian Fenouillat and loudly-patterned costumes by Agostino Cavalca. Rossini and his librettist have enriched the piece's comic potential by including the pre-Pirandellian figure of a poet/playwright (Prosdocimo) who observes, and often stimulates, the characters' interactions to gain material. Here he seemed costumed as someone but it was not clear who. Don Geronio, Fiorilla's long-suffering husband, drives a Fiat Cinquecento, her erstwhile lover Don Narciso has an Elvis quiff, a biker's beard and rides a Vespa, whilst Selim, the Turk who steals everyone's hearts, arrives on a yacht. In a fairly simple setting the dramma buffo's potential for boisterous character humour is splendidly realised and it is all amusing enough to confirm the work as a worthy predecessor to the composer's The Barber of Seville, which followed less than two years later.
Truthfully, I cannot remember the last time I laughed out loud so much during a comic opera. However, for all the La Dolce Vita allusions in the programme and the long tradition of French farce from the homeland of joint directors, Moshe Leiser and Patrice Caurier, the humour had a distinctly British feel to it. It was all rather less like Fellini's seminal film and more like Carry On Abroad ­or Frankie Howerd's short-lived 1973 TV series Whoops Baghdad.
What is the opera actually about … well here goes. Amongst the gypsies fleecing tourists on the beach is Zaida, a refugee from a failed romance with her Turkish master, the prince Selim. Soon showing up to have his fortune told is the plump and mature Don Geronio, who (rightly) believes his wife Fiorilla is cheating on him. For the moment, the object of her attention is Narciso (here shown as a lapdog/stalker/foot-fetishist), but as soon as Selim – who is anxious to sample the sensual wonders of Italy – moors in the harbour then he and Fiorilla become insatiable and virtually inseparable. With three men fighting for the favours of one woman and two women jealous for the attentions of one man, passions are so inflamed at the end of Act I that Prosdocimo has trouble separating everyone from flailing at each other.
Act II has the obligatory masked ball with its succession of disguised identities and this passage from the printed synopsis gives a good idea of the ensuing confusion: 'At the ball. Geronio and Narciso arrive disguised as Turks, whilst Zaida poses as an Italian. Among the crowd, Fiorilla looks for Selim but mistakes Narciso for him: Selim mistakes Zaida for Fiorilla. Geronio thinks it is actually Selim with Fiorilla, not Narciso, but then is thrown by the appearance of Zaida with Selim, and doesn't know which of the two women is his own wife.' Eventually all is resolved by an ultra-Mozartian, very harmonious ending where there is forgiveness and reconciliation for Selim and Zaida, as well as, Geronio and Fiorilla. Even Narciso finds happiness – which in this staging this needs to be seen to be believed.
The score contains some of Rossini's most beautiful numbers and musically, standards are exceptionally high. Evelino Pidò's conducting is affectionate and breezy enough to allow only fleeting longueurs during what is – it must be admitted – an over-long opera. For many reasons eyes are attracted to Aleksandra Kurzak whenever she is on stage and while her voice hints at heavier roles to come her sparklingly sexy persona and generally bright, clear voice and impressive coloratura technique are still ideal for Fiorilla. I supposed we are not supposed to 'root' for Fiorilla as she wraps herself around Selim and spurns her silly old husband … but I certainly did.
An enormous benefit to the success of this revival is having a quartet of fine artists familiar with the production having appeared before in it in 2005 and/or 2010. There is Aleksandra Kurzak's beguiling Fiorilla, Ildebrando D'Arcangelo dashing Turk, Alessandro Corbelli absolutely peerless bumbling Geronio and all reveal instinctive comic timing and genuine Rossinian wit. They are presided over by another returnee, Thomas Allen's sardonic Prosdocimo; and because the demands on him are more comic than vocal, he too is incomparable. Barry Banks delivers Narciso's Act II aria with some pathos and Rachel Kelly, a Jette Parker Young Artist, is a feisty Zaida, the gypsy to whom Selim is engaged. Another Young Artist Luis Gomes has little to do as Albazar who originally rescued Zaida but both young singers appear very much at home in this exalted company. All concerned excel in the famous quintet 'Oh! guardate che accidente'. It is an exceptionally tight ensemble and one of the finest fielded for a comic opera in my lifetime. They all expertly go about their business in this wonderful revival overseen by Associate Director Richard Gerald Jones.
When I last looked there are still good tickets available, do go if you can and it will be one evening you can escape the news about the British General Election campaign.
Jim Pritchard
For information about future performance at the Royal Opera House visit www.roh.org.uk.