Verdi, La Traviata: Soloists, Orchestra, Chorus of Teatro Argentino. Conductor: Carlos Vieu, Teatro Argentino, La Plata. 25.3.2015. (JSJ)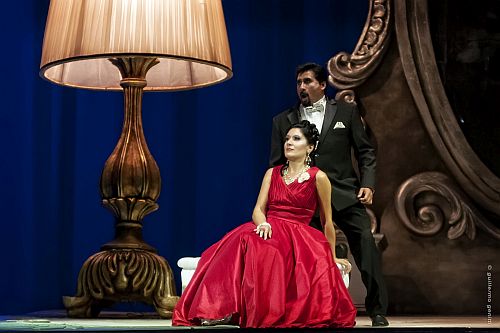 Cast:
Violetta: Marina Silva / Laura Penchi
Alfredo: Darío Schmunck / Arnaldo Quiroga
Giorgio Germont: Omar Carrión / Ernesto Bauer
Flora: Rocío Arbizu / Victoria Gaeta
Barón Douphol: Alberto Jáuregui Lorda / Mirko Thomas
Gastón: Francisco Bugallo / Maximiliano Agatiello
Marqués D'Obigny: Sebastián Sorarrain / Luis Asmat Ramírez
Dr Grenville: Víctor Castells / Pablo Basualdo
Annina: Claudia Casasco / Adriana Bensusan
Production:
Director/sets/costumes/lighting: Willy Landin
Chorus: Hernán Sánchez Arteaga
Choreography: Analía Clark
After an unhappy two years with much curtailed activities, the Teatro Argentino's fortunes appear to be looking up, with a season announced and an increase in the number of works offered (although still below the pre-crisis level – and not to mention the still shocking external state of the house).
As an indication, the 2015 season opener, La Traviata, is a reprise of the production by Willy Landin that closed the 2014 season, with some juggling of the casts. This review pertains to the second cast of this production, most young singers.
I previously described the production as "broadly traditional", with the timeframe updated to something like the 1930s. The two raised areas, which were successful in isolating elements of the play, were, however, less successful in this instance – set back, some of the voices were virtually inaudible at times, even sitting just a few rows from the front.
Vocally the highlight was Ernesto Bauer's Germont père and he is evolving masterfully into the role – but he should appear as a père rather than a frère. Arnaldo Quiroga was a firm Alfredo and Laura Penchi a constrained Violetta (her 'calling card' is her Papagena), and it was good to hear these and the other voices in more significant roles.
The chorus under Hernán Sánchez Arteaga was in good form, and musically it was all held together with the sensitive and nuanced conducting of orchestral chief Carlos Vieu – all in all making for a welcome start to 2015's local opera season.
And looking ahead we have to look forward to what appear to be new productions of Carmen opening May 29 (principals Adriana Mastrángelo, Enrique Folger, Leonardo Estévez and María Bugallo, conductor Luiz Malheiro, director Valeria Ambrosio); Otello opening July 31 (José Azócar, Paula Almerares and Fabián Veloz, c. Carlos Vieu, d. Pablo Maritano); the zarzuela La Corte del Faraón opening October 9 (c. Javier Logioia Orbe, d. Carlos Iaquinta); and La Bohème opening December 17 (Daniela Tabernig, Gustavo López Manzitti, Oriana Favaro and Hernán Iturralde, c. Carlos Vieu, d. Ricky Pashkus).
Jonathan Spencer Jones