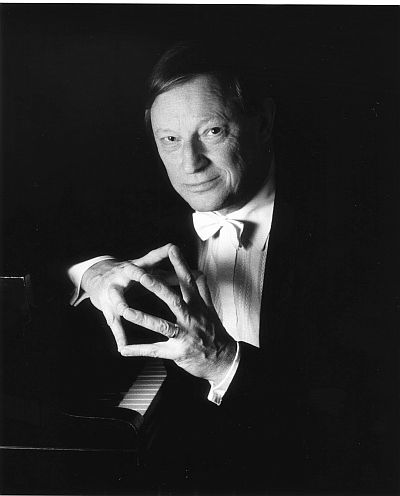 Pianist Martin Jones in Conversation with Robert Beattie
Martin Jones is one of the UK's most highly regarded concert pianists. He first rose to prominence when he won the Dame Myra Hess Award in 1968. In the same year he gave performances in the Queen Elizabeth Hall and Carnegie Hall and since that time he has been in constant demand for both recitals and concerto performances on both sides of the Atlantic. He is a prolific recording artist and has won a numerous accolades for his recordings for Nimbus. Gramophone Magazine has described Jones as 'a skilled and sensitive artist with an imaginative response that is faultless' while BBC Music Magazine has hailed him as 'a superb advocate for this rich kaleidoscope…He handles Grainger's complex counterpoints and voicing with superb clarity, achieving quasi-orchestral textures and colouring'. Reviewing the recent set of CDs issued by Nimbus to mark Jones's 75th Birthday Göran Forsling said on MusicWeb International: 'Happy 75th Birthday, Martin. May you be richly rewarded for all the generosity with which you have served the music-loving public for so many years'.
I first met Martin when I attended the Lot Music School in the South of France – he was my teacher during that week and as well as providing enormous encouragement he provided many fresh insights and ideas into how I might approach the works I had prepared. He also gave a number of recitals in the evening which included mainstream works by Brahms, Mendelssohn and Debussy but also works which I did not know by lesser-known twentieth-century composers. All of the performances showed a highly accomplished, thoughtful and serious musician who was clearly able to enchant and enthral his audience. Martin had an enormous and wide ranging repertoire and he seemed equally comfortable with large scale works, sets of variations, transcriptions and poetic miniatures. Encores were inevitable and I remember him sitting calmly at the piano and giving electrifying performances of fiendishly difficult virtuoso transcriptions by Dohnányi, Earl Wild and Arcardi Volodos to tumultuous applause.
Martin champions lesser-known twentieth-century tonal composers including Grainger, Hans Gál, Korngold, Jean Françaix, Jean Roger-Ducasse, Carlos Guastavino and Joaquín Nin. We spoke about his enthusiasm for this music and it is well worth getting to know if you are not already familiar with it – Gal's preludes, Guastavino's Sonatina and Ducasse's second Barcarole are all highly engaging and enjoyable works. We also spoke about our shared lack of enthusiasm for serial and atonal music and the fact that so many contemporary composers are churning out serial or atonal works that the general public neither enjoys nor wants to listen to as they are devoid of melody. It seems to me that there is an important debate to be had about the future direction of Classical music and the twentieth-century composers whose music Martin has recorded show that tonal compositions are still alive and well.
Nimbus has just released a 4 CD box set 75th birthday tribute (review ~ review) which includes a selection of Martin's best recordings over the last 42 years. I particularly like his recordings of Spanish and South American piano music as well as the Czerny and Grainger recordings but all of the playing is of an exceptionally high quality. It is well worth getting hold of the set if you have not done so already.
The transcript of the interview is set out below.
Robert Beattie You were taught piano by Gordon Green at the Royal Academy of Music and also by the renowned Italian teacher Guido Agosti. Can you tell us a little bit about what it was like having lessons with them and how they shaped your development as a musician?
Martin Jones Guy Jonson was my first piano teacher and I only had lessons with Agosti for one summer in Sienna. Agosti was an exceptionally cultured and a very handsome Italian man. As well as being a brilliant pianist, he was fluent in six languages – he often said that his wife could speak the European languages which he didn't speak and they covered all of them between them. You learned from Agosti by watching him interact with other students in masterclasses. He could be quite nasty to his students. I once played Debussy's L'Isle Joyeuse for him and he commented that he liked the last four bars but that I used too much pedal – he meant that he thought the whole thing was rubbish. He then sat down and played L'Isle Joyeuse on the other piano in the room and he played almost everything the opposite to the way in which I had played it. However, I also had some good experiences with him. I once played the Bartók Sonata for him, which is a fearsome and very physical piece. He didn't make any comments and after each movement just made a gesture with his hand asking me to go on. At the end he stood up and made a number of comments to the class in Italian – I don't speak Italian but someone told me afterwards that he said he loved the piano playing and had nothing to say about my performance. I was very pleased but it would have been nice to have heard him say it in English!
RB Agosti wrote a very famous transcription of Stravinsky's Firebird for piano – did you every play it for him?
MJ I have played it but I didn't play it for Agosti. It's an amazing transcription – extremely difficult and very well written for piano. Agosti was a terrific pianist and was absolutely brilliant demonstrating things in class. I still remember him playing Beethoven, Chopin and Schumann.
RB Someone else also told me that Agosti was superb at demonstrating things in masterclasses but he didn't seem to want to pursue a career as a concert soloist.
MJ He got very nervous when he performed in public and I think he decided to concentrate on teaching because of this. Agosti and I became very good friends at the end of my time in Sienna and I was delighted to have the opportunity to study with him.
RB Michelangeli ran the other masterclass in Sienna – did you ever participate in his lessons?
MJ No, I didn't. I seem to remember that his timekeeping was sometimes a little erratic. He would turn up a few hours after the lesson was scheduled to take place and then complain that no-one came to his lessons.
RB How did Gordon Green compare with Agosti?
MJ I got on very well with Gordon. He didn't mind if you didn't attend lessons during term time. He used to give me a list of pieces to learn and memorise and I would turn up at his house in Liverpool at the end of term and spend three or four days going through them with him. He provided non-stop teaching input and he was an excellent teacher and was very good at motivating students. He played exceptional recordings by the world's leading pianists to me and emphasised that this was the market I was now working in. I had not practised that hard until I started working with Gordon – he was not tough in the same way as Agosti but he made you realise what you needed to do in order to succeed as professional concert pianist.
RB I remember you telling me that Sviatoslav Richter came to practise on Gordon's piano – can you tell us what happened?
MJ Richter had a free day between two concerts and he needed somewhere to practise so his agent approached Gordon to ask if he could practise on his piano. Gordon was of course delighted so Richter turned up with a Russian minder at Gordon's house in Liverpool. Gordon tried to make polite conversation and asked if the great man would like some tea or coffee but Richter declined all these requests and said he wanted to go and practise on the piano immediately. Richter was scheduled to play a Bartók concerto and he began practising on Gordon's piano. He practised the work painfully slowly so much so that it was almost unrecognisable and this slow finger practice went on all day. In the meantime one of Gordon's colleagues phoned from the Royal Northern College of Music and started talking to him on the phone which was just next to the music room. Gordon's colleague heard the noise from the music room and intimated that it must be a really terrible student practising in there. Gordon told him that it was Richter which the colleague found hard to believe.
RB I guess very slow finger practice on a Bartók concerto probably does sound dreadful even if it's Richter but it's a lesson for us all about the value of practising pieces of music slowly. Rachmaninov and Cherkassky were also reputed to practise very slowly.
MJ It may be part of the traditional Russian method. It is very important to practise pieces slowly but I would find it a little dull to practise like that all the time.
RB You have performed in a number of leading international venues including the Queen Elizabeth Hall and Carnegie Hall. When did your career as an international concert pianist first take off and how did you develop your career?
MJ I won the Myra Hess Award in 1968 and the engagements at the Queen Elizabeth Hall and Carnegie Hall came about as a result of winning the competition. I also bought a second hand reconditioned Steinway with the prize money. I played some of the traditional repertoire at these concerts including Beethoven and Liszt but also Variations by John McCabe. I always like to include a wide variety of material in my recitals and it's easy to do this given the vast amount of piano music.
RB What is your view on piano competitions – do they help to launch the career of young pianists or do they stifle creativity and originality?
MJ When I won the Myra Hess Award there were not so many competitions so you stood out for a bit longer. Now there are so many competitions that the winners do not always stand out in the same way. Competitions make you practise and prepare a high volume of music to a very high standard which is of course a good thing. Given that pianists from all over the world compete at these events they also give you some idea of where you are on the musical ladder. You may be great compared to other pianists in your city or country but you are competing with pianists from all over the world at these events. Knowing how you compare with these pianists is a valuable and sometimes hard lesson but you have to take it. Competitions do not provide the final word on young players – you can always improve on any piece that you play both technically and musically – but they can be helpful.
RB You have a wide and varied repertoire – are there particular composers who you like to play and how has your repertoire changed over the years?
MJ I have recorded a lot of mainstream work for Nimbus, including the complete piano works of Brahms and Debussy and a wide variety of works by Beethoven and Chopin. I also like to play slightly unusual things including works by Busoni, John McCabe and some of Godowsky's Chopin transcriptions. It used to be rather frowned upon to play virtuoso piano transcriptions but it has become much more fashionable nowadays thanks to people like Earl Wild and Volodos – I love playing their transcriptions.
RB Do you have a favourite composer or period in music?
MJ I don't have a favourite – the music I like is whatever I happen to be playing at the time. I have recorded a lot of twentieth-century tonal music by composers such as Szymanowski, Gál, Korngold, Grainger, Françaix and Ducasse. A lot of this music is very good and it deserves to be heard much more widely. I am not keen on atonal or serial music and I do not think Schoenberg's musical innovations have always been helpful. I think young composers are sometimes misled into thinking that they have to compose in this way and it results in music that none of us wants to play or listen to.
RB I completely agree – I sometimes despair when I listen to some contemporary works at the Proms or the Southbank Centre. I cannot imagine anyone willingly wanting to listen to these works after a hard day at the office. I do think Schoenberg was a great composer but I tend to think of his music as reflecting his own feelings and perceptions at that particular period of time. I always think he is better at expressing these very extreme feelings when he is writing for voice as in Pierrot Lunaire or Erwartung. I also rather like the Piano Concerto although I would probably find it a bit of an endurance test to sit down and listen to the complete string quartets.
MJ I agree Pierrot Lunaire and Erwartung are great works – as is Berg's Wozzeck which I've watched a number of times and found thoroughly engaging. I've played Schoenberg's Piano Concerto and I can see that it is a masterpiece but the key thing it lacks is great melodies. It is a very difficult piece to play but it is not rewarding to learn and very few people want to listen to it. I can never understand why great composers such as Stravinsky, Copland and Ginastera started to compose serial music – nobody listens to or remembers their serial music.
RB Which pianists do you most admire and why?
MJ In terms of technical brilliance I would have to say Cziffra. His playing of the Liszt Hungarian Rhapsodies and virtuoso transcriptions is incomparable. In terms of overall musicianship I really admire Lipatti – his recordings of Ravel's Alborado and the Chopin Waltzes are absolutely wonderful. I particularly love his recording of the Enescu Sonata – it is a very difficult and unwieldy work but Lipatti makes it sound very natural and effortless. I also love Gilels' recordings – he did not always have the perfect brilliance of Richter but he was a warmer player. His recording of Prokofiev's Eighth Sonata is symphonic in breadth. When I was young I was a huge fan of Solomon – he always gave perfect, no nonsense accounts of works like the 'Emperor' Concerto where there were no streaks of personality. In terms of the younger generation of pianists I think Volodos has both technical brilliance and extraordinary musicianship.
RB Some people argue that older pianists tended to inject more of their personality into their playing than young pianists do nowadays – do you agree?
MJ Yes I do. I think part of the reason for that is that older pianists were not frightened of making mistakes. When young pianists record music nowadays everything is expected to be note perfect. I remember Gordon Green used to play recordings of people like Richter and Horowitz making a complete mess of very famous pieces.
RB I remember listening to Clifford Curzon giving a fairly disastrous account of the Brahms D minor Concerto. He is one of my favourite Brahms pianists so I guess it shows it can happen to anyone.
MJ I think Curzon used to get very nervous before concerts so the errors may have been due to that.
RB You have won numerous awards for your Nimbus recordings, including your recordings of Spanish music and of Szymanowski's music. More recently one of your Czerny recordings received a very favourable recording of the month review from Gramophone Magazine. I really enjoyed listening to the Czerny discs – how would you describe his music and what drew you to it?
MJ His music is a cross between Beethoven and Schubert. He wrote a vast amount of music – over 1,000 opus numbers – so the quality is inevitably very variable and you need to pick and choose which works you want to record. I wanted to record all of Czerny's sonatas as he put a lot of effort into these works and he thought very highly of them himself. I think they are great works and I really enjoy playing them.
RB Nimbus have recently released a 4 disc 75th birthday tribute to you which includes a number of your best recordings in the period between 1973 and 2014. Can you tell us about the set?
MJ The set includes a number of mainstream works by Brahms, Mendelssohn, Debussy and Rachmaninov as well as a recording of the Shostakovich Second Piano Concerto with the English Symphony Orchestra. It also includes some of the Czerny recordings you have referred to including a movement from the Sonata in B Minor and recordings by Spanish and South American composers including Granados, Albeniz, De Falla Mompou, Turina and Nin. It also includes works by Françaix and Ducasse which I have recorded more recently.
RB How would you describe their music?
MJ Françaix's music is witty, skilful, stylish and full of life and it stretches over the whole of the twentieth century. His music reminds me a little of Poulenc whom he knew very well – the two of them played piano duets together. Ducasse was a pupil of Fauré and his early music reminds me a little of Fauré's music although his later music has elements of Ravel and Wagner (in terms of chromatic harmonies). He was fascinated with the mechanics of playing the piano and he had enormous hands so his music is not easy to play. I have recorded three CDs of his music which are currently being edited by Nimbus and are due to be issued in the summer.
RB What future projects do you have in the pipeline?
MJ My next recording will be piano duets and works for two pianos by Saint-Saëns which I am recording with Adrian Farmer (I also played duets of Françaix (review) and Ducasse with Adrian). I am planning to perform some transcriptions by Earl Wild and transcendental studies by Graham Hair who is a professor at Glasgow University. I will be performing at a 75th birthday concert at the Royal Overseas League on 20 October – the programme will include works by Ravel, Czerny and Grainger. I gather Nimbus are also planning to release a number of my recordings on YouTube.
RB I see that your recording of Grainger's English Country Garden is already on YouTube. Thank you for talking to us and I hope that your future concerts and recording projects go well!
Robert Beattie