United Kingdom Ravel, Sollima, de Falla, Chávez, Moncayo: Giovanni Sollima (cello), Jonathan Aasgaard (cello), Royal Liverpool Philharmonic Orchestra/Carlos Miguel Prieto, (conductor), Philharmonic Hall, Liverpool, 23.4.2015 (RB)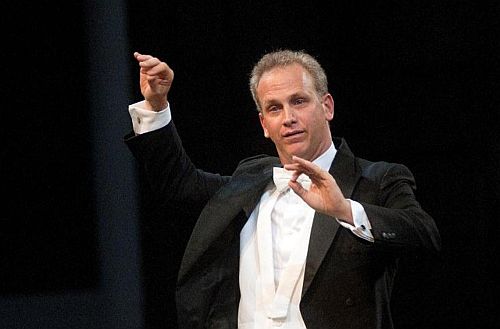 Maurice Ravel – Rapsodie Espagnole
Giovanni Sollima – Antidotum Tarantulae XXI (Antidote to Tarantulas XXI), Concerto for Two Cellos
Manuel De Falla – Suite, The Three Cornered Hat
Carlos Chávez – Symphony No. 2, Sinfonia India
José Pablo Moncayo – Huapango
The North-West was treated to dazzling sunshine and almost-warmth for the two days before this April evening. Not exactly a Latino heat-haze but certainly in keeping with the music chosen by Mexican conductor Carlos Miguel Prieto. I am not sure when the RLPO last had such a 'South of the Border' concert. What's more, there was to be another similarly-themed programme including a repeat of the de Falla on Sunday.
Prieto's programme might have succumbed to a dash of predictability and racial type-casting – after all: Mexican conductor and Hispanic music. It's the sort of thing you would get with Boult and Handley in British music although both characters were bigger than that. In fact the two concerts were by no means complete These You Have Loved-style pops extravaganzas. For a start there was a nattily titled piece by RLPO Artist-in-Residence Giovanni Sollima and a couple of Mexican rarities by Chávez and Moncayo. The RLPO, rather like their BBC Phil counterparts in Manchester, keep their programmes alive with enterprising repertoire. That said I rather regretted Prieto did not include some Revueltas. Redes and Sensemaya are vividly imaginative scores as is the same composer's La noche de los mayas which Prieto is doing with the Orquestra De Valencia on 19 June 2015.
The Philharmonic Hall has been refurbished with a generally light-filled and brighter yet not garish effect. It only reopened in November last year and this was my first visit since then. Gone are the mobile panoply-scatter of metal music notes that used to adorn the wall behind the orchestra – so very Festival of Britain in style. I wondered where they had gone: Drew Pritchard perhaps? I looked again and that rear backdrop above the choir seatings seems to have been produced by perpendicular blinds so presumably the giant 1950s 'mobile' is behind the blind slats. The whole hall has a cleaner visual effect with lots of whiter wood and LED illumination. The side exits leading out to the streets still have that authentic 1950s feel as do the large reliefs of six of the Muses (?) which dominate the rear flanking walls of the auditorium. The stage wall behind the orchestra during the before, after and interval periods carried the Investec logo in a light projection. Investec have supported the RLPO season for many years now.
Prieto started with a Ravel's Rapsodie Espagnole. I had never thought of this as an emotionally cool work yet that is how this felt; more Boulez than Monteux. Time after time the quieter and more subtle moments were brought out and there was much to enjoy during these episodes especially from the woodwind principals. A Concerto for two cellos is unusual; it certainly limits performing opportunities. Even more unusual is that the composer here took one of the two solo parts – on this occasion side by side with the RLPO section leader. Sollima's Concerto for two cellos is a mercurial work. The style is not avant-garde although it is fresh, surprising and pleasingly challenging. There's a theatrical element too or there was at this concert. The two soloists struck expressive sparks and endearment off each other whether in dialogue playing or in unison; there's quite a lot of unison between the two instruments. The music is evocative: long sinuous muezzin lines, buzz-saw abrasive virtuosity, Copland-style barn-dance exuberance, neo-classical Pulcinella-like work for the brass, tender confidences and personality, personality, personality. If you get a chance to hear it, do. After a disarming Boccherini-pastiche encore for the two cellos – I couldn't catch the composer's announcement – the interval came. This Palermo-born 51 year old composer had this concerto premiered last year with the Chicago Symphony Orchestra and Yo-Yo Ma.
The suite of 'best bits' from The Three-Cornered Hat worked a treat. The orchestra members shouted out "Ole!" in a virile, unapologetic and quite unEnglish precisely coordinated staccato. This was after a thunderous start and at least four clattering and clamouring sets of castanets from the crowded percussion dais. Now conducting with a baton, the tall Prieto, who in stature recalls Louis Frémaux and Michael Tilson Thomas, relished this feast of Hispanic gusto, seduction, zapateado and kinetic attack.
Then came two concert rarities which Prieto announced to the audience after first getting some of the Mexican audience members to identify themselves.
The Chávez Sinfonia India ideally requires a set of autochthonous — nice word, Mr Prieto — percussion instruments. While the score seemingly permits read-across to other more conventional Western instruments, Prieto maintains that the piece loses some of its savour if Chávez's prescription is not observed. This conductor has no fewer than two sets. He had one set with him which he had brought through airport security. These are variously wooden drums of differing sizes, rattles, gourds and shakers. This Chávez's Second Symphony – of six – was designed to honour the ancient cultures of Mexico rather than bow in subjection to European traditions. The specialist percussion, which was demonstrated as part of the conductor's talk, might well have seemed 'bolted-on' but in performance Chávez's intentions were most naturally realised. There's plenty of exotic colour but it is nicely subsumed into this circa 12 minute work. Aspects of the style recall Chávez's friend Copland and perhaps inevitably there are a few moments when you think of El Salón Mexico. This is, however, a most attractive, individual and concisely commanding piece. By the way Prieto is now Chief Conductor of the Mexico City Orchestra which itself was founded some 87 years ago by Carlos Chávez.
Huapango, beloved showpiece of Bernstein which he recorded and which Prieto conducted with the Chicago Symphony in 2012 was the final piece. This too is a brevity – think of it as a Mexican echo in scale and spirit of Chabrier's España. I had heard recordings of Huapango before as I had with the Chávez but this made a great impact. The composer Moncayo does not stint the stamping and stomping rhythms but there is also some rich lyrical writing for the strings: a lovely piece and well-chosen to bring this concert to a smiling close.
Prieto has a very personable and relaxed manner yet one senses his absolute attention to precision. His arms-wide generous gestures and occasional foot stamp suggest as much. One wonders if the rehearsals are lengthy; I would not be surprised. The results impress. Also notable is this conductor's engaging modesty. At both this concert and the Sunday matinee there were several occasions where during audience applause he sat back at the far left-hand orchestral celesta position and let the soloist bask in the moment front and centre.
The RLPO scored high for putting their programme notes online before the day and for laying on a discussion 15 minutes after the Moncayo. Prieto and Sollima were there to answer questions. It maybe me but I am sure the take-up for this would have been better if it had been before the concert rather than after although I can see the logic for post-concert timing. How many wanted to stay after the concert is finished, I wonder. I confess I didn't.
Rob Barnett