Simon Thompson in Conversation with Fergus Linehan, New Director of the Edinburgh International Festival, April 2015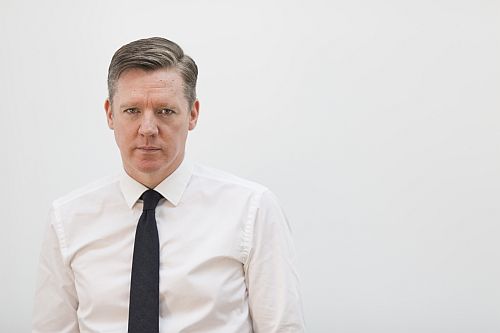 2015 sees a new director in charge of the Edinburgh International Festival.  Jonathan Mills, who was director from 2007 to 2014, steps down to pursue other things.  His replacement, Fergus Linehan, began his career working in the theatre in his native Dublin.  Like Mills, he has been associated with a big festival in Australia (in his case, Sydney), and he was responsible for the music programme at the Sydney Opera House.  His tenure there, however, was primarily associated with contemporary music, so some heads worried that Edinburgh's classical music programme might suffer with him in charge.
He has answered such worries with a very strong music programme in his first year, with some big kahunas like Beethoven's Missa Solemnis and Berlioz's Requiem, as well as a stellar line-up of orchestras, soloists and singers, including some high profile festival debuts from the likes of Anne Sophie Mutter and Lang Lang
Jonathan Mills organised most of his Festivals along specific themes, such as War and Conflict in 2014 and the impact of technology on the artist in 2013.  Linehan has stepped away from that, however, and I began by asking him whether it was a conscious choice to turn his back on the theme as an organising idea.
"I think themes are valid and interesting.  I really loved some of Jonathan's years, particularly the one on the Enlightenment, and I thought last year's [War and Conflict] held together really well.  It can be a really interesting experience, particularly if you're immersed in the whole duration of the festival, though if you drop in for two days it's a different question.
"You have to go with things your own way, however.  My way is more about having conversations with specific artists, finding out what is fascinating them at any particular moment in time and then responding to that.  It's also about having a conversation with a particular artist over a period of time: you might pick up on an idea or a theme and do it with someone over a number of years, but it doesn't necessarily fall within twenty-three days in August.  I had a few thematic ideas that I was toying with, and then there were a few really interesting projects that didn't really hold together with a theme.  You can be really strict about thematic programming, but then if something comes along that is just magnificent and doesn't fit it, do you have to say no to it?  I also had other priorities that I was interested in; for me it felt like a theme was more of a limitation that something that was expansive."
 The Artist certainly seems to be much more central to Linehan's concept of the festival.  As well as securing some key debuts, he has bagged some very big names for his first festival, and the portraits of eight key festival artists grace the front of the festival brochures.  So what, to him, is the importance of a conversation with an artist?  "With some people, like Esa-Pekka Salonen, Iván Fischer and John Eliot Gardiner, we had a conversation about what he would like to do over the next few years, and it wasn't just about 'What would you like to do?' but also 'What's right for the Festival?'  This festival has a great tradition of having long relationships with people, like Charles Mackerras or Claudio Abbado, for example; and an audience can develop an affinity with an artist.  There are a few people whose repertoire and style are great for festivals: they like to do festival projects, the sort of work they like to do is well suited to the hall, they have a musical imagination that is wide enough to take you into areas that aren't just part of the normal repertoire.  We were also having conversations about what the artist would like to do in two years' time and, therefore, what are we going to do now that leads into that?  It's interesting to see someone like Gianandrea Noseda, who probably has the makings of being a festival favourite.  This year he's coming with the European Union Youth Orchestra which, in terms of history, is not one of the huge orchestras that we might present, but at the same time you can feel that this might be building upon the William Tell that he brought last year.  So I really wanted to see if we could develop that and get people to follow these artists over a number of years.
 "That might also give us a bit more flexibility over repertoire.  There isn't a massive amount of it, after all!  It's difficult to wander too far from the fold at the moment and, to be perfectly blunt, from a rep point of view this first year has charted a fairly safe course with the big pillars like the Missa Solemnis and Grande Messe des Morts  You have to bring an audience with you in programming."
 The central festival venue for the big visiting orchestras is, of course, the Usher Hall.  Linehan recognises the significance of the building, but he realises that it comes with its own set of issues.  "You also have to consider 'What's right for the Usher Hall?'  It's a very specific building, in my opinion.  It's a big room, and not just in terms of capacity: it's a big, muscular space that demands a certain type of gravitas, and there's a lot that doesn't work in there.  It's a very unforgiving room when it's half full; however, it's an exhilarating room when it is full.  It's a room that demands occasion, and you have to think about that, but developing longer term relationships with artists means that maybe you can start to get the loyalty to the artist which will mean that the audiences allow you to wander down some other lane-ways of repertoire."
 The Usher Hall also sits at the centre of the 2015 Festival's opening event, an ambitious outdoor occasion that features a performance of John Adams' Harmonium (performed earlier that evening by the Edinburgh Festival Chorus and the RSNO with Peter Oundjian) and a series of animations projected onto the exterior of the Usher Hall.  For years the festival has concluded with a big, inclusive outdoor event in the Fireworks Concert, but this is the first time it has opened with one too.  When I asked Linehan about his thinking behind it, he spoke both of the significance of the hall and of the chorus, whose fiftieth birthday this is.
 "We wanted to do something for the fiftieth anniversary of  the Edinburgh Festival Chorus.  After all, it's probably our most public entity in terms of its membership.  But the Usher Hall has always been a bugbear for me.  I've been coming to the festival for twenty years, and I know there are people who walk past that building nearly every day and they don't know what goes on in there.  I think it's the most important building in Edinburgh, in terms of the Festival.  That moment of daring in 1947, where Bruno Walter came back to the Vienna Philharmonic, is stunning in its audacity!  People talk about courageous programming, but imagine programming an orchestra, half of whose members were members of the Nazi party, that soon after the war, in the UK where every household had lost someone!  It was extraordinary and it happened there, so I think that that's the foundation stone of the whole festival.  And yet strangely, unless you have a ticket and turn up at 7:30, you will never know that.  So I wanted to think about how we can change people's thinking about that building.  To do a big public event that actually speaks about what you do is the big challenge.  There's a lot of "bread and circuses" you could do, but it's not necessarily to do with what goes on in the Usher Hall.  So we came to the idea of doing a concert earlier in the evening, performing a piece of music by a living composer, and then we'll do a creative response to that on the exterior of the building.  Within that, we wanted to look at the city in terms of the university, of technology, and in terms of music, and then create a public celebration around that."
 One interesting element of Linehan's first festival is the way he is ever-so-gently pushing the boundaries of the music programme.  Partly that's in using a new venue, the elegant Playfair Library, to house Rudolf Buchbinder's cycle of the complete Beethoven piano sonatas But more noticeably, perhaps reflecting his experience in Sydney, Linhean is introducing a strain of contemporary popular music, including the likes of Sufjan Stevens and Franz Ferdinand, to sit alongside the more established music, dance and drama programmes.  "Right from the start I thought that other things could run in parallel here.  Sometimes people think it has to be an either/or, and they're right to be concerned because there are few enough platforms for classical music at this level; but while popular culture can overwhelm all around it, it can exist alongside classical music.
 "This is more a response to the way people listen to music and consume culture now.  There was a time when popular music was something that you left behind around the age of 28 and segwayed into other things like jazz or classical, but now people continue to have popular music in their lives all the way through, and the way music is distributed now means there has also been a change in the nature of popular music, so that there is now an extraordinary array of independent musicians who do interesting projects and continue to do them throughout their lives.  Like everything else in the festival, however, it's a question of choosing those parts of popular music that are artistically ambitious and interesting, and in general we've tried to link them with something new, be it a new composition or, say, a response to a film or a work of art.  Sufjan Stevens has a new album coming out, for example, and Franz Ferdinand are doing a project with Sparks.  Richard from Arcade Fire and Bryce from The National are doing this new composition for the Scottish Chamber Orchestra.  It will certainly expand the festival."  When I spoke to Linehan, sales for the project had been very strong indeed, and I asked him whether he was expecting it to be so popular.  "I thought it would be big but I didn't think it would be as big as it is.  When you enter into a new area of programming like that, you never know how it's going to go.  It has to be done with caution, but there is an entire swathe of programming which, I feel, can exist alongside what we're doing without in any way diminishing it."
One aspect of Jonathan Mills' festivals that was criticised fairly consistently across the board, was the staged opera programme, both in terms of quantity and quality.  Linehan's three productions for this year suggest a promising direction of travel, but he was realistic about the central problem.  "This is really boring, but it's all about money.  Everyone knows what people want: a fully staged opera each week of the festival, of interesting work well cast, and they'd probably like another two magnificently cast concert performances.  But to do that would probably cost us another million pounds, so you have to make quite tough decisions about what exactly you're going to do with it, beyond just raising the money.  This year, with the Figaro and the Flute, one of the things I wanted to do was to pull the opera programme to become a centrally popular piece of programming.  For example, it would be legitimate for us to go down the Wexford route and do works that otherwise people would never see, or to do productions which are so progressive that they add something to the whole offering of opera in the UK; but I think it needs to be a really popular piece of the programming, and I feel that you need to get people to look at it who wouldn't normally, so that the sheer excitement of what is happening in opera makes it a really hot ticket.  This year we've tried to go in three different directions: the Komische Oper will do a production of The Magic Flute that's spectacular and incredibly good fun (and should open up a very wide festival audience); Figaro is driving through the very high standard of the casting and working with Iván Fischer's new idea about pouring the focus into the music end of things; and then a new piece with Enda Walsh, who is someone who has a really strong following in Edinburgh."
So how does he feel about sitting at the helm of what is still unarguably one of the world's biggest arts festivals and, rather more debatably, one of the most prestigious?  His answer shows that he is thinking carefully about the role that the Edinburgh Festival plays in today's world.  "You've got to remember that festivals are fairly young creatures, originating out of that post-war era, and they began as rather exotic birds but have now moved into the mainstream of cultural consumption.  I think there is now a really interesting question about what role they play now as opposed to what role they played in the past.  They sit now in a far more central place than they used to, and we have to think about what that means."
Interestingly, however, he is keen to get the different elements of the programme to relate to one another.  "This is a multi-genre arts festival, and these genres often operate very differently.  You rarely get the other art forms and classical music to mix; almost never, in fact.  They almost exist in completely different worlds of planning and conception, so trying to hold the festival together in that sense can be quite a challenge because, in relation to opera and orchestral planning, we're already having conversations about 2018 to 2019, but no theatre company in the world will have a conversation with you about 2018!  One of the things we're looking at in the dance programme, for example, is how it responds to the music programme.  Seven, for example, will link the RSNO playing Mahler's Seventh Symphony with the Ballet am Rhein's dance, and Ballett Zürich will work with a recomposed version of The Four Seasons.  I think there is a really strong line to be drawn between what we do from a musical point of view and a dance point of view, and it's going to be really interesting to see if and how that plays out.  But I could be wrong!"
The Edinburgh International Festival runs from 7th to 31st August.  Tickets are currently on sale.  For full details go to www.eif.co.uk
Simon Thompson