United Kingdom  ATTHIS (a staging of Georg Friedrich Haas's Second String Quartet and the song cycle ATTHIS): Claire Booth (soprano), Laure Bachelot and Rachel Maybank (dancers), London Sinfonietta, Pierre-André Valade (conductor). Linbury Studio Theatre, Royal Opera House, Covent Garden, London 24.4.2015 (JPr)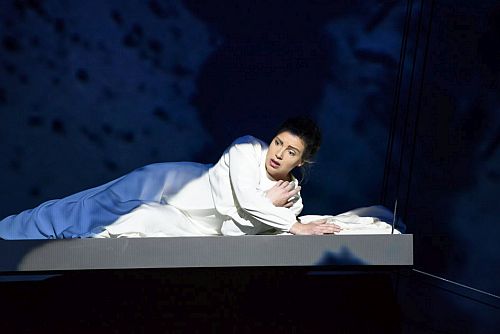 Director, Designer, Costume and Video Designer: Netia Jones
As part of the Royal Opera House's new season, recently announced, it will stage in November the world première of Morgen und Abend (Morning and Evening) composed by 61-year-old Austrian composer Georg Friedrich Haas. If you were thinking of going this short evening in the Linbury Studio Theatre would have provided an intriguing introduction into Haas's soundworld because it linked together two of his earlier works through a multimedia production designed and directed by Netia Jones.
Haas's 1998 Second String Quartet is a twenty-minute piece that eschews harmony for mainly disconnected sound effects and became the prologue to ATTHIS, his slightly longer 2009 song cycle for soprano and octet. About 2500 years ago Sappho sang love poems to other women on the island of Lesbos and one of those named was her pupil, Atthis. These poems now survive only in fragments and Hass begins his composition with consonant sounds, as the voice emerges almost imperceptibly from string octaves. The singer intones in Greek – as a lover's lament – mete moi meli, mete melissa ('neither honey, nor a honey bee for me'), followed by the German untergegangen ist der Mond ('the moon is sunken') at first spoken and then sung in cantabile melisma. The score also calls for some glissando singing and this basically sums up the demands on the soloist whose vocal line is often employed as the ninth instrument we are hearing. The scraps of text were commandingly sung and spoken by the soprano Claire Booth. She had been present from the start of the performance, reclining on a ledge attached to Netia Jones's huge lunar disc that overshadowed a basically monochrome and subtly lit setting. The impression is that the singer is seemingly floating above a shiny reflective stage floor and this 'moon' allows the projection of Ruth Padel's English translation of what we are hearing and some atmospheric imagery – water, frost, leaves, flowers, bees, shattered glass as well as the poet and the object of her affection.
Haas's mesmeric accompaniment was played with obvious commitment and accomplishment by members of the London Sinfonietta under the baton of Pierre-André Valade and this helped to make the trajectory of Sappho's passion – shown in reverse – from the despair of a lost love ('death grips my soul … and yet') to burgeoning desire ('sleep with your love on her tender breast') – much more successful than the danced Second String Quartet that preceded it. This presented Sappho's affair with Atthis from its beginning to its end – the opposite of the version presented by the song cycle. Laure Bachelot and Rachel Maybank were the dancers respectively embodying Sappho (in a skirt) and Atthis (in shorts). Their eloquent homoerotic movement – it cannot realistically be called dance – explored intimacy, violent jealously and a final parting. Violinists Alexandra Wood and Joan Atherton, violist Paul Silverthorne and cellist Sally Pendlebury valiantly generated – playing is not an appropriate description – the score that would have not left a good impression of Hass had his engrossing song cycle not followed. Indeed that the evening was not to everyone's taste was seen as a few people noisily vacated their seats and left the Royal Opera House's subterranean Linbury Studio Theatre within ten minutes of the start … I suspect they will not be coming to Morgen und Abend.
Jim Pritchard
For further information about events at the Royal Opera House visit http://www.roh.org.uk/.