Argentina  Giordano, Andrea Chénier: Soloists, Chorus and Orchestra of Juventus Lyrica, Antonio Maria Russo (conductor), Teatro Avenida, Buenos Aires. 10.4.2015. (JSJ)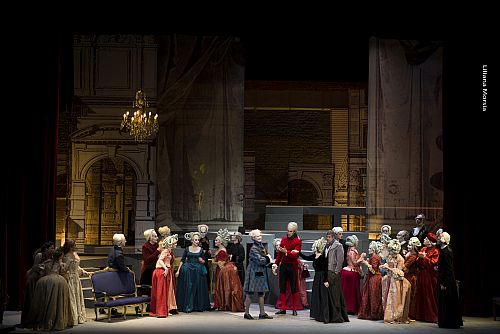 Cast:
Andrea Chénier: Darío Sayegh
Carlo Gérard: Juan Salvador Trupia y Rodríguez / Pol González
Maddalena de Coigny: Sabrina Cirera / Monserrat Maldonado
Bersi: Milagros Seijó / Verónica Canaves
Countess of Coigny y Madelon: Verónica Canaves / Milagros Seijó
Roucher: Felipe Cudina Begovic / Felipe Carelli
The Incredible: Norberto Lara / Pablo Urban Albareda
Pietro Fléville: Felipe Cudina Begovic / Felipe Carelli
Fouquier-Tinville: Federico Rodríguez  Salcedo
Mathieu: Walter Aón
The Abbé: Norberto Lara
Schmidt: Walter Aón / Norberto Crespi

 Production:
Director/costumes: Ana D'Anna
Sets/lighting: Gonzalo Córdova
Chorus: Antonio Maria Russo
 

Andrea Chénier is the better known of the two operas for which Giordano is best known today (the other being Fedora), although neither are now performed that frequently. For example at the Teatro Colón in the 1920s Andrea Chénier was put on almost every year but the last production there was as long ago as 1996.
The production by Juventus Lyrica to open the company's 16th season was therefore especially welcome – and a challenge to which the 'regular team' of Ana D'Anna and Antonio Maria Russo rose with aplomb. The story, loosely based around the life of the real Andrea Chénier, is set in the French Revolution and comprises more a set of vignettes than a narrative. Thus, the engagement is primarily with the music and singing, here so ably led by Russo with his characteristic affinity for the music of his homeland once again apparent.
D'Anna and Gonzalo Córdova sought to give substance to the storyline with a somewhat more substantial than usual setting of platforms at different levels, which effectively served throughout. With varying lighting and effects between the acts, the setting was given its correct historical context, and the dress was also appropriate to the era.
The announced Chénier, Gustavo López Manzitti, bowed out at a late stage due to commitments at the Teatro Colón, leaving the role to be filled by Darío Sayegh. Meeting the demands he, and Sabrina Cirera as Maddalena, brought power and emotion to the roles. But it was Juan Salvador Trupia y Rodríguez, a member of the Colón chorus, as a commanding Carlo Gérard who stole the show with his elegant and secure delivery. Noteworthy too among the smaller roles was Norberto Lara's wily Incredible.
Jonathan Spencer Jones