Germany  Berlioz: La Damnation de Faust, Deutsche Oper Berlin Orchestra and Chorus, Jacques Lacombe (conductor), Deutsche Oper Berlin, 8.5.2015 (JMI)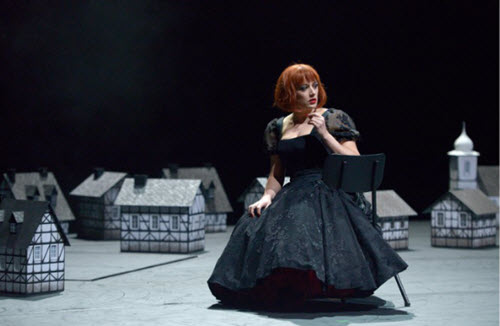 Cast:
Faust: Yosep Kang
Méphistophélès: Samuel Youn
Marguerite: Clémentine Margaine
Brander: Marco Mimica
 
Production: Deutsche Oper Berlin
Direction: Christian Spuck
Sets and Costumes: Emma Ryott
Lighting: Reinhard Traub and Ulrich Niepel
Choreography: Christian Spuck
Hector Berlioz is one of the most important figures in the history of music, but his operatic incursions have not lived up to his symphonic works. He was an avid reader, and some of his operas are drawn from works by his favorite authors. Les Troyens faithfully follows the story of Virgil's Aeneid, Béatrice et Bénédict is based on Shakespeare's Much Ado About Nothing, and the opera that concerns us here is based on Goethe's Faust. These are important operas, but there a is certain lack of inspiration, or at least lapses of it, and they are not particularly popular.
La Damnation de Faust is no exception to this general rule. Musically, it is a great work and has some truly inspired pages, together with superb orchestration and a brilliant use of the chorus, yet something is missing. We should start by defining whether La Damnation is opera or oratorio. In fact, it had its premiere in concert, and was not performed on stage till almost 50 years later.
Berlin's Deutsche Oper is offering the opera in Christian Spuck's imaginative staged version which premiered last year. Mr. Spuck himself is also responsible for the choreography, which is well-integrated and gives much life to the performance. The set consists of a sloped and rotating platform that allows for rapid changes, sometimes placing the action under the platform and other times on the surface. Everything works due to remarkable direction and excellent placement of the crowds. The costumes are appropriate and fairly original, and the lighting is good. It's not easy to give life to this opera, but this production fully achieves it, despite the fact that it ran over two hours without intermission.
Few operas are as demanding for orchestra and chorus, and the members of the Deutsche Oper were truly outstanding. I should also mention the work in the pit by Jacques Lacombe, who offered an excellent reading. This opera requires a large orchestra, to the point where one row of stalls was removed and woodwinds and harps were placed high up on both sides of the pit. The orchestra's sound was always bright, most notably the English horn in the beautiful aria "D'amour l'ardente flamme." In the past I've referred to this chorus as possibly the best in opera houses today, and I can reaffirm my opinion after their performance here. It is not superfluous to recall that its director is none other than William Spaulding, who also heads the Bayreuth Festival Chorus.
Faust was played at the premiere of this production by Klaus Florian Vogt, and is sung now by Korean tenor Yosep Kang. It should be said that the score for this character is plagued with difficulties, especially in the high notes, which is not surprising from Berlioz who is not very kind to tenors. Kang has an attractive and homogenous voice, very easy at the top, and he solved the difficulties of the score in a brilliant way. To my taste he was a little light in Act I, but he became fully convincing in the next two acts.
Clémentine Margaine was Marguerite, and she was splendid. I had heard positive things about this French singer, but I had never had the opportunity to hear her live. My impression of her could not be better. Her voice is magnificent, homogeneous along the whole tessitura, and she is a formidable singer. Her vocal characteristics are similar to those of Elīna Garanča, whose repertoire is largely identical.
Samuel Youn did very well in the character of Méphistophélès. His voice is not especially loud but it is attractive and well projected. He is comfortable on stage and makes a convincing devil, although I should prefer a true bass voice in the role.
José M. Irurzun