Germany Telemann: Emma und Eginhard, Akademie für Alte Musik Berlin, René Jacobs (conductor), Berlin Schiller Theatre, 10.5.2015 (JMI)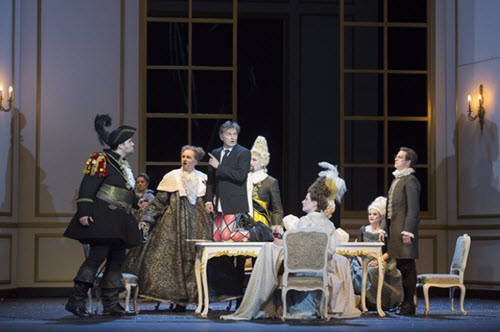 Cast:
Emma: Robin Johannsen
Eginhard: Nikolai Borchev
Charlemagne: Gyula Orendt
Prince Heswin: Spephanie Atanasov
Princess Hildegard: Sylvia Schwartz
Barbara: Narine Yeghiyan
Urban: Florian Hoffmann
Wolrad: Stephan Rügamer
Fastrah: Katherina Kammerloher
General Alvo: Jan Martinik
delbert: Dmitry Egirov
Steffen: Johannes Chum
Love: Narine Yeghiyan
A Voice: Jan Martinik
 
New Production
Direction: Eva-Maria Höckmayr
Sets: Nina Von Essen
Costumes: Julia Rösler
Lighting: Olaf Freese
Georg Philipp Telemann (1681-1767) is one of the most important Baroque composers, comparable to Bach and Handel, although today a good number of his works have been forgotten. Of the many operas he composed, I only remember revivals of Orpheus and Socrates in recent years. Hence the great interest in the initiative by René Jacobs and the Berlin Staatsoper to stage this opera. The main kudos go to Belgian conductor René Jacobs, who continues his efforts to recover little-known works, which he does with dedication and brilliance. But I must also praise the decision of Berlin Staatsoper which has collaborated with Mr. Jacobs on several occasions in the past with superb results, as happened here.
The opera is based on the story of Emma and Eginhard. She was the daughter of Charlemagne, and he was one of Charlemagne's most important advisers. According to legend, after a night of love, Emma crossed the courtyard with her beloved, lying on her back so that the traces of Eginhard's shoes couldn't be seen in the snow. Their ruse was discovered and they were sentenced by the Emperor, but some time later they were forgiven, after the typical confrontation between paternal feelings and reasons of state. With this story as the start, the opera covers a series of love affairs among different characters; after the intervention of the god Love, there's a happy ending with Charlemagne forgiving everyone.
This version incorporates several cuts, which I dare say is positive: otherwise, the performance would have exceeded four hours. Telemann's music is wonderful, although the inspiration level falls below what Handel does in some of his operas. In any case, it was a success, based upon an inspiring musical performance, a magnificent stage production, and a confident, balanced cast
René Jacobs offered a thoughtful musical direction, perfectly accompanied by the formidable Akademie für Alte Musik Berlin, one of the most prestigious baroque orchestras  today. I hope Mr. Jacobs continues with his project to recover unknown operas.
These baroque operas need imaginative stage direction to help break up the stasis that sometimes marks them. The Staatsoper Berlin commissioned this new production by Eva-Maria Höckmayr, whose work here is splendid and the main success of this revival. The sets offer a revolving stage, which gives much life to the scenes with frequent and rapid changes. In addition to being efficient, the sets are appealing and accommodate very nicely all the love affairs of the opera. The costumes are a mix of modern suits and baroque garb, attractive and fun at the same time.
Where the production is truly amazing is in the pure stage direction itself, which could not be more clever and careful. I cannot imagine the results if this opera were in the hands of a routine sort of director but, obviously, this is not the case here with Eva-Maria Höckmayr.
The cast did not offer big names, but it was a group of impressive singers, who in every case offered a terrific performances. American soprano Robin Johannsen as Emma sang with gusto and expressiveness, although I found her too light for the character. Baritone Nikolai Borchev was an excellent Eginhard, with an attractive,  well-projected voice, and he solved the vocal agilities with ease.
The performance of baritone Gyula Orendt as Charlemagne was also compellling. Princess Hildegard was interpreted by Spanish soprano Sylvia Schwartz in one of her most convincing performances that I can remember. A good impression was also left by mezzo soprano Stephanie Atanasov as Prince Heswin.
Two of the servants really stood out: Narine Yeghiyan, who doubled as Barbara and Love, and tenor Florian Hoffmann in the part of Urban. Thee performance of tenor Stephan Rügamer as Wolrad, counsellor to Charlemagne, was also very good.
In the secondary characters I should mention mezzo soprano Katharina Kammerloher, well-suited to the role of Fastrah; bass Jan Martinik, who doubled as  General Alvo and the Voice of the end of the opera; countertenor Dmitry Egorov as an amusing Adelbert; and Johannes Chum as Steffen.
 Jose Irurzun