United Kingdom Puccini, La bohème: Soloists, Chorus and Orchestra of Royal Opera / Dan Ettinger (conductor), Royal Opera House, Covent Garden, London, 23.5.2015. (JPr)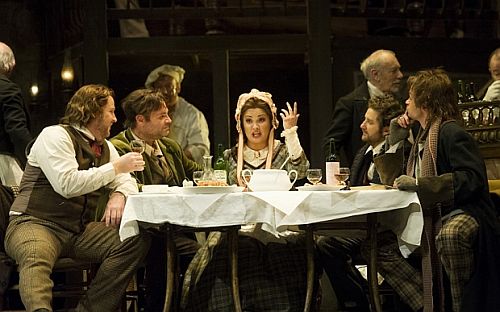 Cast:
Mimì: Anna Netrebko
Rodolfo: Joseph Calleja
Marcello: Lucas Meachem
Musetta: Jennifer Rowley
Schaunard: Simone Del Savio
Colline: Marco Vinco
Benoît: Jeremy White
Alcindoro: Ryland Davies
Parpignol: Luke Price
Production:
Director: John Copley
Designs: Julia Trevelyan Oman
Lighting design: John Charlton
The loud applause that greeted the first night of the definitely final revival of this 41-year-old La bohème was cut short because all concerned had a fund-raising dinner to attend in the Paul Hamlyn Hall but it still allowed time for John Copley, its 81-year-old director, to appear on stage to the acclaim of the audience and colleagues alike. Linking hands across the stage they swept him forward and he nearly tipped in to the orchestra pit which would have been a truly final 'farewell' for both him and his legendary staging of this perennial favourite Puccinian weepie.
This was called in the programme the 26th revival but The Royal Opera have either had a recount or miscounted because I thought that figure was reached a little while ago. What is not in doubt is that it is the longest-running production in the repertory. Since its première in 1974. The late Julia Trevelyan Oman's exquisitely detailed period sets have seen a panoply of opera greats slum it in the bohemians' garret and amongst so many others have been Plácido Domingo, Luciano Pavarotti, Dennis O'Neill, Kiri Te Kanawa, Ileana Cotrubas, Angela Gheorghiu, Thomas Allen and John Tomlinson. I have seen it innumerable times over 33 of its years and my first cast in 1982 starred José Carreras (a personal favourite Rodolfo, though I try not to be too backward looking), Eugenia Moldoveanu (Mimì), Barbara Daniels (Musetta), Jonathan Summers (Marcello), Gwynne Howell (Colline) and John Rawnsley (Schaunard) who were conducted by Riccardo Chailly.  In the first cast of this last revival the leading roles of Mimì and Rodolfo are sung by Anna Netrebko and Joseph Calleja and they will be seen on the BP Big Screens and in cinemas. It is only fitting that since it was the first Big Screen broadcast in 1987 it will say a goodbye when it is screened live outdoors in the UK, as well as, indoors to more than 1500 cinemas worldwide on Wednesday 10 June.
John Copley has worked on 15 new productions and a vast number of revivals in over 50 years with The Royal Opera. He has done a great deal for opera, perhaps more so in the rest of the UK and internationally than Covent Garden because the bulk of those repeat performances there has been this La bohème that is now as famous for its longevity as for it cinema-style realism. This opera was Puccini's fourth for the stage and its Turin première in 1896 was not an instant success with the critics. As Sarah Lenton's informative programme note (The Creation of a Classic) reminds the reader: Puccini had a notoriously awful time at the première, and not just from the press. 'That very night', he wrote, 'in the corridor and backstage I heard a whisper all about me: "Poor Puccini, this time he's on the wrong track, this is an opera that won't have a long life… " ' The rest is history!
The following year the Carl Rosa Company brought La bohème to Manchester in English translation and a few months later to Covent Garden. On 30 June 1899 it was sung there in Italian and became a staple of the repertory, the same staging survived two World Wars before it was replaced in 1974 by this current one. I seem to recall that Copley's production hasn't always been as revered as it is now because it is so unashamedly romantic and old-fashioned but – like the opera itself – it has, until now, survived all the recent decades marked by their various fads for re-interpreting, updating and directorial interference. Richard Jones – who will provide The Royal Opera with their new La bohème – will find Copley a hard act to follow. Copley who has returned to oversee many of the recent revivals was back one last time with a strong cast of singing-actors to present a real slice of bohemian life in nineteenth-century Paris. Perhaps the Latin Quarter attic does now seems a little too clean and tidy under John Charlton's stark lighting and the spotlit 'stars'; the Café Momus somewhat rather too cluttered and the Barrier d'Enfer a bit too quaintly snowy as if from a Christmas card … but I'm sure we will all miss these stage pictures – however rather dated they now appear – in the years to come.
More than ever what was evident was that at its 'heart' is an emotional truth that too many new opera productions miss these days. I even began to wonder whether Copley has refreshed some of the 'business' for his quartet of penniless – but aspiring – artists, the two women in their lives, the Café Momus crowd (including the typically lively children of the Tiffin Children's Chorus) and a German spitz, Puffin: I suspect these were only some details I probably had just previously missed.
American baritone Louis Meacham was a suitably charismatic Marcello singing with mellifluous fullness. Rodolfo's other companions were two energetic Italians – Simone Del Savio (Schaunard) and Marco Vinco (Colline) – who had appropriately young-sounding voices though I wondered whether there might have been British singers who could have been cast – or someone from the Jette Parker Young Artist Programme? Nevertheless, Vinco's 'Coat Aria' ('Vecchia zimarra, senti') was a highlight – amongst many – of this performance. Another import American soprano Jennifer Rowley was a suitably fickle and fiery Musetta with an open, bright, and attractively toned voice that sounded as if she might step up to become Mimì one day. However, her performance on this first night was not as incisively characterised as some of her colleagues. The only British involvement in this excellent ensemble of principals was Jeremy White and Ryland Davies having great fun with their comic vignettes as Benoit and Alcindoro.
Joseph Calleja was a thoroughly likeable, easily-infatuated Rodolfo. His voice is an acquired taste because of its distinctive fast vibrato though, nevertheless, I like him very much because of the honeyed sweetness of his voice which is so redolent, to me, of Luciano Pavarotti. Calleja has a wonderful pure quality throughout his range except at the very top which lacks the full-throatedness of the best Rodolfos – perhaps it was just an off night. I do not have the words to really express how good Anna Netrebko was as Mimì. As she heads towards heavier repertoire such as Verdi's Leonora and Wagner's Elsa perhaps she is not everyone's ideal of a rather delicate, consumptive flower-girl but she is a committed and absolutely credible performer. There was – very commendably – nothing diva-ish about this Mimì unlike some of her predecessors in this production. Netrebko's voice is intensely potent, dark and velvety but still blended well with Calleja's making her an ideal foil for his character's impetuosity. As the first act drew to its close, they just sounded so blissfully happy even if the occasion might have got to them both and together they were reaching for the 'money note' at the end of their concluding duet. Netrebko's singing was intensely affecting as Mimì's death at the end of Act III drew nearer and with Calleja she brought great tenderness to 'Addio, dolce svegliare' – these closing minutes will live long in my memories of this production.
iI have written before how certain elements of Puccini's musical style help to confirm La bohème as the 'masterpiece' it undoubtedly is because he appears more open to the German masters' concept of symphonic development than other Italian opera composers (Verdi especially). Based on this idea, Act II has been considered the 'scherzo' and Act III the 'slow movement'. There is a greater sense of La bohème – and his other operas – being 'through-composed' just as one might hear in a movement from a symphony. We know only too well that certain Puccini arias and ensembles can be taken out of their original context and performed on their own, yet the operas in full usually have very little sense of having 'numbers', as are found in Verdi's operas up to Otello and Falstaff. Unfortunately the Israeli conductor Dan Ettinger undermined Puccini's best intentions by winding the music down for applause at every possible opportunity and I cannot understand why this was condoned. Nevertheless, there was some forcefully resplendent playing from the orchestra who responded to being whipped along by their conductor and poured out Puccini's romantic melodies very lushly indeed. No great new insights therefore but a number of memorable moments; particularly from when Rodolfo and Mimì are alone at last in Act IV through to the very sad end. It was so very good that if 10th June is a nice night I might go and see it again on a Big Screen somewhere. Do go and see a live screening if you can and help give this La bohème the send-off it so richly deserves.
Jim Pritchard
La bohème will also be broadcast on BBC Radio 3 on 8 June and for details of remaining performances go to www.roh.org.uk.