Spain Verdi: I Due Foscari, Liceu Orchestra and Chorus, Massimo Zanetti (conductor), Gran Theatre del Liceu, Barcelona, 3.5.2015 (JMI)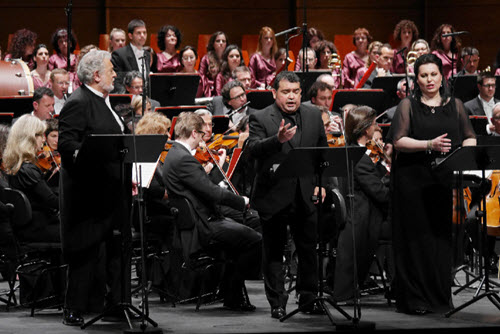 Concert Version
Cast:
Francesco Foscari: Plácido Domingo
Lucrezia Contarini: Lyudmila Monastyrska
Jacopo Foscari: Aquiles Machado
Jacopo Loredano: Raymond Aceto
Barbarigo: Josep Fadó
Pisana: María Miró

Expectations ran high for these performances of I Due Foscari: Plácido Domingo was returning to the Liceu after an absence of almost five years. And the concert was indeed a triumph, due to his charisma, his superb colleagues in the cast and a remarkable musical version.
Massimo Zanetti gave the most convincing performance I remember from him on the podium. Verdi was always present and well-served by his conducting. I have often referred to Mr. Zanetti as a competent but somewhat routine conductor, but yesterday he was much better than I had expected, and very accommodating with the singers as well. The Orchestra of the Gran Teatre del Liceu continues to confirm its clear improvement over the past couple of years, and the Liceu Chorus was also formidable.
Plácido Domingo led the cast in the character of Doge Francesco Foscari. At 74, he truly is miraculous. I'm not referring just to his enviable activity, but also noting the freshness of his timbre in the middle range. Mr. Domingo was in excellent shape in  Barcelona, and still exhibiting the expressiveness in his singing which has always been his biggest asset. Of course, he is not a baritone, but neither does he try to be one. As Leo Nucci said a few days ago in an interview, Plácido Domingo is not a baritone, he is just an artist. And that is increasingly difficult to find among singers today.
Ukrainian soprano Lyudmila Monastyrska made her debut at the Liceu and she was splendid. Her Lucrezia Contarini was a show in itself. For me, she is the best dramatic soprano in terms of vocal agility today. I have been fortunate to hear her several times, and I've always been impressed by the power and the quality of her voice. I don't remember such a voice since I first heard Ghena Dimitrova several decades ago. Ms. Monastyrska is often compared to Maria Guleghina, which may make sense in terms of vocal volume, but the former has much more control.
Ramon Vargas had been announced for the part of Jacopo Foscari, but he cancelled and was replaced by Aquiles Machado. This was one of the most compelling performances by Machado that I've heard in recent years: his middle range is still very attractive, and he's an excellent singer. His high notes are not like they used to be, and he shows signs of vocal fatigue in that area, but the quality of his voice and his expressiveness more than compensate for any limitations.
American bass Raymond Aceto was a striking Jacopo Loredano and gave one of the most persuasive performances I remember from him.
The secondary characters were well covered by Josep Fadó as Barbarigo and Maria Miró as Pisana.
The Liceu was completely sold out. The audience showed their enthusiasm early on, and it never waned. The final curtain call was a triumph, with the audience standing and dedicating their tribute to Superman. His co-stars were also cheered, especially Lyudmila Monastyrska.
José M. Irurzun