United Kingdom Gilbert and Sullivan, The Pirates of Penzance: Soloists, Chorus and Orchestra of English National Opera / David Parry (conductor), London Coliseum. Live relay to Odeon, Chelmsford, Essex, 19.5.2015. (JPr)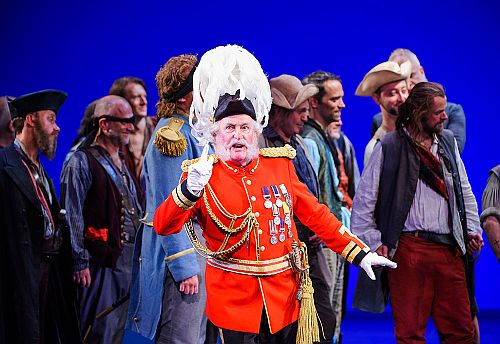 Cast:
Major-General Stanley: Andrew Shore
The Pirate King: Joshua Bloom
Frederic: Robert Murray
Sergeant of Police: Jonathan Lemalu
Mabel: Claudia Boyle
Ruth: Rebecca de Pont Davies
Samuel: Alexander Robin Baker
Edith: Soraya Mafi
Kate: Angharad Lyddon
Production:
Director: Mike Leigh
Designer: Alison Chitty
Lighting Designer: Paul Pyant
Choreographer: Francesca Jaynes
Broadcast Director: Andy Morahan
I admired English National Opera's gimmick-free cinema presentation of Benvenuto Cellini that I saw last year (https://seenandheard-international.com/2014/06/monty-pythonesque-touches-in-benvenuto-cellini/. It was better than Met Live where sweaty singers who have given their all have a microphone thrust at them as soon as they step off stage, as well as, those not entirely live ones from Glyndebourne where a gushing presenter exhorted me every few minutes to join the picnickers at Glyndebourne in a glass of champagne! For Benvenuto Cellini there was a very brief introduction and some rehearsal footage. However this year for The Pirates of Penzance we shown nothing extra whatsoever.
The Pirates of Penzance is film director Mike Leigh's operatic directorial debut but he is a well-known G&S aficionado – president of both the Gilbert Society and the Sullivan Society – and in 1999 directed Topsy-Turvy about the backstage drama behind the creation of The Mikado. His films are famed for their degree of improvisation and gritty realism and his most recent Mr Turner was well-received by many although I found its 150 minutes stultifying boring. Coincidentally, the large swath of paint on the poster for that film about J M W Turner was mirrored by something similar on set and costume designer Alison Chitty's colourful frontcloth that also had a large circle plus a seagull for Act I and an owl for Act II.
 
I know very well how The Pirates of Penzance is much-loved and it drew a large – albeit elderly – throng to the Odeon Cinema in Chelmsford but after six decades of life this was my first – and probably last – ever encounter with the entire show. It is not that I did not enjoy it – I did – but there are much better things to go and see. More so than many operas and operettas it seems a quaint reflection of a more innocent age and has nothing really to say to us in 2015 – certainly not when given such a straightforward production as it was here. To be honest, Mike Leigh's normal working methods could have had him take a back seat here too, as I am sure his extremely talented cast could easily have cobbled together a very similar performance if left to their own devices. ENO needs a hit in its straitened circumstances and this might be their biggest of recent years; it has already needed extra performances to be scheduled. However, most who will go are of a 'certain age' who will actually know what, for instance, 'a paradox' means, as well as, much of the other highfalutin language of librettist W S Gilbert.
The Pirates of Penance was the only G&S comic opera to première first in the US (in 1879) and it then returned to England to be first put during the following year. It is undoubtedly an irreverent burlesque of serious opera with strong satirical intent and seems to be trying to tell us something, though I am not sure who or what Gilbert and Sullivan's targets were. There is clever and witty – yet often archaic – dialogue and a twisting plot. The Pirates of Penzance depends for much of its success on wordplay that was undoubtedly very clever in the late nineteenth century but perhaps could do with a twenty-first century overhaul. The plot centres on Frederic, a 'pirate in training' who now having – he believes – reached his 21st birthday he can now devote himself to exterminating his fellow pirates. Unfortunately, as he was born on a leap year's 29th of February he will not come of age until 1940. The very convoluted plot moves very quickly and  involves topics such as the misfortune of being an orphan, what true love is, how derring-do can be vainglorious, the honour amongst thieves and the importance of upholding a 'sense of duty' in the Victorian age. Sir Arthur Sullivan's music is a jolly and quaint mishmash which combines patter songs, ballads, arias, choruses and four-part harmonies.
Without doubt orphans, kind-hearted pirates and the mention of an 'ill-natured fairy' must have influenced J M Barrie's 1904 Peter Pan as much as the lily-livered and bungling policemen must have inspired the Keystone Cops. Throw into this madcap mix some man-hungry maidens and 'the very Model of a Modern Major General' and there is the basis of a fun couple of hours in the theatre that this production delivers – with all my reservations notwithstanding – very effectively. I could not get out of my mind when the very camp – especially for the generally straight-laced Victorians – pirates sang 'We are rough men who lead a rough life' what The Pythons would have made of all that. Then and elsewhere Pirates needed much more of the irreverence of their Terry Gilliam – or someone like the late Spike Milligan – could bring to it. When the pirates turn out to be 'noblemen who have gone wrong' was I the only one thinking about UK MPs and the not-forgotten expenses scandal?
Alison Chitty's large cut-out two-dimensional sets are vibrantly coloured but are only elaborate versions of what would be seen in any village hall production of The Pirates of Penzance. These and her costumes – whether formal with feathers, frills and lace or just bustles and boaters – were just slightly more expensive than those that could routinely be hired from a theatrical costumiers. It all looked good in Andy Morahan's close-up direction for the cinema but whether it played so well in the vast London Coliseum I cannot be certain. The stage was very bare for most of the evening and the singers seemed to have their tongues firmly in their cheeks when referring to the 'picturesque' or 'enchanting' setting they were supposed to be in.
ENO assembled a talented and enthusiastic cast and through the loudspeakers there was a splendid balance between the singers and the orchestra. Robert Murray as Frederic stood out in his often heartfelt arias. Claudia Boyle as Mabel had an angelic voice with laser-bright top notes. Especially compelling was her opening number in Act II, 'Oh, dry the glistening tear', with an accomplished chorus of Major Stanley's daughters supplying the background, and her duets with Murray were delightful. Perhaps one of the most complete performances came from Rebecca de Pont Davies as Ruth who as his nursery maid had apprenticed Frederic to the pirates because she had misheard the word 'pilot'. Although rather disturbingly pop-eyed on the huge screen she sang affectingly throughout especially in 'When Frederic was a little lad'. Joshua Bloom had a rich voice as the Pirate King and for his swaggering portrayal he was costumed as if he was the lovechild of Tim Curry (as in the 1980s' Drury Lane staging), Johnny Depp as Jack Sparrow … and Captain Hook.
Some of the spoken dialect involved West Country accents whilst the subsequent singing had its usual 'plummy' sound and it was only Jonathan Lemalu making a welcome return as the extravagantly bearded and portly Sergeant of Police who seamlessly blended a Cornish burr with some entertaining singing. When the principals and the superb chorus blended their voices together – such as in 'To Queen Victoria's name we bow' – it was quite sublime. Throughout the ENO Orchestra conducted by David Parry gave refined and affectionate support. Choreographer Francesca Jaynes didn't, I suspect, contribute that much to the proceedings but had the daughters, pirates and policemen move around with commitment and energy.
If there is one reason for a non-G&S person such as myself to see The Pirates of Penzance it is to see another comic and vocal masterclass from Andrew Shore who adds an outstanding old-duffer Major-General to his memorable Beckmesser in February's The Mastersingers. His diction was as impeccable as ever during the machine gun patter of Gilbert's lyrics for his signature song as could be confirmed by following the subtitles on the screen.
Jim Pritchard
For further information about all ENO's future performances and for Carmen live to cinema on 1st July visit www.eno.org.