United Kingdom Weber, Der Freischütz (The Freeshooter):  Soloists, Sächsischer Staatsopernchor, Sächsische Staatskapelle Dresden/Peter Schneider, (conductor), Semperoper, Dresden, Germany, 19.5.2015. (MC)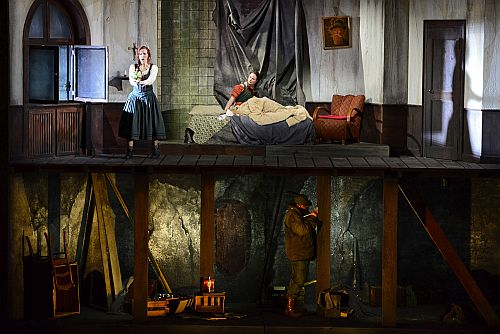 Weber, Der Freischütz
Cast:
Max: Michael König
Kasper: Michael Eder
Kuno: Bernd Zettisch
Agathe: Ute Selbig
Ännchen: Christina Landshamer
Prince Ottokar: Sebastian Wartig
Killian: Pavol Kubán
The Hermit: Tilmann Rönnebeck
Production:
Musical Director: Peter Schneider
Director: Axel Köhler
Set Design: Arne Walther
Costumes: Katherina Weissenborn
Choreography: Katrin Wolfram
Combat rehearsal: Klaus Figge
Lighting: Fabio Antoci Video: Arne Walther, Knut Geng
Choir: Jörn Hinnerk Andresen
Dramaturgy: Werner Hintze
Sung in German with spoken recitatives. German surtitles for sung texts.
Weber's pioneering Romantic opera Der Freischütz based on a German folk legend soon became celebrated both at home and around Europe, a popularity that has endured. Originally set in an eighteenth century Bohemian forest at the time of the Thirty Years' War here Axel Köhler's focused production has successfully moved the action forward to what could almost be present day. Arne Walther's stunning sets were wonderfully devised and centred on a tumbledown country Palace. Best of all, the set of the terrifyingly haunted Wolf's Glen deep in the forest contained spectacular integration of fast moving electronic imagery accompanied by alarmingly evocative sounds. Highly effective was the unseen Samiel, the devil-like 'Black Huntsman' of the dark forest, portrayed by an ultra-menacing recorded voice often accompanied by lightning bolts and loud crashes of thunder. Worthy of comment are some of the lighter hearted episodes especially the shooting down of a massive eagle, the slapstick way Kasper shot the rat and his equally ridiculous  attempt to decapitate a body.
Katherina Weissenborn has dressed the villagers in a mix of traditional and contemporary clothing with some adopting a military theme. Leading the solid cast was burly and bearded Michael König in the lead role of Max, successor in waiting to the head forester, who sang splendidly throughout displaying a sweet, high register. Decked out in green combat jacket and trousers perpetually carrying his rifle, König never looked at ease with the acting, spending most of his time looking at the floor. Likeable rogue Kasper the forester sung by bass Michael Eder made a lot of his semi-comedy role. Dressed in black leather bomber jacket and black combat pants Eder acted well and sang most securely. Resplendent in traditional green dirndl and later her wedding dress, the affectionate fair-haired Agathe was played by Ute Selbig. Her splendidly tender vocal was consistently warm, often beautiful; able to sustain her high notes with aplomb. Baritone Sebastian Wartig in his long grey military greatcoat and black riding boots was accomplished as the rather menacing Prince Ottokar displaying a smooth, dusky tone. Agathe's cousin Ännchen, the raven haired Christina Landshamer sang with engaging commitment. More than adequate Landshamer's bright tone sounded a touch shrill at times and her diction needs attention. A natural actor, Bernd Zettisch as the green uniformed Kuno was assured throughout. Not just a fine baritone Pavol Kubán made a lot of his role and held the attention for his acting as Killian. I can still picture the arrogant young Killian strutting about with his light brown jacket, brown cord trousers, green shirt and hat adorned with a flower. Curiously Kubán was nowhere to be seen when the performers took their bow. Seen only fleetingly, deeply sonorous bass Tilmann Rönnebeck had real stage presence, making quite an impact with his deus ex machina role as the straggly haired and bearded Hermit.
Steeped in Weber's enchantingly orchestrated music the Staatskapelle Dresden quite simply displayed its excellence under the assured Peter Schneider who allowed adequate space for applause thus helping to engage the audience.  In fine voice the Staatsopernchor gave a particularly rousing rendition of the renowned Huntsmen's Chorus. Axel Köhler's must see production of Der Freischütz was a tremendous spectacle both for the sheer quality of the performances and the remarkable visual and sonic pyrotechnics.
Michael Cookson