United States Memoriam (In Memory of Memory): MamLuft&Co. Dance, Jeanne Mam-Luft (artistic director), Taft Theatre, Cincinnati, Ohio. 22.5.2015 (RDA)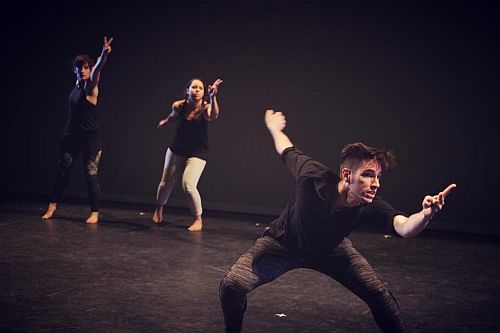 Memoriam (In Memory of Memory)
The company: Delia Constantino, Steven Evans, Clint Fisher, Vivian Kim, Susan Honer, Jeanne Mam-Luft, Neile Martin, Elena Rodriguez, Nicole Suzel
Direction: Jeanne Mam-Luft
In its eight years of existence, MamLuft&Co. Dance has performed a world premiere every season. Memoriam (In Memory of Memory), an original evening-length work, is the latest creation of Jeanne Mam-Luft, the company's artistic director, who, on this occasion does multiple duty as choreographer and production designer. In her words, the dance is "about the edges of our memories…remembering and fading, memorializing and forgetting…and asking what we lose when we forget." And, not coincidentally, the work received its world premiere on Memorial Day weekend.
When we think of memory, even before we turn to a lexicon to come up with cognates, we readily remember multiple levels of the word's meaning. Memory can be about how we remember or recollect those who left us, and in Memoriam Mam-Luft fleshes out those multiple meanings in movement. Thecompany of eight dancers—two male, six female—rivet attention over the two acts, with a group of older extras in their 50s and 60's adding poignancy. Among other things, the choreography deals with the loss of memory through Alzheimer's disease or dementia.
Memoriam is episodic, sometimes with the full cast of dancers and extras, at others focusing on a couple that periodically reappears. Through movement and acting that includes several sequences of complex movements and hand gesticulation, the young man and woman travel through a desolate emotional journey that depicts her gradual loss of memory. To leaven the emotional impact, ensemble sequences depict game playing and social dancing.
The visual and aural elements of Mam-Luft's production come together cohesively: side lighting throughout is juxtaposed with scenes in which the leading couple is isolated in a pool of light. Scenes begin and end with blackouts or by lowering and raising the curtain. In several sequences, flashlights attached to the arms of dancers provide low illumination and create patterns against a black cyclorama. In others, the dancers move in front of a rear screen, sometimes with laser projections, or at others, grainy home movies—silent, black-and-white records of parties, picnics, sports, beach games. Costumes are casual rehearsal wear. The mysterious music is often unrelated to the mood: a raspy voice singing blues, stretches of repetitive rhythmic patterns, minimalism, electronic sounds—or silence.
With endlessly inventive choreography, athletic and daring dancers (who are uniformly superb) Memoriam is an experience to be savored, and to be remembered.
Rafael de Acha