The Music Center's 2015-16 Season of Dance in Los Angeles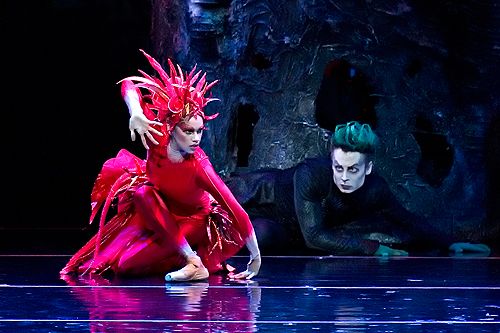 The coming season of Glorya Kaufman Presents Dance at The Music Center includes the Mariinsky Ballet and Orchestra, the West Coast premiere of Hubbard Street Dance Chicago + The Second City, The Music Center debut of Cloud Gate Dance Theatre of Taiwan, Complexions Contemporary Ballet, Compagnie Käfig, and American Ballet Theatre.
At the same time, new Music Center initiatives this summer will showcase some of Los Angeles' up-and-coming dance ensembles, which are forging new ground and attracting new audiences, and which provide ways to engage audiences in their own dance experiences. This includes the introduction of a site-specific series, The Music Center Presents Moves After Dark™ (July 13, 14, 20, and 21). Held on the nights in which The Music Center theatres are typically "dark" or not in use, Moves After Dark will present works by Ate9, Lula Washington Dance Theatre, Ana María Alvarez, and BodyTraffic. The much-in-demand Dance Downtown will return to The Music Center Plaza on Friday nights (June 5 and 19; July 3, 17, and 31; August 14 and 28), and for Los Angeles' National Dance Day public celebration (July 25).
Dance at The Music Center 2015-2016 Season
Mariinsky Ballet and Orchestra – Alexei Ratmansky's Cinderella (Southern California Premiere), October 8-11, 2015, Dorothy Chandler Pavilion at The Music Center
St. Petersburg's world-renowned Mariinsky Ballet (formerly the Kirov Ballet) opens the season with the Southern California premiere of its celebrated work, Alexei Ratmansky's Cinderella. Set to Sergei Prokofiev's haunting score and performed by the Mariinsky Orchestra, Ratmansky's Cinderella takes a fresh look at the classic story-ballet with vibrant choreography, feisty humor, and a glamorous 1930s twist. Commissioned for the Mariinsky Theatre and premiering in March 2002, the ballet launched Ratmansky onto the world stage. He weaves together a magnificent array of different styles that are interpreted through virtuous classical language along with a monumental, dramatic score. The result is a fresh, witty, and sardonic account of the story. Ratmansky combines the grand spectacle of ballet from Soviet Russia with innovative choreography that has a contemporary edge, offering audiences endearing characters and a sense of sophistication. Cinderella is portrayed as a lonely dreamer and her stepmother as a vicious, tantrum-prone social climber. The choreography builds to a pas de deux of aching beauty and tenderness between Cinderella and her prince. The performances are complemented by spectacular sets and costumes that portray a more modern, 20th-century world. The Washington Post wrote, "Ratmansky's treatment echoes the sharp and piercing modernism in the score"; The New York Times said, "[Ratmansky] appreciates how Prokofiev's ballet is poised between touching romance and biting sarcasm."
Founded in the 18th century and originally known as the Imperial Russian Ballet, the Mariinsky Ballet is one of the world's leading ballet companies. Valery Gergiev is artistic and general director of the Mariinsky Theatre.
Hubbard Street Dance Chicago + The Second City – The Art of Falling (West Coast Premiere), November 6-8, 2015, Ahmanson Theatre at The Music Center
In an example of contemporary dance meets comedic excellence, Dance at The Music Center presents Hubbard Street Dance Chicago + The Second City, with a unique collaboration, The Art of Falling, from two of Chicago's most creative and compelling companies. This lively, charming, and sometimes absurd performance is the brainchild of five choreographers, four writers, and more than 30 dancers and actors. Helmed by Jeff Award-winning director Billy Bungeroth, The Art of Falling combines contemporary dance with comedy in three distinct, interwoven storylines punctuated by short vignettes. The cross-disciplinary creative collaboration spotlights the improvisational nature of contemporary performance. "Second City may have pioneered sketch comedy since its formation in 1959, but this latest collaborative project takes the art form to visually spectacular and emotionally satisfying new heights," proclaimed The Huffington Post, while the Chicago Tribune praised the performance as "hugely entertaining and strikingly emotional…not-to-be-missed."
Hubbard Street Dance Chicago's core purpose is to bring artists, art, and audiences together to enrich, engage, educate, transform, and change lives through the experience of dance. Currently celebrating its 37th season, Hubbard Street continues to be an innovative force, supporting its creative talent while presenting repertory by major international artists. Rooted in the improvisational games of Viola Spolin, and founded by Spolin's son, Paul Sills, along with Howard Alk and Bernie Sahlins, the Second City opened in Chicago in December 1959 and began developing its entirely unique way of creating and performing comedy.
Cloud Gate Dance Theatre of Taiwan – Rice (The Music Center Debut), January 29-31, 2016, Dorothy Chandler Pavilion at The Music Center
Making its Music Center debut, Cloud Gate Dance Theatre of Taiwan, Asia's most renowned contemporary dance company, and the first contemporary dance company in any Chinese speaking community, presents a stunning production of Rice. With dancers trained in meditation, Qigong (an ancient form of breathing exercise), internal martial arts, modern dance, and ballet, Cloud Gate Dance Theatre transforms ancient aesthetics into thrilling original performances that integrate the use of spectacular visual sets.
Created by Founder and Artistic Director Lin Hwai-min, who has been heralded as one of the most important choreographers in Asia, Rice was inspired by the landscape and story of Chihshang in the East Rift Valley of Taiwan, a farming village that was tainted by the use of chemical fertilizer, but which has now regained its title as the "Land of Emperor Rice" by adapting organic farming methods. Lin's creation includes exuberant, powerful movements that are woven into his story of the land and the contemplation of the destruction of the Earth. To emphasize the messages, the production uses projection of vivid video images of flooding, growth, harvesting, and the burning of the fields. The soundtrack mixes Hakka folk songs, Western opera, Taiwanese and Japanese drums, and the sounds of nature – wind, rain, and thunder recorded on-site.
Rice was heralded by The Guardian as "a sharply moving synthesis of man and nature, east and west, death and rebirth…Lin's own song of the earth." The New York Times said, "Lin Hwai-min has succeeded brilliantly in fusing dance techniques and theatrical concepts from the East and the West."
Complexions Contemporary Ballet – Program TBD, April 15-17, 2016, Dorothy Chandler Pavilion at The Music Center
New York-based Complexions Contemporary Ballet is a contemporary ballet company run by two esteemed alumni of the Alvin Ailey American Dance Theater, Artistic Directors Dwight Rhoden and Desmond Richardson. Founded in 1994, the Company has a focus on reinventing dance with an emphasis on the artistic and aesthetic appeal of the multicultural. The Company combines technical precision, athleticism, passion, and the occasional pop song, using 20 incredibly trained classical and contemporary dancers.
Winners of many awards, including The New York Times' "Critics Choice" Award, Complexions has appeared throughout the United States and internationally. Heralded by The Washington Post as "Cross-cultural ballet with attitude…wearing toe shoes has never looked like so much fun," the Company creates an open, continuously evolving form of dance that reflects the movement of the world and all of its cultures as an interrelated whole. According to Rhoden and Richardson, dance should be about removing boundaries, not reinforcing them, and should transcend a single style, period, venue, or culture. The Company will deliver an exciting genre-bending performance that blurs the boundaries of ballet and contemporary dance.
Compagnie Käfig – Käfig Brasil and More (To Be Announced) (The Music Center Debut), June 17-19, 2016, Dorothy Chandler Pavilion at The Music Center
In a Music Center first and making its Music Center debut, Franco-Brazilian Compagnie Käfig will explore the confluence of the many arts subgenres that have contributed to the development of Hip Hop globally. Established in 1996, the Company flavors its works with dare-devilish circus skills, street dance, martial arts, and the fun and energetic Hip Hop vocabulary. Compagnie Käfig brings the street to the stage with an all-male cast of 11 dancers who combine Hip Hop, Capoeira, Samba, electronic music and the Bossa Nova for a performance that showcases astonishing acrobatic skills along with energy and invention. Led by Artistic Director Mourad Merzouki, who applies a multidisciplinary approach to the exploration of Hip Hop, the company will present Käfig Brasil, a rhythmic and muscular dance that the Times Union said is "animated by waves of energy, as if volts of electricity were traveling from muscle to muscle and limb to limb. Then that tightly controlled power explodes into fireworks."
American Ballet Theatre – Mixed Repertoire including Firebird (The Music Center debut), July 8-10, 2016, Dorothy Chandler Pavilion at The Music Center
The 2015-16 season of Dance at the Music Center concludes with five performances by American Ballet Theatre (ABT). ABT Artist in Residence Alexei Ratmansky brings his choreographic vision to a full evening of works, including his 2012 Firebird and a selection from the Company's 2012-2013 presentation of Ratmansky's Shostakovich Trilogy. Ratmansky's reimagined Firebird, set to the iridescent music of Igor Stravinsky and performed by a live orchestra, tells an enchanting tale of a mythical bird who possesses magical powers and helps two lovers overcome an evil sorcerer.
Firebird takes audiences on an extravagant adventure. The ballet received its world premiere under the title L'Oiseau de Feu by Diaghilev's Ballet Russes in Paris on June 25, 1910, with choreography by Mikhail Fokine and scenery and costumes by Alexander Golovine and Leon Bakst, and premiered in the United States as Firebird with the same company in New York on January 17, 1916. Firebird, with choreography by Adolph Bolm and scenery and costumes by Marc Chagall, first entered the repertory of ABT on October 24, 1945, at the Metropolitan Opera House in New York. This new production, with choreography by Ratmansky, had its world premiere in Southern California at the Segerstrom Center for the Arts in Costa Mesa on March 29, 2012. The Los Angeles Times said that "choreographer Alexei Ratmansky has updated the iconic 'Firebird' into an extravagant and fanciful adventure," while The Wall Street Journal called it "a freshly told fantastical tale."
Recognized as one of the premier dance companies in the world, American Ballet Theatre brings the highest quality dance and dancers to audiences across the globe. Under the artistic direction of former ABT Principal Dancer Kevin McKenzie, the Company remains steadfast in its vision as "American" and continues to bring the art of dance theater to the great stages of the world.
Season tickets/subscriptions for Glorya Kaufman Presents Dance at The Music Center are on sale now. For information, call (213) 972-0711 or visit http://www.musiccenter.org/1516dance