United Kingdom  Verdi, La traviata: Soloists, Royal Opera House Chorus and Orchestra / Marc Minkowski (conductor). Royal Opera House, Covent Garden, London. 18.5.2015. (JPr)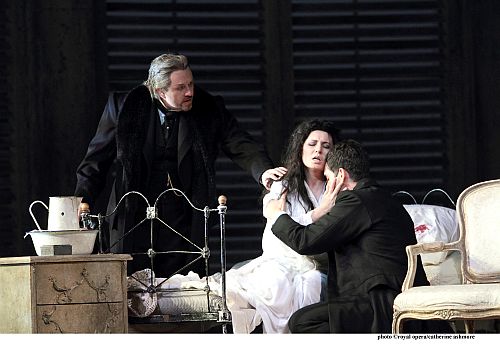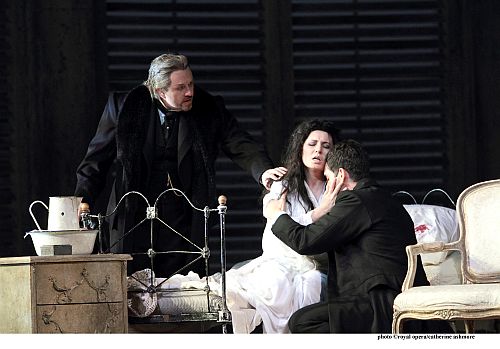 Cast:
Violetta Valéry: Marina Rebeka
Alfredo Germont: Ismael Jordi
Giorgio Germont: Franco Vassallo
Baron Douphol: Samuel Dale Johnson
Doctor Grenvil: James Platt
Flora Bervoix: Angelica Voje
Marquis D'Obigny: Jihoon Kim
Gastone de Letorières: Samuel Sakker
Annina: Pamela Helen Stephen
Giuseppe: Neil Gillespie
Messenger: John Bernays

Production:
Director: Richard Eyre
Revival Director: Andrew Sinclair
Set designs: Bob Crowley
Lighting design: Jean Kalman
Director of movement: Jane Gibson
I have often written how La traviata is the near-perfect opera vehicle for three singing 'stars' and – if given them – audiences will come time and again to hear it even in an aging production. As the Royal Opera itself readily admits this is a show that is guaranteed to fill the theatre and is revived for an extended number of performances almost every year now – and has been put on at least every other year since Richard Eyre's staging was first seen in 1994 .
Verdi was at the height of his powers when he composed La traviata for Teatro La Fenice, Venice, in 1853 and the dramatic structure of the opera is almost ideal with few of the longueurs of some of his subsequent works. In Act I we meet the consumptive courtesan, Violetta, who is attracted to a penniless aristocrat Alfredo Germont; Act II shows us the confrontation between Violetta and Alfredo's father who demands she give up her scandalous liaison with his son, followed by Alfredo denouncing Violetta at Flora's party which is initially held up by some gypsies and bullfighting nonsense. Encouraged by his father who reveals the sacrifice Violetta has made for their family, Alfredo returns in the final act for a reconciliation before her rather overwrought death from TB.
Richard Eyre's production – here smoothly revived by Andrew Sinclair – has 'come of age' in the old-fashioned sense and is now 21 years old. It is the same for me as I repeat – once again – how I was there in 1994 to see Angela Gheorghiu, Frank Lopardo and Leo Nucci conducted by Georg Solti and have been back to it a number of times since then … and as recently as last year when I saw Diana Damrau, Francesco Demuro and Dmitri Hvorostovsky with Dan Ettinger conducting. I must immediately write that I enjoyed this revival – the twelfth – much more than I did then.
A production as straightforward and mainstream as Richard Eyre's can easily accommodate multiple changes of cast as it gets each season and throughout a run of performances. Bob Crowley's monumental – and often sumptuous – sets and refined period costumes eloquently frame the unfolding drama. In Act I Violetta's opulent salon has an ice sculpture champagne cooler centre-piece and there is a shower of gold glitter whilst always seeming rather overpopulated when her party-guests – the excellent Royal Opera House Chorus – are all on stage. By contrast her country house has several paintings propped against the wall ready to be sold and this illustrates her financial plight. Later, a sparsely furnished bedroom in Act III with a very tall dilapidated mirror 'reflects' her decline even better. Only Act II Scene 2 with the guests partying around a huge green baize gambling table complete with large overhead light and a semi-circular representation of a 'bullring' for the gypsy entertainers, seems out-of-place. This has always rather overpowered the ensuing disturbing Violetta/Alfredo confrontation – even if it is a spectacular setting for the spirited mock matadors, mock bulls and mock gypsies who seemed on this occasion to be enjoying themselves more than ever.
Looking ahead to the final performances of his La bohème (that I will review for the final time shortly) director John Copley recently said in an interview how over its 41 years what has changed most is the acting abilities of opera singers 'When I started, a lot of singers didn't act they just faced the front and sang. They didn't even listen to what each other was singing.' Now La traviata is a wonderful vehicle for that sort of approach to opera even in the twenty-first century and some performances of this production have been a little like that in the past although I will name no names. Whether I was feeling better than sometimes I do when revisiting a overfamiliar opera, however I really felt Marina Rebeka (Violetta), Ismael Jordi (Alfredo) and Franco Vassallo (Germont père) were genuinely listening to each other and that there was some genuine chemistry between the trio.
I accept that in the Covent Garden audience there were some who sounded sicker than Violetta appeared to be and Alfredo often had his right hand out as if he was going to shake hands with someone: also his father was a little too sympathetic towards Violetta, yet these were my only quibbles during an evening of heightened drama and heartfelt emotion that was illuminated by the artistry of the principal singers. And it was not just the principals, even those in the smaller roles such as Angelica Voje's Flora, Pamela Helen Stephen's Annina and James Platt's Doctor gave nuanced and thoroughly committed performances.
Marina Rebeka is clearly very gifted singer and the Latvian singer is rather like Anna Netrebko in looks and voice. For these opening performances she replaced an indisposed Sonya Yoncheva who will sing the role next month. She sang confidently with a rich tone throughout and was never frightened to scale down her voice as in Dite all giovine and Alfredo, Alfredo, di questo core non puoi comprendere tutto l'amore in Act II that were internalised and poignantly expressive. Even though her earlier Sempre libera was more like a confession rather than showing her character as a free spirit it seemed to work and she took a risk and just about got the optional E flat. She coped dexterously with all the rest of the demanding coloratura with admirably no gear changes whatsoever throughout her vocal range.
I thought Ismael Jordi was a fine Alfredo in every way from the always crowd-pleasing Brindisi through to the exquisite shading he brought to Un di felice and Parigi, o cara. He is a good actor and was constantly believable and alive to the unfolding drama. He conveyed well Alfredo's joy in meeting Violetta in Act I, his anguish at losing her in Act II and his vehement fury at her perceived betrayal when he later contemptuously throws his money at her. Perhaps he does not possess the Italianate squillo of the most robust Verdi tenors but there is more than a hint of his former teacher, Alfredo Kraus, in his voice.
Franco Vassallo – a genuine Italian in a multinational cast – was a very worthy Giorgio Germont and his Di Provenza il mar was very persuasive. Dramatically he solidly portrayed the bourgeois side of Alfredo's father and affectingly showed his compassion towards Violetta as he gave her his hand at the end of Act II and in his brief appearance in the final scene.
In the pit Marc Minkowski who had so impressed me when he conducted Hans Rott's Symphony recently (review here please https://seenandheard-international.com/2014/12/life-affirming-symphony-from-unknown-hans-rott-overshadows-rest-of-concert/ ) was very animated and impressively drew out the ethereal Lohengrin-like shimmering music from the violins that opens the Act I Prelude and from then on kept the music moving capably and with much delicacy and expressive detailing. His ideally pace reading never appeared to so brisk that it could come in about ten minutes under the advertised running time. There are changing casts (including a couple with Plácido Domingo singing Giorgio Germont) being conducted by Alexander Joel and Richard Hetherington but it is an always reliable night at the opera and do go if you can.
Jim Pritchard
For more information about future events with The Royal Opera at Covent Garden visit http://www.roh.org.uk/.