United States Tania Pérez-Salas, Passion in Dance: Ex Stasis, Made in Mexico (Macho Man), Compañía De Danza, Ahmanson Theatre, Los Angeles, 15.5.15-17.5.15 (JRo)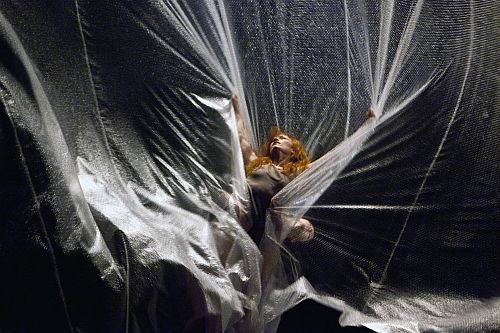 Dancers:
Jairo Cruz, Nicole Erickson, Veronique Giasson, Sabra Johnson, Eduard Martínez, Sarah Matry-Guerre, Marcus McCray, Jose Roberto Solís, Diana Sorokova, Po-Lin Tung, Myrthe Weehuizen
Production:
Ex-Stasis:
Choreography: Tania Pérez-Salas
Music: Meredith Monk, Monolake, Pan Sonic, Chris Isaak, Gustavo Cerati y Digitalverein
Scenography: Juan Alberto Orozco
Lighting design: Xóchitl González Quintanilla
Costume design: Sara Salomon, Miguel Garabenta
Music editing: Tono MX, Claudio Pezzoti y Federico Quintana
Production:
Made in Mexico (Macho Man)
Choreography: Tania Pérez-Salas
Music: Nortec Collective, Tropa Vallenata, Todos Tus Muertos, Panóptica Orchestra, Rojo Córdova & Cuarteto Latinoamericano, Javier Álvarez
Lighting design: Gabriel Torres Vargas
Costumes: Cía Tania Pérez-Salas
In the magnetic opening sequence of Tania Pérez-Salas's Ex-Stasis, a lone woman stands in a spotlight, long hair shrouding her face. Music erupts and, as a scattering of dancers recline on the stage, watching her intently, she begins her solitary dance. At first her movements appear to be simple rifts on 1960s rock or '70s disco. Momentum builds: her arms flap, her head whips, her hair flies, and her torso shudders. Throbbing with intensity, she merges with the pulsing music, becoming a Maenad in a Dionysian revel. Does she express joy, rage, animal desire, or all three at once? It's a breathtaking foray into raw emotion – a precisely choreographed, yet uninhibited exploration.
If only the choreography continued at this level of investigation – then the ecstasy of Ex-Stasis could have opened our minds and bodies to the rewards and perils of letting go. As it progressed, however, clichés mounted; and the ultimate experience was dampened by a loss of focus owing, in part, to curtains of thin plastic sheeting used to mostly distracting effect.
In one effective sequence, the plastic sheeting works as a poetic device. Three female dancers, topless and wearing nude-colored briefs, stand at evenly spaced intervals behind the wall of translucent plastic. They press various body parts against the material; they push, claw, and tug at it, turning their bodies this way and that. References abound: fetuses in the womb, hatching larvae, sci-fi creations in the laboratory. But the plastic continues to be used, scene after scene, and its overuse overwhelms the choreography which becomes merely a push/pull with the sheets.
When an ensemble finally takes the stage and there's an opportunity to see what the troupe can do, for no discernible reason the dancing occurs behind yet another wall of plastic, obscuring our engagement with the dancers. Even when at rest and hanging in the background, the sheeting distracts us from the dancers. This is partially the fault of the lighting design, which flattens and obfuscates the dancers rather than creating sculptural, solid, and vivid forms.
Tania Pérez-Salas, born in Mexico City, founded her company in 1994. Though they have traveled to dance festivals worldwide, this is their first time in Los Angeles. For their short run at the Ahmanson Theatre, they are performing both Ex-Stasis, choreographed in 2010, and Made in Mexico (Macho Man) from 2014. Both dances date from the present century but have the feel of decades gone by.
The dance vocabulary used by Pérez-Salas could be a catalogue of popular dance moves from the nineteen seventies: undulating torsos, rocking pelvises, arms held overhead and spun, and the bouncing bodies of boy bands from the sixties. She also favors bodies collapsing onto the floor, all too ubiquitous in contemporary choreography. One might call it Pop Art in dance, but given her statements about channeling emotion and instinct, this seems too intellectual a slant for her perspective on movement.
Made in Mexico suffers most from its references to the past. According to her statement of intent, she seeks to "illustrate male and female gender roles in contemporary Mexican society as perceived through the culture's strong emphasis on masculinity" – a relevant and commendable objective to be sure, but one that suffers from an over-reliance on clichés and stereotypes.
Riding a bucking bull or horse, fingers pointing like guns, male strutting and posing: all are movements that conspire to undermine any subtlety Pérez-Salas achieves in the more nuanced segments. What does compel is the coupling of male and female partners in their dominant/submissive entanglements. Office chairs rolled across the stage are used to often surprising effect, as they become a third partner in the dance.
Unfortunately, two women dressed in disco black dance in a scene that, for me, derails the piece. They strut in high heels and shiny leggings – the image of punk party girls. Reveling in their powerful femaleness, they mouth the words to "Complejo de Amor," but the impact is lost, made comical by the reference to karaoke. For sheer power and a statement on female gender roles, nothing beats Angelin Preljocaj's chorus line of women in his ravishing Les Nuits, as they move from super-model posturings to gestures of domination and anger.
Pérez-Salas walks a tightrope in Ex-Stasis and Made in Mexico. She's caught between her desire to make commentary on male and female stereotypes and the dangers of allowing her dances to fall into those stereotypes. Perhaps one of the two pieces pared with her 1998 work, Waters of Forgetfulness, or The Hours, inspired by Michael Cunningham's novel, would have been a more diversified introduction to her work from a choreographic, musical, and visual standpoint.
At its best, her vision offers us a theatrical, entertaining, and sensual experience provided by a troupe of committed dancers who manage to carve out their individual personas in these two works. In the future, one hopes that we in Los Angeles will see more subtle explorations from this choreographer who clearly has a passion for dance.
Jane Rosenberg