United Kingdom Smetana, Dalibor: Soloists, BBC Singers, BBC Symphony Orchestra/Jiří Bělohlávek (conductor), Barbican Hall, London, 2.5.2015. (JPr)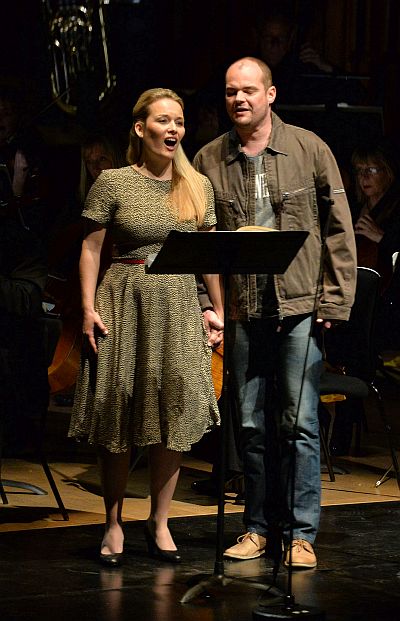 Cast:
Ivan Kusnjer: Vladislav, a Czech king
Richard Samek:  Dalibor, a knight
Aleš Voráček:  Vitek, a mercenary
Dana Burešova: Milada, sister of the Burgrave of Ploškovice
Alžběta Poláčková:  Jitka, a village maiden
Svatopluk Sem: Budivoj, commander of the castle guard
Jan Stava: Beneš, the jailor
Dalibor is a generally neglected opera by Czech composer Bedřich Smetana and it should remain so, in my opinion, after this performance. In Jan Smaczny's programme note there was a quote saying how with 'much more pride' Smetana compared Dalibor to, for instance, his The Bartered Bride. In the composer's lifetime it received only a lukewarm reception and he died believing he had failed with this opera. It received much criticism at the time for being influenced too much by German opera, especially those of Richard Wagner. As someone who can usually spot the influence of Wagner where many others cannot, I can assure readers that apart from the dark hues as the tragic denouement to Dalibor approaches there was nothing otherwise overtly Wagnerian. Sadly for the Smetana it not until two years after his death that the opera was considered a success and in the 1890s it received productions in Zagreb, Munich, and Hamburg: Smetana's Bohemian compatriot Gustav Mahler – who might well have been influenced himself by this work – conducted a production in Vienna in 1892. To twenty-first century ears Dalibor is more like a cantata than a genuine opera. Wagner integrated drama and music but here we had music lasting about 2½ hours during which very little happens – and what does is often accompanied by some inappropriately jaunty music.
It was worth another hearing and I accept others will not accept my thoughts on this work. The original German libretto was written by Josef Wenzig, and translated into Czech by Ervin Špindler. Dalibor had its first performance at Prague's New Town Theatre in 16 May 1868. The opera is loosely based on a real fifteenth-century historical figure Dalibor of Kozojed, a Czech knight who was involved in an uprising in Ploškovice in support of the oppressed people and who was sentenced to death in 1498 during the reign of Vladislas II. The very thin plot bears a certainly similarity to that of Beethoven's Fidelio because the central female characters in both operas dress up in male clothing to try to save the hero. The difference is that in Fidelio Leonora succeeds in freeing Florestan whilst in Smetana's opera both Dalibor and his love interest, Milada, die during a less-than-happy ending.
It is a very melancholy tale right from the start with Dalibor recounting how he lost his best friend, Zdenek – to whom he seemed uncommonly close – in the uprising and how he was captured and subsequently decapitated with his head put on a spike for everyone to see. In revenge, Dalibor killed the Ploškovician Burgrave and his sister, Milada, at first seeks revenge but after learning both sides of the story begins to respect and ultimately love Dalibor. Throughout the opera Smetana evokes the spectre of Zdenek and there is an evocative melody for solo violin that 'haunts' Dalibor whenever he talks or remembers his friend, such as in the dungeon where he ends up by Act II.
Dalibor has been sentenced to a lingering death by King Vladislav who cannot ignore his act of treason against the crown. Dalibor is freed by the help of Milada (in disguise as a minstrel) and a sympathetic but otherwise unwitting jailor (more hints of Fidelio). The latter provides him with a violin to alleviate his misery as he starves to death and which will actually provide a signal to begin an assault on the prison. The jailor is too patriotic to accept a bribe ('Take this and keep quiet' in Paula Kennedy's helpful surtitles) which is read from a note that was the exact opposite of Liam Byrne's infamous Treasury one in 2010 ('I'm afraid there is no money') which is currently at the forefront of the UK's election campaigning. Ultimately Dalibor's escape fails and Milada brings a band of mercenaries to his aid. In the ensuing fight and through an act of, admittedly, Wagnerian love and sacrifice she is killed; Dalibor proclaims his wish to join her and his beloved Zdenek in heaven and he is killed too as the opera ends fairly abruptly.
I came to the Barbican thinking that I was ticking another off the list of operas I had not yet heard but forgot until I got home that I had seen it when it was staged by English National Opera in 1977, probably the last time it was heard in London. The esteemed music critic Andrew Porter died recently and in her book about ENO Opera for Everybody (Faber and Faber 2009) Susie Gilbert recalls how he considered Dalibor to be a 'beautiful and stirring opera' that was given a 'strong and moving performance'. Referring to his review she goes on to add how 'Although its weaknesses were evident, with its "uncomfortably large amount of tonic-and-dominant processional music' in the first act, Porter delighted in its "copious stream of lyrical music, spontaneous yet finely organised". Its "strains of such warmth and eloquence" transfigured the weak libretto and gave a "shining, symbolic quality" to its themes of friendship, freedom and heroic self-sacrifice.' I have no recollection of this performance after nearly forty years but I have my own note that it was conducted by Charles Mackerras and the cast included Anne Evans (Milada) and Malcolm Rivers (Budivoj) who I have had very many encounters with during the intervening decades.
It is always a surprise to see that the BBC Symphony Orchestra which draws thousands to the Royal Albert Hall during the annual BBC Proms season can rarely fill the Barbican Hall – and I suspect for this performance of Dalibor it was, yet again, only a little more than half full. I was intrigued by the roster of home-grown singers from the National Theatre, Prague, and other important Czech theatres and was hoping they had appeared in the opera before and we would be presented with an intriguing 'concert staging' based on what they had previously appeared in. On taking my seat my heart sank with the sight of a full row of music stands in front of the orchestra and what followed was a fairly dispiriting and unsuccessful attempt to 'stage' a 'concert'. Nobody could leave the score in front of them for any length of time to make any 'acting' worthwhile. I have written about this for years and this sort of evening can only work if the singers know their roles and leave the music in the dressing room. It is little interest to me whether singers can sing Czech idiomatically and therefore in the circumstances I would have preferred the fee for Kenneth Richardson, the stage director, to have been spent on a Czech language advisor and as much opportunity as possible been given to young British singers. Accompanied by some strange lighting choices we had singers dressed as if they were attending the 'International Opera Awards' or it was 'Dress-down Friday' … plus some handcuffs for the jailor!
Dalibor has some memorable melodies and at times I began to think how much more I would have enjoyed what I was hearing without all the singing. Undoubtedly there was some beautiful playing from the BBC Symphony Orchestra with their conductor laureate, Jiří Bělohlávek, on the podium and whose loving approach to the music – despite the bleak subject matter – evinced his pride in the music of his homeland. Without much to contribute apart from some impassioned cries of 'Dalibor! Dalibor!' and some drunken soldiers antics the enthusiastic BBC Singers were clearly well-schooled and wonderfully committed.
Having asked for some British singers earlier I will add here that I doubt many of them would have had the reliable technique the Czech singers displayed but for me some artistry was missing and it was just the notes they were singing. It did not seem to matter whether it was vengeance they were seeking or the heights of ecstasy or passion, it all just sounded rather the same and their distinctive timbre was recognisably Central-European – though this may not be entirely a bad thing for Smetana I guess? Best were the two pairs of lovers Alžběta Poláčková as Jitka, an orphan Dalibor rescues and befriends, and Aleš Voráček as Vitek, a soldier, as well as, Dana Burešova as Milada, and Richard Samek's refined Dalibor who alone among the singers seemed totally at ease with his music.
Jim Pritchard
For more about the BBC SO's forthcoming concerts visit www.bbc.co.uk/symphonyorchestra.
The performance was recorded for future broadcast and for more about this and all the other music on BBC Radio 3 visit http://www.bbc.co.uk/radio3.