United States  Tchaikovsky, Bach, Chopin: Lang Lang (piano). Civic Opera House, Chicago , 9.5.15 (DP)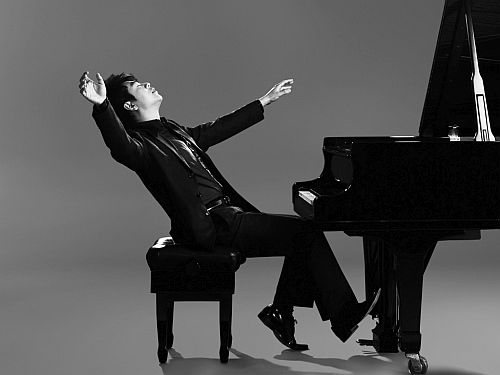 Tchaikovsky: The Seasons: January "By the Fireside," February "Carnival," March "Lark's Song," April "Snowdrop," May "White Night," June "Barcarolle," July "Reaper's Song," August "Harvest," September "The Hunt," October "Autumn Song," November "Tröika," December "Ballroom Waltz"
Bach: Italian Concerto, BWV 971
Chopin: Scherzo Op. 20, No. 1; Scherzo Op. 31, No. 2; Scherzo Op. 39, No. 3; Scherzo Op. 54, No. 4
Chicago has always had a special relationship with Lang Lang. In fact, for better or worse, it was Chicago that unleashed the pianistic phenomenon on an unsuspecting music world back in 1999. At that time, an ailing Andre Watts was unable to perform at a Chicago Symphony Orchestra gala at the Ravinia Festival. Since a then unknown 17-year-old Lang Lang was coincidentally in town, Ravinia music director Christoph Eschenbach—whom the pianist considers a mentor—suggested him for the slot.
Despite that dazzling initial appearance, Lang Lang's many subsequent Chicago-area performances have been a decidedly mixed bag. His technique is virtually above reproach—a given from the start of his career and no small matter—and taken with his boyish good looks and personal charm, the primary source of his superstardom. What has been less predictable has been the pianist's ability to traverse beneath the music's surface details—to place the pieces first, and persona and showmanship second.
There have always been glimpses of the artist Lang Lang might become. One particularly hopeful moment came in a public master class on Beethoven sonatas with Daniel Barenboim, another mentor. With Barenboim's step-by-step help, Lang Lang showed a willingness and an ability to plumb the music's interior. Left to his own, however, flashiness for its own sake quickly crept back in.
On this occasion at the cavernous Civic Opera House (his only 2015 Chicago appearance), Lang Lang emerged in a black tuxedo coat and pants with a white vest—but no shirt underneath, causing considerable commotion. Making his familiar papal-like open hand gestures to the audience, he beamed smiles at the rock-star-like adulation.
Settling at the piano, Lang Lang started right in with Tchaikovsky's The Seasons, a cycle of miniatures not commonly heard on recitals and a real departure from the flashy repertoire associated with him. Unlike some of the pieces that the pianist has played since childhood, this was an performance of a seasoned artist. The hushed tranquility with which he traversed the opening "By the Fireside" was daring, encouraging an audience largely enthralled by his celebrity to begin listening quite intently.
Helping focus audience concentration were two giant screens, showing the entire piano keyboard with every movement of Lang Lang's fingers—including between-movement hand exercises—unavoidably visible to all. (It would have been helpful to project the movement titles, and perhaps the poems associated with them, since the opera house was so darkened there was no possibility of referring to the printed program.)
The tempos with which Lang Lang dispatched many of these miniatures were sometimes bewilderingly brisk, but in each case, the emotional mood was well served. Particularly admirable were his restraint and dynamic nuance. Each month was colored compellingly but always with an eye on its larger position within the respective season, as well as its place in the journey throughout the year.
In the printed program, Bach's Italian Concerto was to open the evening, but Lang Lang chose to reverse the order. (He had already done the same program at London's Royal Festival Hall, and would do it again at Carnegie Hall the following week.) In practice, this made a great deal of sense: the Bach crowned the first half, and quite impressively. The pianist took quite a different approach to Bach than he did as a child prodigy, when overpedaling and Romanticisms abounded. Nuance and transparency, combined with brisk tempos and forward momentum, called to mind a young Gould. Everything seemed rethought, and delightfully so.
Chopin has not been repertoire ideally suited to Lang Lang's style, so it was curious to find him presenting all four of the composer's Scherzos in a single program, each performed chronologically—and ultimately as if child's play. If this is "new music" for Lang Lang, perhaps the paradox of these being rather serious "jokes" (i.e., the literal meaning of "scherzo") may have appealed to him. In any case, it was an impressive feat, to be sure, in which Chopin's difficulties were only rarely called to mind. (Some early finger slips would hardly have been noticeable if this were anyone else.)
Ultimately, however, the approach was too much the same in each of the four, and little attention given to the journey, whether individually or as a group. Nonetheless, given the transformation that appears to be taking place as Lang Lang heads into his mid-career, he has time to revisit them and figure out what he wants to say.
There were two encores: a shimmering Chinese folksong called "Carol Dance" which the pianist dedicated to his mother—who was in the audience and took a bow. He ended with a spirited, brisk rendition of the Turkish Rondo from Mozart's Sonata No. 11, K. 331. A flash of a white handkerchief, a wiping of the brow, and a Tom Jones-style toss of the sweaty souvenir to adoring fans ended the evening.  
Dennis Polkow