Sweden  Claudio Monteverdi: L'Orfeo Soloists, Wermland Opera Orchestra, Hans Ek (conductor), Wermland Opera main stage, Karlstad, 27.6.2015 (NS)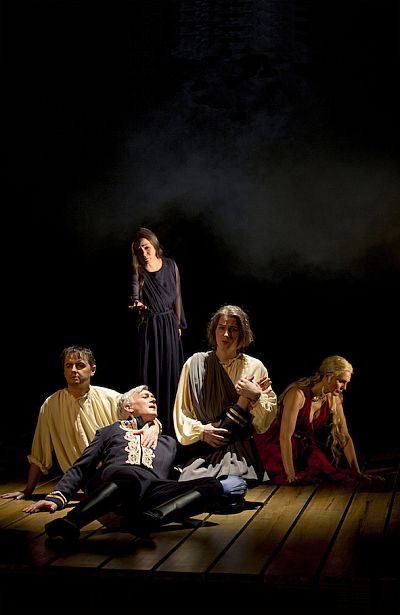 Cast:
Orfeo: Jan Kyhle
Eurydice: Anna-Maria Krawe
Silvia/Pluto: AnnLouice Lögdlund
Shepherd/Charon: Ole Bang
Shepherd/Charon: Christer Nerfont
Nymph/Proserpina: Cecilie Nerfont Thorgersen
La Musica: Birgit Bidder
La Musica: Oskar Nilsson
Production:
Wermland Opera
Conductor and arranger: Hans Ek
Director: Kristofer Steen
Set and lighting design: Linus Fellbom
Costume design: Behnaz Aram
Makeup design: Elisabet Näsman
Musical preparation: Erik Skarby
Sound design: Hans Surte Nordin
Swedish translation: Claes Fellbom
A sharp-eyed reader may question my title – surely all productions of Monteverdi's L'Orfeo must perforce be "unique", as the composer did not write down what we would today call a full score? (As in jazz today, performers in Monteverdi's time improvised around a melody and a bass line provided by the composer.) While all productions require arrangement, I would argue that Hans Ek's arrangement and Kristofer Steen's direction produce an innovative fusion that makes the work as fresh to a contemporary audience as Monteverdi's work was to its first audience in 1607.
Mr Ek's arrangement does not seek to recreate the orchestral sound of the seventeenth century, but retains a strong rhythmic focus. He successfully mixes folk music instruments (used with percussion instead of a traditional basso continuo) with some modernistic dissonances in the strings and woodwinds. Modern sound technology (all the singers and instrumentalists have microphones) is used to recreate the effects Monteverdi created by placing his performers in difference parts of the room.
The production makes no cuts or additions, retaining Monteverdi's symmetrical structure of five acts, which each centre on an aria by Orfeo. The cast is however changed to reflect the dualities in the story: life and death, the mortal world and the underworld, gods and mortals. The shepherd's chorus is reduced to two men, who also play a marvellous double-headed Charon, while Silvia (in this production not a messenger but Eurydice's sister) and the Nymph also play Pluto and Proserpina, King and Queen of the underworld. The character of La Musica (who has the role of a Shakespeare Chorus) is played by two singers.
The young director Kristofer Steen uses a mostly economical set (the mortal world is a sloping stage with curtains and lighting effects) and focuses on the emotional content of the story. The wedding in the first act is intoxicating and full of joy, which is turned to devastation by Silvia as she describes the death of her sister Eurydice. Eurydice's funeral is heartrending. However, the most compelling part of the staging is the underworld, which Orfeo enters by breaking a hole in the stage, which he then falls through in slow motion as the stage floor rises to reveal the underworld underneath. This is an eerie, dark place with stagnant pools of black water. The combination
of set and lighting with Pluto and Proserpina's costumes and makeup creates a truly Stygian underworld.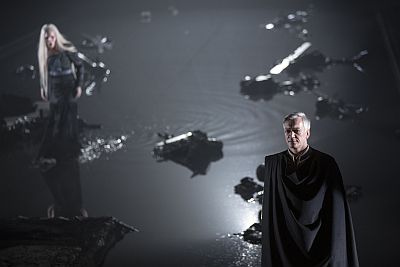 This revival has the same soloists as last year's original production (reviewed on Seen and Heard International by my colleague Goran Forsling) except for Oskar Nilsson as La Musica. Mr Nilsson and Birgit Bidder vindicate Hans Ek's pairing, vocally close in their duets and versatile in handing their part between each other (the arrangement has them sometimes singing together, sometimes separately). Ole Bang and Christer Nerfont are good Shepherds but above all terrific as a double-headed Charon blocking Orfeo's entry to the underworld but eventually relenting as he is lulled by Orfeo's beautiful singing.
AnnLouice Lögdlund sings straight from the heart as Silvia, her voice quiet but laden with emotion as she struggles to understand the sudden death of her sister and to explain what has happened to Orfeo. As Pluto she successfully adjusts to a different role, reluctantly giving way to Proserpina's pleas (made by Cecilie Nerfont Thorgersen with just the right mix of compassion and frustration) to let Orfeo bring back Eurydice from the underworld.
Anna-Maria Krawe is a convincing Eurydice, both in her all too brief happiness at the wedding and in her panic as Orfeo leads her out of the underworld but refuses to look at her. Unlike Gluck's Orfeo ed Eurydice, where I personally find it difficult to understand why Eurydice can't trust Orfeo, the gloom and damp of this production's underworld make Eurydice's snowballing fear easy to understand.
Most of all, the charismatic Jan Kyhle gives a moving and memorable performance as Orfeo, wonderfully expressive through all of his character's ups and downs with his rich, dark tenor. His heartfelt joy in the first act was matched by his grief in the second. It is difficult to select vocal high points, but the third act aria where he soothes Charon with a beautifully soft lullaby and the opera's final scene with Orfeo and La Musica. Mr Kyhle's performance is one of many fond memories I will take with me from this production.
Niklas Smith