United Kingdom Britten,  Death In Venice: Garisington Opera / Steuart Bedford.(conductor), Garsington Opera at Wormsley, 22.6.2015. (RD).
Cast:
Gustav von Aschenbach – Paul Nilon
The Traveller/Elderly Fop/Old Gondolier/Hotel Manager/Hotel Barber/ Leader of the Players/Dionysus – William Dazeley
Apollo – Tom Verney
Polish Mother – Nina Goldman
Tadzio, her son – Celestin Boutin
Governess – Georgie Rose Connolly
Jaschiu, Tadzio's friend – Chris Agius Darmain
Tadzio's younger sisters – Minna Althaus, Poppy Frankel
Hotel Porter – Joshua Owen Mills
English Clerk – Henry Manning
Production
Paul Curran (Director)
Kevin Knight (Designer)
Bruno Poet (Lighting)
Andreas Heise (Choreographer)
As with Wagner or Strauss, people tend to have their favourite Britten operas. For some, Peter Grimes was never surpassed; there are Billy Budd groupies; for many others, The Turn of the Screw is by some way his finest as well as creepiest drama. But there are some for whom his last opera, Death in Venice, first seen just three years before Britten's early death, and also with a libretto by Myfanwy Piper, has qualities that render it unique in his oeuvre, and a worthy candidate for the crown.
The conductor of that first performance, at Aldeburgh on 16 June 1973 (it moved to Covent Garden that autumn), was Steuart Bedford. It was he who conducted this new production, by Paul Curran, at Garsington opera this summer, on a superb wide stage erected deep in the expansive valley which forms the Wormsley Estate, Garsington's new home, nestling behind the Chiltern escarpment.
There is something both moving and arresting about hearing Bedford conduct this work, since he had not only a close personal working relationship with Britten but a long and productive link with Leonard Ingrams' Garsington. His pacings are as deeply thought through and perfected as if he had conducted the premiere only last night. Garsington's orchestra is now finer than ever, but the colourings he produces from it, often when the music is registered piano, as in countless beckoning whispers of woodwind – bassoon or flute – or the frankly aggressive outbursts of oboe, forming a quasi-baroque coloratura; or the astonishing expressiveness achieved by the (here, five) percussion players, both tuned and untuned, so that every tinkle of bell or swish of vibraphone (mainly for the boys' dances) holds its own conversation; or the wonderful playing of the harpist, Sue Blair: all struck me as superlative. We were listening to an echt-performance; this was the real thing: Death in Venice, as Britten intended it.
It was a miraculous evening. Curran, as director, with his assistant Katherine Wilde, designer Kevin Knight and wondrous German choreographer Andreas Heise (both he and Curran have a long association with Oslo opera and ballet),  delivered a production that mesmerised from the first glimpse. Knight focuses the visual effects on four vast semi see-through, gauze-type curtains, which produced effects that catch beguilingly the elusive links between Paul Nilon's aching Aschenbach, picked out front stage like some figure out of Restoration drama, and the world behind with which he strives to connect.
Even at the very start, we see, or sense, the Polish family and their boy jewel, Tadzio, like hovering ghosts behind the fretful writer. When we watch Tadzio (Celestin Boutin) hold Aschenbach's dying  attention at the very end, either of Britten or Thomas Mann, the idea occurs that maybe he never existed: that this is a being who lies outside the normal world, a communicator no less than Apollo (Tom Verney) and Dionysus (the ubiquitous William Dazeley) from a sphere beyond.
Boutin, looking not unlike Peter Firth's Alan Strang in the film Equus, though less like the 11-14 year old whom Mann was originally drawn to, is a stunning dancer. Though he trained in France, then Sweden and New York, this is Boutin's first professional dancing engagement: quite some first outing . He is thick set, with stolid, muscular arms and legs, and nether regions too, and for a moment one wonders if Britten's Tadzio is a role viable for him.
But rapidly the dance proves so successful, and Heise's choreographing so electrifying as well as intensely original, that one is swept up in the cavortings. There was an intriguing contrast: while Tadzio was choreographed almost entirely adagio, or a light andante, his boy friend Jaschiu (Chris Agius Darmanin, a Maltese who trained and has worked largely in Britain) was like a human scherzo enveloping him: endless energy, extraordinarily inventive athleticism – Heise seems to give them vital new twists and turns, far from predictable or obvious, which in time begins to pall with Tadzio as his interest in Aschenbach is awakened. 'Surely the soul of Greece was in that perfection'.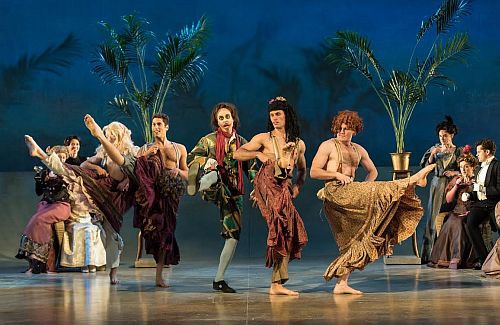 This tumbling pair – how far they evoked buoyant, emergent sexuality was surprisingly hard to assess amid in the fabulous and varied quality of their antics- are not the only successful 'children' in the production. Right from the start one is captivated by Tadzio's two sisters (Minna Althaus, Poppy Frankel), whose mixture of propriety and scampishness proves a delight (the younger cheekily flirting with a muscular beach boy). There is always mischief in their faces, as well as their moves. If you put them alongside Nina Goldman's strikingly vital, flowing – never po-faced – Polish mother and Georgie Rose Connolly's hugely appealing, crimson-clad Governess, you have an ensemble that amused and shone with every move – moves that from time to time blossom into invigorating full-powered dance.
How successful any Death in Venice staging proves depends largely on the singer-actor who takes the role of Mann's Gustav von Aschenbach. Already escaping from a malaise in his native Germany, Aschenbach travels south hungry for experience to fuel his writing. As an author he must be ever alert to absorbing all activity around him; but he is unprepared for the puerile delights that in Venice, with its canals and lagoons, take over his whole consciousness and soon become an obsession.
This gravitating from first noticing to passionately, pathetically, even comically pursuing his quarry, an unexpected experience never verging on incipient paedophilia because of the muscularity and apparent age of this longed-for creature, has to be subtly modulated, and it is this pathetic evolution that conductor, director and performer must come together. Nilon's voice, with its marked, rather moving whine and whimper, was as perfect for this role as he was launching the Vivaldi series at Leonard Ingrams' original Garsington venue. His pursuit of Boutin's elusive but instinctively conscious Tadzio was patently as obsessional as Dirk Bogarde's of the fair-locked, prematurely sensual Björn Andrésen – ostensibly a 14 year old – in Visconti's film.
Cutting a rather small, twee figure on stage, Nilon – as always – holds us enthralled: he passes as the ultimate voyeur, with that unique pathos he extracts from his voice, from the first of Aschenbach's expressive soliloquies ('Heady flowers crowd in the steaming marsh….what is this urge that fills my tired heart?'), in which Britten's dazzling instrumentation (clarinet-trumpet-tympani-bassoon in sequence') sets the pattern for much of the highly eloquent orchestration hereafter.
'Ambiguous Venice, where water is married to stone, and passion confuses the senses. Aschenbach has come in search, it seems, of the unpredictable' – 'The whole experience was oddly unusual' – and to face up and by stages accept his emerging of infatuation ('So, my little beauty, you notice when you're noticed'), but is concomitantly overtaken by the realisation of danger from the Sirocco which systematically takes over the second half of the opera ('The rubbish stirs in gusts over the piazzas; every door harbours feverish fears.'
If occasionally one wishes Aschenbach would abandon his ultra-stiff posture, as if forever listening hunched at a keyhole, this exemplifies an evolution: from the freedom of holidaying, he is driven to the role of a lover ('I love you' evinces a yearning he now perceives as 'ridiculous and sacred too, and not dishonourable'… 'Don't smile like that: no one should be smiled at like that)'. It is not till the final 'Phaedrus' aria that we get a more replete idea of just what that love, passion and yearning consists of.
If for a time Aschenbach exemplifies – mostly – the Apollonian – engendered in the gorgeously sung gold-masked Apollo of Tom Verney, another countertenor wonder from St. John's College, Cambridge, who makes a telling appearance hectored by tuned percussion at the close of Act I – the Dionysiac is represented by William Dazeley, who gives a superlative multi-role performance that maintains its energy – and malevolence – all through. His Dionysus appears at the end, to tryst with Apollo in a verbal tussle objectifying the doomed Aschenbach's emotional dilemma (akin to but not identical with the writer's dream in Mann's original) – and, incidentally, sounding glorious at every turn.
But the real Dionysiac figures – mocker, tempter, abductor, wheedler, fibber, deluder – surface throughout the opera, as Dazeley finds characterisations for the revolting Elderly Fop who acts as 'one of the boys' and horrifies Aschenbach with a glimpse of what he himself may become, the kow-towing, ironic Hotel Manager, and most significantly the restrainedly camp Hotel Barber, who on a second visit remakes Nilon in his own image ('Now the Signore can fall in love with a good grace'), and latterly the Strolling Players' leader, who presides over his drag team's obscene posterior posturing. Bruno Poet's lighting, so effective in depicting the cyclorama sea view, the sinister and mysterious, and one of the glories of Garsington for the past 17 years, possibly slipped at just this point; the barber's facial makeover of Aschenbach, though as comic as, say, Pagliaccio, was not quite ghoulish enough, not quite amply executed, and though Poet might have saved the day picking out with more specific focused lighting, the impact of the make-up department seems at just this point somewhat bathetic.
Dazeley's flamboyant flourishes and boisterous buffooning are endlessly beguiling and eye-absorbing: always creepy, eerie, sinister, though rarely dangerous or threatening so much as teasing and nail-biting. His talent in this kind of repertoire (Herring, but especially Owen Wingrave at Glyndebourne) have been long evident. But in this seven-role marathon he quite throws you: he is so inventive and versatile. Above all there is the voice, a gorgeous, beautifully manoeuvred baritone, which strikes you as a glorious experience even on his first appearance (in Germany) as the spectral Traveller who reflects Aschenbach to himself and encourages the writer's undefined yearning to escape and travel south to the Adriatic. Dazeley makes a truly beautiful sound; and when there is such paradoxical beauty in the allure of these quirky, snaky, mock-servile pastiche characters, it is hardly surprising the writer, besotted, is duly led astray.
But lesser roles also excelled: most notably for me, young Henry Manning, Royal Academy and Flanders Opera-trained, fresh from the male lead in Cecilia MacDowell's new one-act opera Airborne, about World War I fliers, at Hampstead and Presteigne: Manning turns the relatively minor though crucial exchange with the English Clerk, urging Aschenbach to pack up and leave, into a vignette that – both musically (semispoken) and dramatically – made a vast impact. So, in a brief scene, did Joseph Padfield's Lido Boatman, grim and haunting, almost oozing the stench of the waters as much as Dazeley's older crook.
There were others from the chorus who enjoyably characterised French, German, Russian and other nationalities, guests at the expansive, Lido-view Hotel. The traipsing chorus as a whole is notably high-quality, and well-directed, whether strutting the verandahs of the Grand Hotel des Bains, lavishing praise on the beach huts and golden strand, or when issuing warnings to nudge Aschenbach off his cholera-doomed pursuit. Perhaps the fullest climax of the opera is when Boutin's Tadzio, amid them, is stripped nude and becomes the statuesque deified figure whom Mann and Visconti posit, as Nilon acquiesces: 'Now let the Gods do what they will with me': he is ready finally to yield and give in.
The Strawberry Seller (Emily Vine) is not always depicted as having cholera; here she is, and to good effect: her suffering is gradual, not overdone. One of the more comical moments is when her body is suddenly rolled under the curtain by unseen hands to get her offstage.
The others who deserve singling out for the same reason – their restraint – are the four or five diversely deployed youths (Pablo Strong, Bradley Travis, Adam Temple-Smith, Daniel Rudge, and also Richard Dowling), teamed up with the Fop, plus the four male dancers – James Hurst, Garth Johnson, Alexandre Gilbert and Ygal Jerome Tsur, who bring the Lido beach alive with their diligent service and attentive whirlings, much of the dance quite stunning, while scintillatingly drawing in first Tadzio and Jaschiu, then Tadzio's mother (Goldman) and Governess (Connolly). To all of this the orchestra lends astounding aural detail, with Bfritten's telling elements of Leitmotif: as striking in its solo wind, insistent percussion and the eerily haunting, perhaps lamenting, Janáček-like brass ensemble near the end, as in its endlessly subtle ensemble playing.
If as mysterious riches are unveiled onstage as in Myfanwy Piper's endlessly alluring libretto, they certainly are in Bedford's orchestra pit. It all amasses like one of those breakers depicted onstage and drives events home to their inevitable demise. By the close of Curran's precious production, dominated by Knight's wave- and seascape, Tadzio (or 'Adziu') has indeed metamorphosed into 'Addio'.
Roderic Dunnett