United States Mozart, The Marriage of Figaro: Soloists, Orchestra and Chorus of San Francisco Opera, Patrick Summers (conductor), War Memorial Opera House, San Francisco. 18.6.2015 (HS)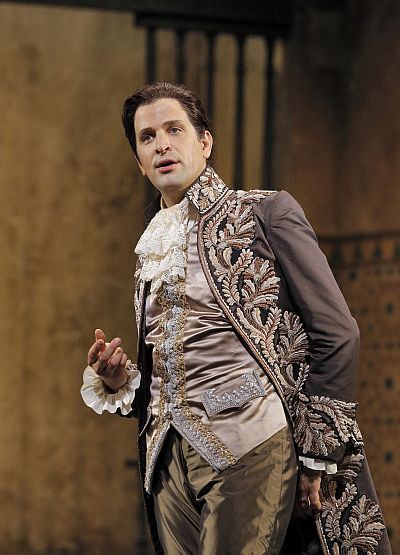 Cast:
Figaro: Philippe Sly
Susanna: Lisette Oropesa
Countess Almaviva: Nadine Sierra
Cherubino: Kate Lindsey
Count Almaviva: Luca Pisaroni
Bartolo: John Del Carlo
Marcellina: Catherine Cook
Basilio: Greg Fedderly
Don Curzio: John Easterlin
Production:
Conductor: Patrick Summers
Director: Robin Guarino
Lighting Designer: Gary Marder
It might seem unfair to call San Francisco Opera's current run of Mozart's The Marriage of Figaro "routine." All of the singers look and sound beautiful in their roles. The musical and theatrical direction hits the right spots. And judging by the rapt attention of an audience that must have included many new to this piece, their well-timed laughter and rapt attention suggested that they got the gist of Mozart and da Ponte's magical creation.
But the performance heard Thursday at War Memorial Opera House, the second of an 8-show run, was missing a key element: inspiration. Director Robin Guarino got the singers to interact on a general level, but few delved below the surface of their roles to find gestures or shadings to reveal something more. Though conductor Patrick Summers generally varied the pace, the orchestra showed little flexibility and smudged details. This was pleasant, but tiny surprises can lift Mozart's music to sublime.
The overture set the tone. It chugged along at a crisp tempo but didn't quite cohere. Neither delicate nor punchy, it played it safe. The same could be said for much of the singing. Most of the cast deployed silky sound and admirable diction, but Mozart requires more finesse. And truth to tell, a few more decibels here and there would have a better impression in the 3,000-seat space.
In his debut in the title role, Canadian bass-baritone Philippe Sly (who came through this company's Merola Opera Program for young artists) delivered lovely moments, such as the sublimated malevolence in his Act I "Se vuol ballare." But he could muster neither the gruffness to cow Cherubino in the act's finale, "Non più andrai" nor the character's rage in the Act IV soliloquy, "Aprite un po quegli occhi."
As the randy adolescent boy Cherubino, and panting like a puppy after every woman in the castle, mezzo-soprano Kate Lindsey stole every scene she was in. She glided into her Act I aria, "Non so più," almost imperceptibly—a terrific touch—only for her voice to disappear on the aria's low notes.
As Susanna, Lisette Oropesa maintained a smooth, sunny disposition throughout, even when slapping Figaro when she thinks she's caught him smooching Marcellina (who—spoiler alert—turns out to be his mother). Her pretty soprano sound missed the telling nuances that mark her as the cast's smartest figure. It didn't help when Summers set such a slow pace for "Deh vieni non tardar," her Act IV aria, that our pulses did not quicken, as they should. To her credit, she had the breath to sing it without mishap.
Soprano Nadine Sierra, another Merola alum, sang the Countess' two familiar arias with musical clarity and polished tone. Yet neither "Porgi amor" nor "Dove sono" hit the emotional hot buttons they can in the hands of a more experienced soprano. The Act III duet with Oropesa, "Canzonetta sull'aria," passed with a light smattering of applause, when it should light up the house with its beauty.
Ensembles had similar issues. Summers would find ideal tempos but could not fuel enough momentum to make the fantastic Act II finale come fully alive.  The tempo for the jaunty little march that brings in the town folk for the wedding festivities in Act III felt right, but somehow it came off as sluggish. And so it went, all seemingly correct, but a few ergs short of the requisite vitality.
There were exceptions to this general assessment, most prominently the Count of Italian baritone Luca Pisaroni. With riveting stage presence, he created a character alternately clueless and wily, suggesting a plausible back story to explain how he gamely persists, even as he is defeated at every turn. His Act III aria, "Crudel! Perche finora?" in which he believes Susanna is finally giving in to him, was a little masterpiece, conveying meaning with subtle changes in tone.
Veteran character singers John Del Carlo, whose bass has been heard in 41 different operas over the years, and Catherine Cook, whose mezzo-soprano has graced 52 casts, reprised their Bartolo and Marcellina. They simply brought their characters to life and, by the way, deployed voices that could be heard through the opera house.
Harvey Steiman