Michael Fabiano In Conversation with Robert Beattie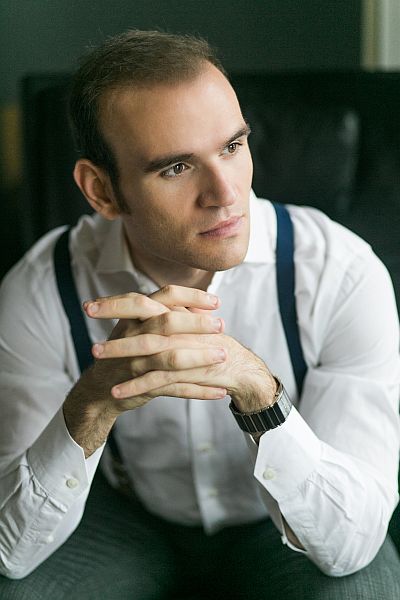 Michael Fabiano is currently performing the lead role in Glyndebourne's production of Donizetti's Poliuto.  This rarely-performed gem of the bel canto repertoire opened the Glyndebourne Festival this year and Michael has received very enthusiastic reviews for his portrayal of Poliuto.  Last year he appeared as Alfredo in Glyndebourne's production of La Traviata, the role in which he made his stage début in 2007.  What's on Stage described his performance as follows:  "Michael Fabiano…..has matured into a charismatic leading man with vocal stylishness, physical dash and sheer star quality".
Fabiano has performed in many of the world's leading opera house including La Scala, Milan, the Metropolitan Opera, New York, The San Francisco Opera, the Paris Opera, and the Deutsche Oper, Berlin.  He is a specialist in the bel canto repertoire and in 19th Century Italian operatic roles.  He has excelled in the roles of Rodolfo (La Bohème) and Edgardo (Lucia di Lammermoor) and he has become closely associated with both roles.  He is rapidly becoming one of the great Verdi singers of our age and has performed the roles of Alfredo and the Duke (Rigoletto) to great acclaim.  This season he will be taking on the coveted role of Don Carlo at the San Francisco Opera for the first time.  Michael told me it is his ambition to perform most of the leading Verdi tenor roles while he is still in his 30's and early 40's.
He is equally adept in the leading French operatic roles and has sung the role of Faust for Paris Opera, Opera Australia and Dutch National Opera.  He is also beginning to expand into Russian opera and next season he will be taking on the role of Lenski in Covent Garden's production of Eugene Onegin.  He also recorded Shostakovich's Orango – a fragment of an opera that the composer tried to destroy because of the risk of censorship from the Soviet authorities – under the baton of Esa-Pekka Salonen (review).
I spoke to Michael Fabiano about the operatic roles he has taken on, the challenges associated with them and the roles he would like to perform in future.  He comes from a business background (his father is a successful businessman) and we spoke about how business principles informed his development as an opera singer and the way in which he maps out his career.  He is also a passionate advocate for using new and emerging technologies in order to introduce Classical music to a wider audience and we spoke about the advantages and the drawbacks of the existing technology and the need to better make better use of the internet.
The transcript of the interview is set out below.
Robert Beattie You have just performed the leading role in Donizetti's rarely performed opera Poliuto at Glyndebourne.  Can you tell us about the opera and the role and say what drew you to the part?
Michael Fabiano The opera has a very interesting history.  It initially did not get performed because the King of Naples banned it because of its subject matter i.e. the martyrdom of Saint Polyeucte.  The king thought the deeds of Christian martyrs should be celebrated in Church and should not be put on stage.  These events lead to the suicide of the celebrated tenor, Adoplhe Nourrit, who Donizetti had originally asked to sing the leading role of Poliuto in the opera.  Donizetti revised the opera for the Paris Opera under the new title Les martyrs – but the new version includes a ballet and some of the music is very different.  The original three-act version of the opera was not heard until 1848, by which time Donizetti had died.
The opera dropped into obscurity in the first half of the 20th Century until Maria Callas and Franco Corelli revived it at La Scala in 1960 but the version they performed included material from Les Martyrs and it was quite different from the original three-act version of the opera.  The version which features at this year's Glyndebourne Festival is the original three-act version of the opera and is extremely close to the music Donizetti originally wrote.  The story is about the martyrdom of Poliuto who commits himself to the Christian faith and subsequently comes out as a Christian.  His wife tries to convince him to renounce his faith and to save himself from death in the arena.  When he says no his wife becomes convinced about the sincerity of his beliefs and she asks him to baptise her as a Christian and joins him in the arena.  The kind of declamatory music which features in the opera is very demanding and difficult to sing and the role is exacting both vocally and dramatically.
RB Did you decide from an early age that you wanted to be a singer and who were the key influences in your development as an artist?
MF I knew from an early age that I was going to be a businessman of sorts.  I tend to approach things from a business mentality as my father is a successful business man and when I was in my late teens I thought I would run a car company or an airline.  I studied music at school and university and was fortunate to have many gifted and talented musicians who instilled in me a deep love of Classical music.  When I was 18 or 19 I had a discussion with my father about what I needed to do in order to succeed as an opera singer.  I knew that I needed to study languages and to speak languages well, to live in other countries and experience other cultures and to be a proficient musician.  I was fortunate to have a very strong music teacher and coach when I was at university who helped me to develop my abilities.  However, my development as an opera singer all comes from looking at things from a business perspective – it is not just about making music.
RB I guess you need to have a strong business sense as an artist because you are self- employed, you need to continually find new work, and you have to pay fixed overheads such as agents' fees, travel fees and so on?
MF Yes, absolutely.  The singing and performing are obviously very important but in order to succeed you need to have eye on the wider financial and business aspects of the work.
RB You are the recipient of many awards including most recently the Richard Tucker and Beverly Sills Artist awards.  How important are these awards in terms of helping to launch an international career?
MF I see these awards as a nice bonus but they are not a launching pad for artists.  Awards do not launch careers – careers are launched by great singing.  It is not just one concert that helps to launch a career but rather the arc of your career is determined by a series of performances.  They need to line up like a sequence of dominos and the dominos need to fall in a way that enhances your reputation and public profile.  I am very grateful for the awards – they helped me at the time both financially and in terms of becoming better known.
RB You received rave reviews for your performances of Rodolfo in La Bohème and Edgardo in Lucia di Lammermoor.  What challenges do you associate with these parts and how did you approach the roles?
MF I love singing both these roles and have sung them in many theatres around the world.  Both roles are like an old coat or and old set of leather gloves that seem to fit me perfectly.  I have developed good habits in these roles and when I prepare for them I know what the tough corners are and how best to navigate them.  When I sing Rodolfo or Edgardo it is like coming back to meet an old friend.
RB In one of the performances of Lucia, you accidentally sustained a nasty head wound during the performance but carried on singing.  Can you tell us about the incident?
MF It is true that I sustained a head wound in one of the performances.  I was not familiar with the theatre and ran off the stage into a dark zone and I accidentally hit my head on an overhead light.  I hit the deck and there was blood pouring from my head so I had to just lie there and regain my composure for a few minutes.  I decided to carry on singing and I guess the incident made an eventful night even more fun!
RB You will be singing in a number of Verdi operas this season including Don Carlo and the Duke in Rigoletto.  Can you tell us about your preparations or these roles?
MF The Duke is not a new role for me – I have sung the part on many occasions and I enjoy performing the role.  Don Carlo is a new role for me and it is a part which I have adored for some time – it is one of the great Verdi tenor roles.  I have the score with me now and I study it often – including the text, the rhythms and the music.  I hope to do the part justice.
RB You have recorded Shostakovich's short and little known opera Orango – can you tell us about the piece?
MF Shostakovich originally intended that Orango should be a full opera but it took on a political agenda, providing a commentary on what was happening in Russia at that time.  Shostakovich was concerned that if he continued to work on the piece he would be severely censored or admonished so he ordered his maid to burn the work.  Fortunately for us the maid did not burn the score and it was rediscovered in 2006.  The score includes the prologue to the work and sketches for the rest of the opera but Shostakovich did not provide enough material in the sketches for anyone to be able to complete the opera.  I really love Shostakovich's music and it was a great opportunity to sing a newly discovered work by the composer.   I really enjoyed working with Esa-Pekka Salonen and the LA Philharmonic on the project.
RB Do you enjoy performing songs recitals and which repertoire do you like working on?
MF I generally don't perform Lieder although I do enjoy German composers, like Bruckner.  I sing a lot of French and Italian songs.  I love to sing in French as there are a lot of vowel sounds which you can use and the music provides opportunities for the performer to be multi-dimensional in terms of scope and colour.
When singing opera, one really needs to be able to fully project the voice, to carry over the top of an orchestra. If a singer doesn't know how to properly project their instrument, they won't be heard. It's as simple as that.  In a recital there's not so much fear of being drowned out by the piano or instrumental ensemble and it provides opportunities to use a wider dynamic range and for the voice to go down to the softest pianissimo.  The ambience is different in operas and in recitals.  I do love singing recitals and hope to be doing many more in the future.
RB I recently listened to Alice Coote in a recital of French songs at the Wigmore Hall and I was particularly impressed with her performance.
MF I think she's a great performer.
RB Most of your focus at the moment seems to be on the grand Romantic operatic roles.  Do you enjoy performing Classical and Baroque repertoire?
MF I don't enjoy singing anything before 1820.  There are many wonderful singers who specialise in this early repertoire and I take my hat off to them.  My focus at the moment is on the bel canto repertoire, Verdi and French Romantic music.  I have drawn up a schedule of the projects I plan to work on over the next 5-7 years and this is the music I will be working on.
RB You have spoken before about the need to engage with technology in order to help grow opera audiences.  Can you tell us a little about your ideas on this?
MF Technology is a very fast moving world that is continually changing and evolving and the speed of communication is constantly getting faster.  The Classical music world has been behind the curve on all this and has not been able to keep up with the constantly changing technology.  There are a huge number of recordings of Beethoven's Ninth Symphony or La Bohème that could be bought and searched for on ITUNES with hundreds of iterations derived from many different conductors, orchestras, and famed performers. But it's easy to find something from a popular musician like Madonna, where there is only one Madonna with one or a few versions of a famous hit album or solo. The time quotient…the lost time of doing that search for a specific recording of a famed symphony or opera has effects at the margins; people don't find exactly what they want, get dissatisfied, cease searching, and thus don't acquire the music. When they don't acquire the music, they don't own it, which means music isn't garnering its essential value.
When we go on YouTube today, we can find multiple versions of La Bohème. YouTube gets spliced with certain ads which are good for YouTube and good for the presenter that placed the video online. The performers don't see any net benefit of getting their work watched on YouTube except exposure. It's just there for free for everyone to watch and that's a grave problem because now people come to expect classical music ought to be free. Thirty years ago, no one had this concept of watching opera events over and over and over again for free, on demand. My challenge to my colleagues and friends in our business would be take away all classical music for a day and then realize what would the world be like without it. In that moment, when people don't have access to the music, they would realize they NEED it in their lives. In owning music of consequence, one finds value… one finds freedom. The devolution of the classical music industry has been at the behest of access to free musical recordings and videos and that has to change. We pay for the plumber to fix our sinks and toilets, we pay accountants to file our taxes, we should pay artists who make music for us to enjoy. Without the artists, we wouldn't have fulfilled that essential need of music in our lives.
RB I sometimes wonder if the part of the reason for the public's disengagement from Classical music is related to the quality and nature of some contemporary works.  While some contemporary works are very enjoyable to listen to others are incomprehensible to the general public and very few people want to listen to them.
MF I think it is essential for composers to continue to compose and present new music to the general public.  When new music is performed it enters an open market place and the public decide whether or not they like music – that's what drives new music and determines whether or not it survives.  If, after listening to a new piece of music, the public can hum it the next day, and if they can relate it to their social and political environment and want to listen to it again, then it is likely to survive.  The public's response to new music is also how we should determine how much value to assign to new composers and their music.
RB What projects to you have pending in the pipeline?
MF Don Carlo and Luisa Miller will both be coming up very soon.  I hope to explore most of the Verdi operas while I am still in my 30's and early 40's.
RB Michael, very many thanks for talking to us.