United Kingdom  Nielsen, Mahler, Nielsen: Florian Boesch (baritone), BBC Philharmonic Orchestra/John Storgårds (conductor), Bridgewater Hall, Manchester, 13.6.2015. (MC)
Nielsen: Symphony No. 2 'The Four Temperaments'
Mahler: Songs from 'Des Knaben Wunderhorn':
'Des Antonius von Padua Fischpredigt';
'Trost im Unglück';
'Der Schildwache Nachtlied';
'Der Tambourg'sell'
Nielsen: Symphony No. 5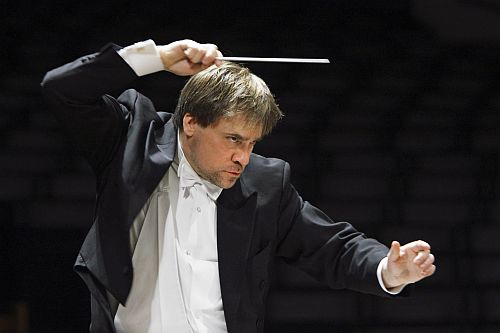 At the Bridgewater Hall the BBC Philharmonic Orchestra concerts of the complete Nielsen symphonies under the baton of John Storgårds are proving to be a gripping series performed with unfailing integrity. Having already delivered performances of Symphonies Nos 1 and 4 a few days earlier, this Saturday evening concert featured Symphony No. 2 'The Four Temperaments' and Symphony No. 5.
With an abundance of steely assurance Storgårds demonstrated his aptitude for Nielsen's characteristic sound world, so harmonically adventurous with progressive and unconventional tonality and quick, sometimes abruptly shifting, dynamics. First came Nielsen's Symphony No. 2. Widely known as 'The Four Temperaments' the work took its name from a humorous, rather crude picture the composer saw hanging in a bar in Zealand. The picture showed four panels signifying the human temperaments titled: 'The Choleric', 'The Phlegmatic', 'The Melancholic', and 'The Sanguine' and depicting the psychological moods of each panel certainly appealed to Nielsen. Initially feeling like rustic landscapes, in 'The Choleric' Storgårds soon whipped-up the orchestra to a near frenzy. A violent episode that probably represented the mood changes of a wildly impetuously choleric. Short in length the second movement 'The Phlegmatic' a curiously unhurried Scherzo could be best described as 'disarming'. In representation of 'The Melancholic' Storgårds immediately produced a dark and mysterious mood to depict a state of emotional torment. Bursting into a joyous, carnival mood the closing 'The Sanguine' movement contained a striking martial feel. Evidently a depiction of a thoughtless, rather superficial character deluded by self importance Storgårds created a highly engaging atmosphere with any sense of dark foreboding a million miles away.
The inclusion of the songs from 'Des Knaben Wunderhorn' that Mahler orchestrated provided an opportunity to hear works by a truly symphonic giant working in a different genre. This set of four 'Wunderhorn' songs could never be described as Mahler's finest and I imagine any singer would struggle to be convinced by the frequent banality of some of the lyrics. Austrian baritone Florian Boesch got off to a splendid start with 'Des Antonius von Padua Fischpredigt' where St. Anthony finds an empty church with no congregation and goes down to the river to preach to fish instead. Looking confident with a good stage presence the song was eminently suitable for Boesch's dark, low baritone. I also enjoyed 'Trost im Unglück' with its robust martial theme with the pair of trumpets suggestive of military bugles yet variegated with soft and tender passages. Boesch's initial assurance didn't last and he never seemed entirely comfortable with his vocal projection that seemed to fade when pressured, at times finding it hard to be heard over the orchestra. In the final song 'Der Tambourg'sell', where following a court martial a drummer boy is facing execution, Mahler's opulent orchestration took centre stage and Boesch's over emphatic vocal resorted to near shouting to be heard.
Written two decades later than 'The Four Temperaments' Nielsen's Symphony No. 5 is an admirable work deserving of much more concert hall exposure. Cast in two parts this is strikingly evocative music of contrasting moods but rarely pictorial, an approach so typical of Nielsen. According to a quick interview on the stage just prior to the performance, Storgårds explained that he sees this work as more of  a 'war' symphony than 'The Inextinguishable' but I see a philosophical theme of 'life's struggle' at its core. With such razor sharp shifts of tempi and dynamics one sensed Storgårds was digging deep into Nielsen's writing, concentrating on revealing vivid colours and extremes of mood such as good and evil, live and death, and chaos and order. It was this sense of 'struggle' that Storgårds and his BBC Philharmonic players personified so unfailingly.
In the remarkable first section immediately evident was the martial character given by the four percussionists markedly from the strident snare drum and timpani stokes. Weightily sonorous the lushly dramatic passage on the strings accompanied by the five horns was remarkable and the brisk passage for two clarinets reminded me of seabird calls, which I'm sure must have influenced Finnish composer Rautavaara for his 'Cantus Arcticus' for taped bird sound and orchestra. The snare-drum and timpani added to the thrust of the orchestral sound as the music swelled in power and volume resulting in a cacophony of sound, almost demented with rage. As the volume began to lessen the klezmer-like solo clarinet and the off-stage drum were heard as everything else faded away.
The vehement character of the second section gripped instantly with vociferous orchestral playing from the BBC Philharmonic. Noticeably the writing communicated a more positive quality, boldly determined which quickly turned demonic with numerous ostinato patterns. As the timpani strokes advanced forward seemingly relentlessly the orchestral heft and dissonance of the writing became almost unbearable. Credit to the glowing string section for demonstrating its prowess so magnificently. Nothing really seemed resolved as the swell to the final climax felt like a fusion of jubilance and dark menace. Despite the numerous changes in key, tempi and dynamic and a few close shaves Storgårds and his players managed to find the energy and commitment to maintain momentum throughout.
Michael Cookson
The concert  was introduced by Martin Handley and broadcast live on BBC Radio 3. It will be available for 30 days via the Radio 3 website and BBC iPlayer .