Argentina Bizet, Carmen: Soloists, Orchestra, Chorus and Children's Chorus of Teatro Argentino. Conductor: Tulio Gagliardo Varas, Teatro Argentino, La Plata. 29.5.2015. (JSJ)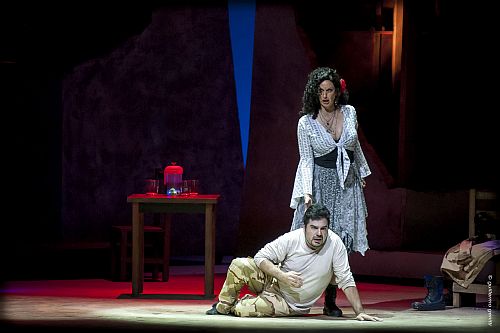 Cast:
Carmen: Adriana Mastrángelo / María Luisa Merino Ronda / Anabella Carnevali
Don José: Enrique Folger / Charles Dos Santos Cruz / Juan Carlos Vassallo
Escamillo: Leonardo Estévez / Gustavo Gibert / Mario De Salvo
Micaela: María Bugallo / Rocío Giordano / Eugenia Coronel Bugnon
Frasquita: Victoria Gaeta / Laura Polverini / Laura Delogu
Mercedes: Rocío Arbizu / Vanina Guilledo / María Lilia Laguna
Remendado: Patricio Oliveira / Daniel Zuppa / Miguel Lezcano
Dancairo: Sebastián Sorarrain / Mirko Thomas / Darío Leoncini
Sebastián Angulegui / Alberto Jáuregui Lorda / Hernán Vuga
Zuñiga: Walter Schwarz / Víctor Castells
Lilas Pastia: Fernando Alvar Nuñez
Soldier: Juan Ignacio Suares Christiansen
Production:
Director/costumes: Valeria Ambrosio
Sets: René Diviú
Lighting: Willy Landin
Chorus: Hernán Sánchez Arteaga
Children's Chorus: Mónica Dagorret
Barely a year goes by without one, and very often two, productions of Carmen in Buenos Aires – presumably principally because of its popularity to attract the audiences. This year is no exception and the first of the two productions has come from the Teatro Argentino in La Plata (the second will be by Juventus Lyrica in November).
After the past austerity this was on the face of it, a rather lavish offering – certainly from a scenic perspective. With three lengthy intervals for scene changes, the production extended to just about 4 hours.
Director Valeria Ambrosio, who is also the Argentino's artistic director, has a background in primarily musical theatre and after Tosca last year, this is only her second foray into opera. Her ideas are interesting, such as a characterization of Lilas Pastia, but sometimes it is a step too far, such as in the schoolgirl-like toreador-struck conception of Carmen's companions Frasquita and Mercedes. Superfluous also was the choreographed dance at the start of each act in a semi open curtain, essentially dancing out the storyline to come. Anyway, there is sufficient other dancing, although much of it in this case not very Spanish.
Dress was modern and the lighting was dominated by red, as in the blood of bulls and ultimately that of Carmen herself.
Adriana Mastrángelo is tall and striking and a powerful and musical Carmen, seductive when she needs to be but otherwise simply relying on her presence. Enrique Folger was a passionate and expressive Don José, bringing multiple emotions to the role. Leonardo Estévez looked the part of Escamillo, the toreador, but vocally was rather uneven, especially in the higher range. Likewise María Bugallo, suitably timid as Micaela, also displayed some unevenness.
Among the other roles noteworthy were the smugglers Dancairo sung by Sebastián Sorarrain and Remendado by Patricio Oliveira, Victoria Gaeta's Frasquita and Rocío Arbizu's Mercedes, and the Zuñiga of Walter Schwarz.
This version presented included the spoken dialogue with mixed, and in more than one case completely unintelligible, pronunciations.
And all was held together with the commanding conducting of Tulio Gagliardo, an Argentine who now hails from Turkey where he is musical director of the Izmir State Opera.
Jonathan Spencer Jones
Caption: Adriana Mastrángelo (Carmen) and Enrique Folger (Don José) in Teatro Argentino's Carmen. Photo Teatro Argentino.